RESOURCES and PAST EVENTS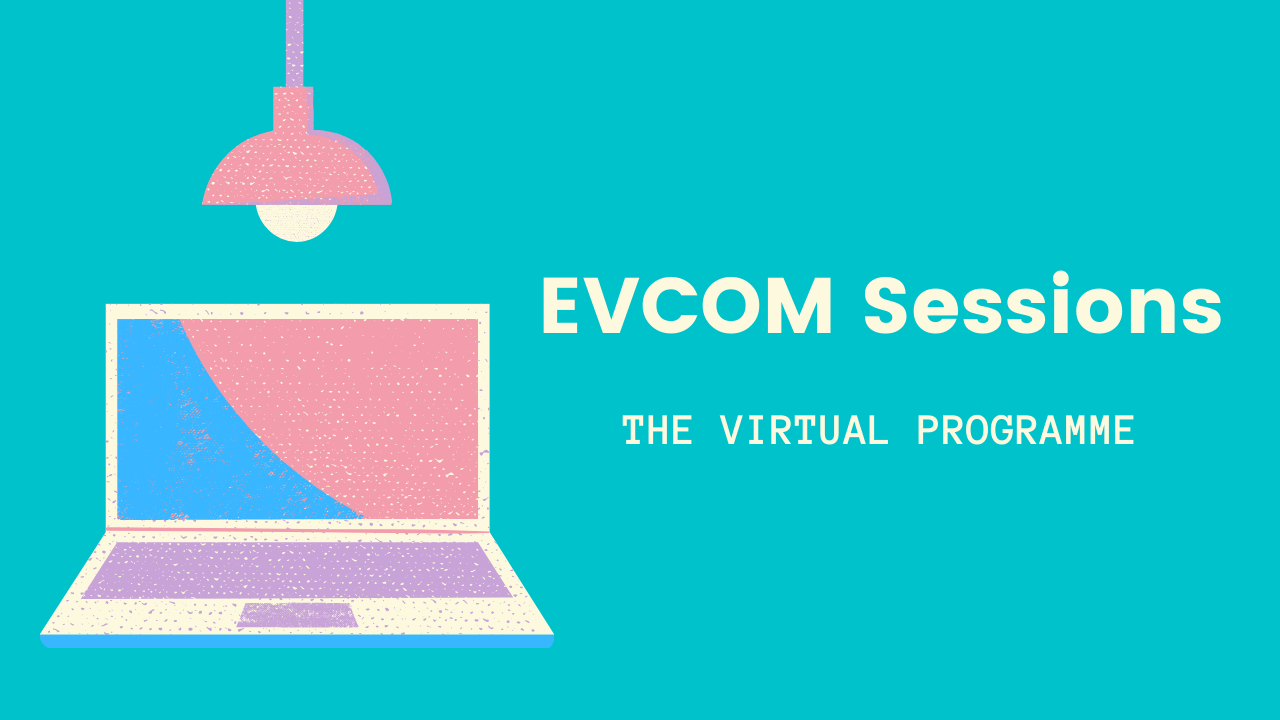 Social Media during Social Distancing
Wednesday 27th May, 4:00 – 4:45pm
Social media is imperative to the way we communicate as businesses and individuals, the way we market events and share films. But for the first time, for many, social media is now the only way people can communicate, not just with clients and customers, but with friends, family and internal teams. What is this teaching us about social media and communication via social media? How can we genuinely keep in contact with the people who are important to us and our businesses? And as everyone turns to Instagram (or Facebook or Twitter or TikTok), how can we keep our social media content engaging and creative?
Panelists: Jemma Peers (Top Banana), David Glenwright (JC Social Media) and Katie Morhen (52eight3 PR). This discussion was facilitated by Charlotte Gentry (Pure Comms Group).
View a recording of the webinar below, and find a full list of accompanying resources here.
Life After Crisis: Mental Health and Wellbeing
Wednesday 20th May, 4:00 – 4:45pm
The current crisis is having huge impacts, both from a business perspective and on a personal level, on our wellbeing and mental health. How can we come out of this with strength and confidence? The mental health stresses that we will be dealing with on our return to work may well be very different to those we were dealing with during the lockdown period. How can we give each other the space and time to readjust to whatever recovery looks like?
Panelists Gavin Percy (Balancing Edges and EventWell), Colin Bullen (Change Craft) and James Hunter (Hawthorn), will be discussing mental health, self-confidence and how we can cope with what's coming, in a discussion facilitated by Mark Maher (Boulevard Events and EventWell).
This session is a joint session between the EVCOM programme and EventWell.
View a recording of the webinar below, and find a full list of accompanying resources here.
Creativity in the Time of Corona
Wednesday 13th May, 4:00pm – 4:45pm
In the time of Corona, we are being forced out of our comfort zones, forced to innovate, forced to be creative. So what can a pandemic teach us about creativity? A panel of industry leaders gather virtually, to discuss creativity in the time of Corona, what they are learning, what creativity in the new normal looks like and whether creativity has been changed forever.
Panelists are Matt Margetson (Smyle), Karen Kadin (Brands At Work), Steve Quah (Cheerful Twentyfirst) and Angela Law (Every Sense). The discussion will be facilitated by Dean Beswick (Gorilla Gorilla). 
View a recording of the webinar below, and find a full list of accompanying resources here.
In Conversation with Michael Hirst OBE
Wednesday 6th May, 4:00pm – 4:45pm
EVCOM's Claire Fennelow and Hayley Greaves (Ashfield Meeting and Events), facilitate a Q&A with Michael Hirst OBE (BVEP), on the current crisis, especially surrounding government announcements, support available and the impact on businesses in our sector.
Michael Hirst is the Chairman, Business Visits and Events Partnership, Chairman, Events Industry Board, Director and Form Chairman, Tourism Alliance, Council Member, Tourism Industry Council, and Non-Executive Director of both CP Holdings Ltd and Safestay Plc. In representing the event, tourism and venue industries, he is the tireless voice speaking out on our behalf.  
View a recording of the webinar below, and find a full list of accompanying resources here.
Animation, Animation, Animation
Wednesday 29th April, 4:00pm – 4:45pm
Animation and visual experts Jonathan Brigden (Studio Giggle), Nina Harrison (Visualise That), Gabriel Edwards (Liquid TV) and Asra Ali-Khan (Liquid TV) discuss the possibilities of animation as a method of communication, tips of the trade and why it's so effective. This was an online panel discussion facilitated by Nick Canner (The Edge Picture Company), and live scribed by Lance Bell (Visualise That).
View a recording of the webinar below, and find a full list of accompanying resources here.
And view Lance's live scribe of the session here: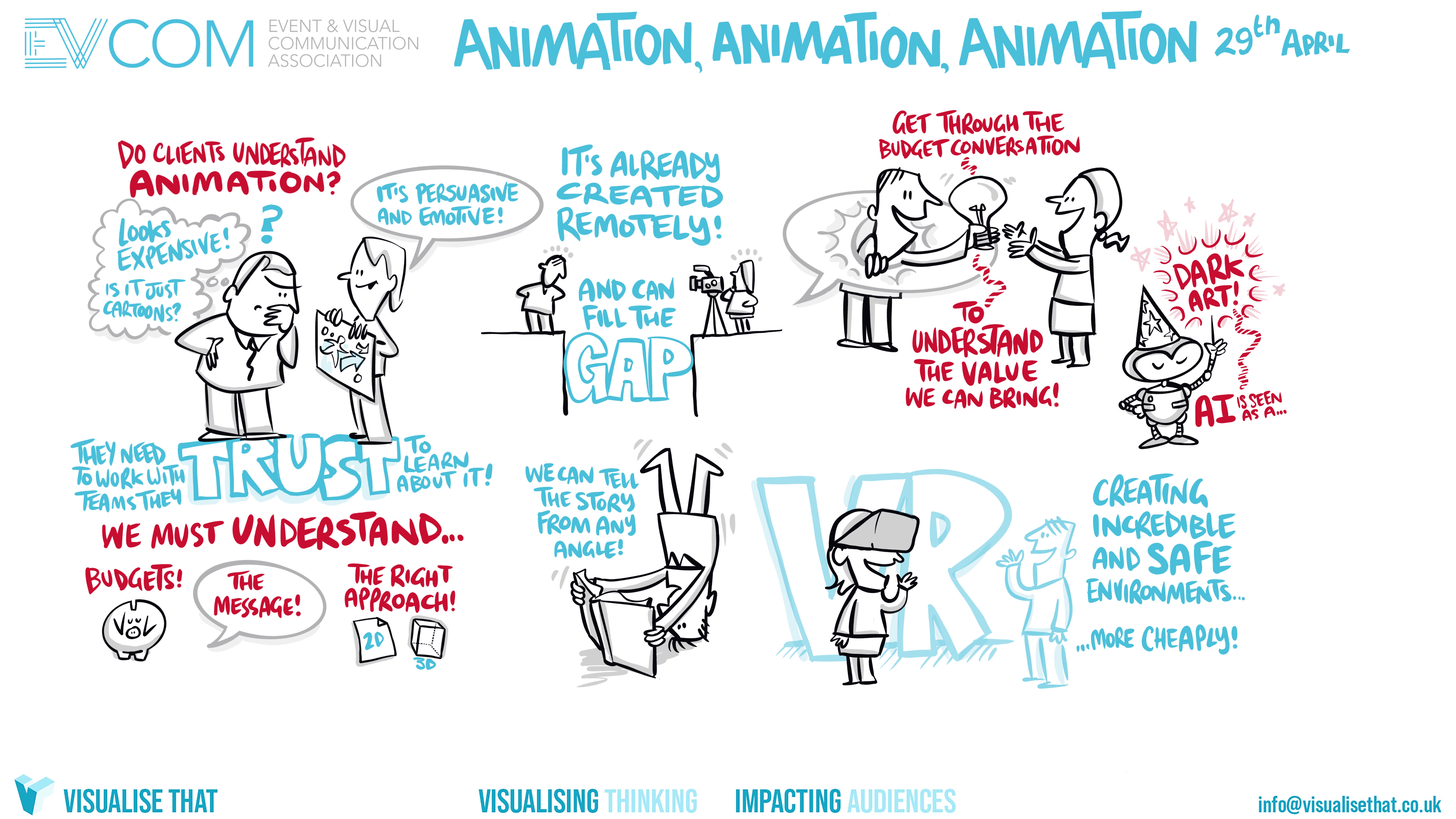 Being Freelance in the Current Climate
Wednesday 22nd April, 4:00pm – 4:45pm
A panel featuring Tim Langford (Freelance Filmmaker and EVCOM Board Member), Gavin Buxton Knight (Freelance Film Writer/ Director) and Laura Cole (LC Events), discuss the situation for freelancers in our industry, including tips and advice. The discussion is facilitated by EVCOM Board Member Sara Cooper (Plastic Pictures).
View a recording of the webinar below, and find a full list of accompanying resources here.
Understanding the Possibilities of the Virtual World
Wednesday 8th April, 4:00pm – 4:45pm
A panel featuring Andrew Smith (Creative Director, A-Vision and EVCOM Board Member), Jamie Vaughan (Head of European Sales, Cvent) and Jon Gout (CEO, Karma), discussed the possibilities of the virtual world. This session was hosted and facilitated by Dale Parmenter (Managing Director, DRPG and EVCOM Board Member).
View a recording of the webinar below, and find a full list of accompanying resources here.
Crisis Leadership: A Virtual Campfire
Wednesday 1st April 
Sharon Baker takes her campfire session virtual, with advice to equip leaders with the necessary skills to provide stability to their team, and to ensure agencies can emerge from this crisis with strength, ready for the new normal!
Fly Don't Walk works with creative agencies to unleash the power of their leaders and leadership teams so they flourish and can empower, motivate and inspire employees. 
View Sharon's talk below, and find a full list of accompanying resources here.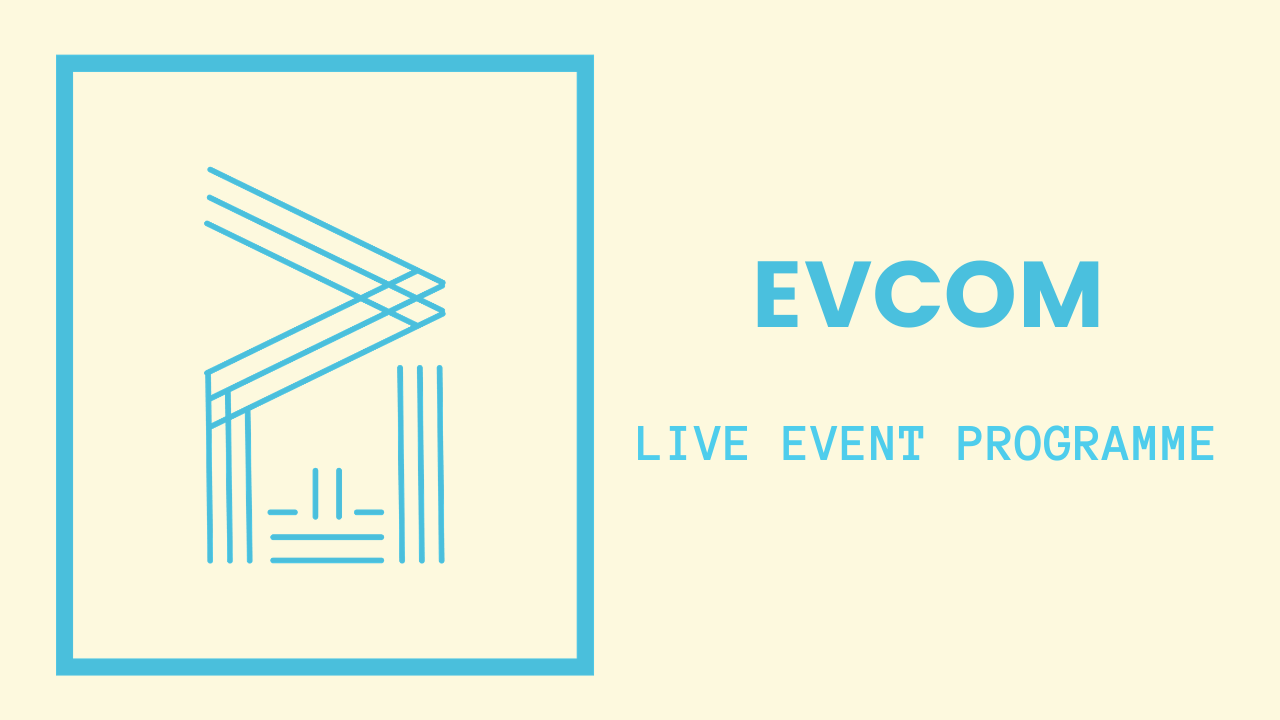 5th March 2020 - THE TRUTH ABOUT PITCHING – WINNING STRATEGIES
A Campfire
Designed for company principals, directors and owners, this thought provoking campfire shared crucial findings and insights from clients on pitching to help our guests get to grips with a new, more profitable and purposeful approach to pitching. Angela Law from Every Sense works with numerous creative and live event agencies and production companies every year. Through a qualitative client research programme, Every Sense also speak to dozens of clients every year. Angela shared the consistent patterns of assumptions behind pitches and pitching from both an agency and client point of view when compared to actual behaviour. Attendees came away from this campfire with a new understanding of what clients look for and why, how to move beyond the dog fights, when to pitch, when to decline and how to focus your efforts and energies on a winning strategy.
The team from Visual That live scribed the event, as the images they produced are below: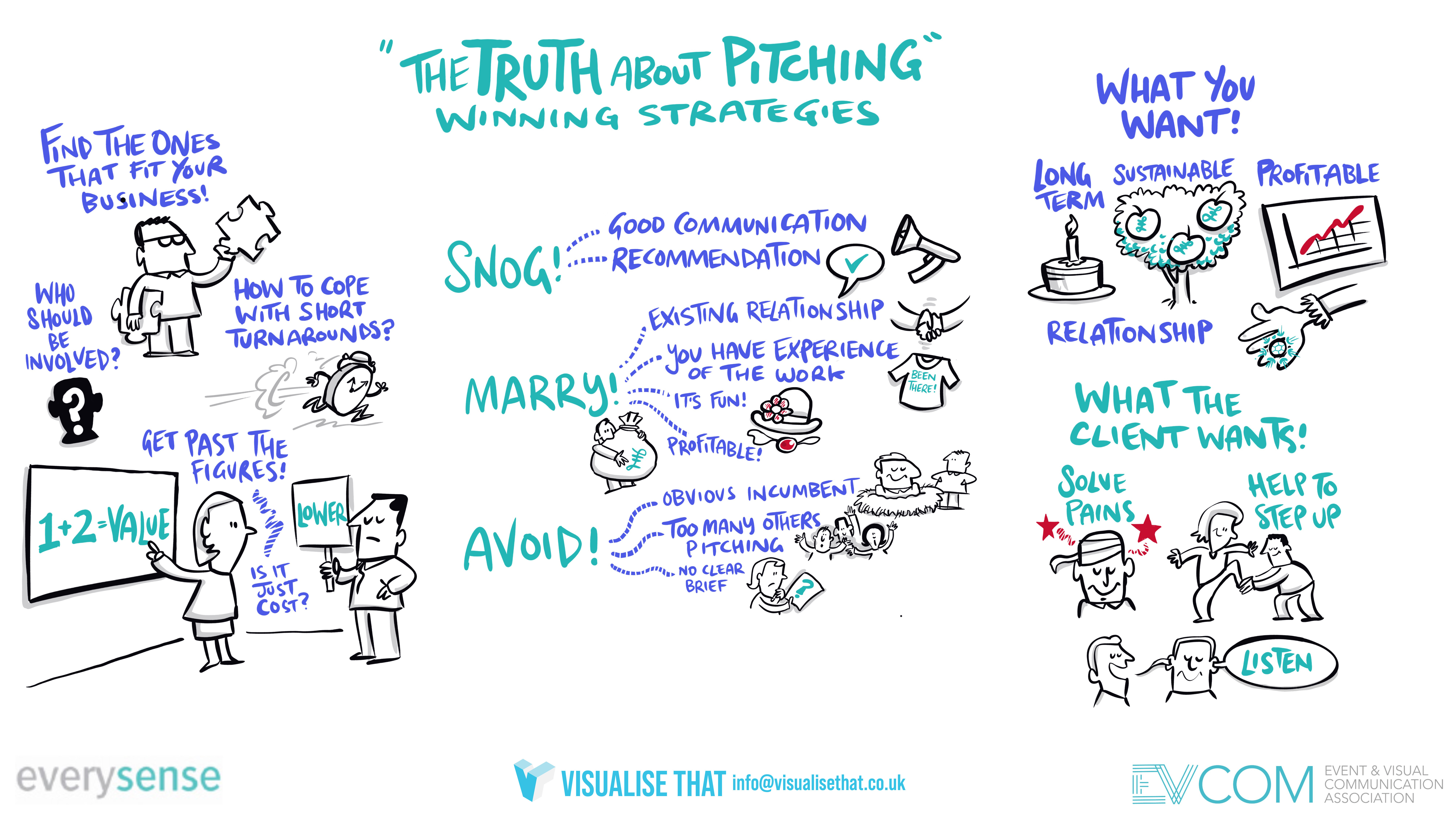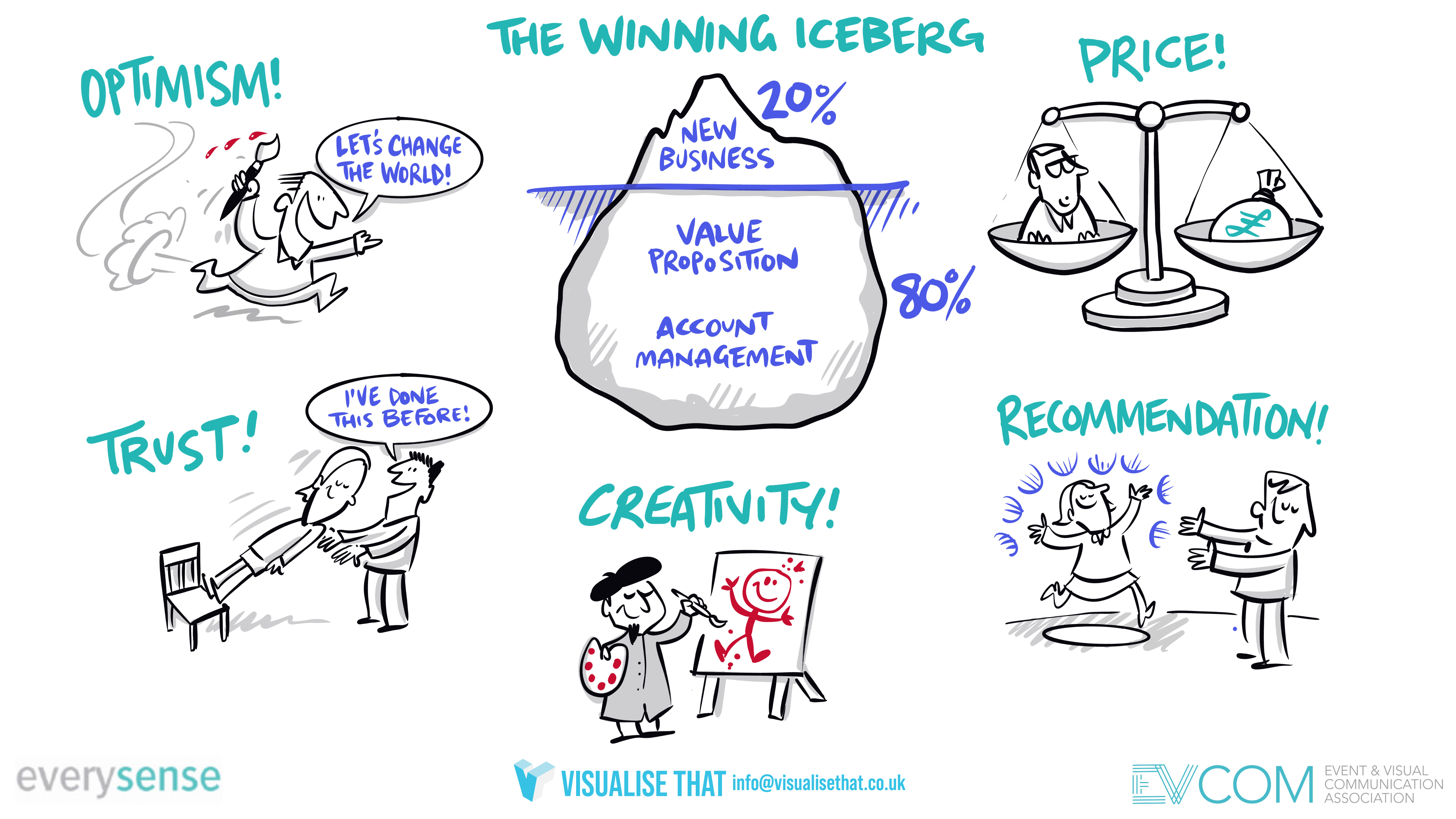 4th 2020 March - Fuelling Film: Corporate Film & The Energy Sector
Talking Pictures
Talking Pictures brought together guests from across the corporate film industry, to discuss corporate film within the energy sector, both in the fields of oil and gas, as well as in the field of renewable energy, such as sun and wind. The fossil fuel industry arguably powered the British documentary movement and today's energy industry continues to fuel corporate film production particularly in the light of climate change. This session featured outstanding work from the BFI archive and some of the best of contemporary production, followed by an insightful panel discussion.
Watch the short film we created about the event here.
22nd January 2020 - Addressing Mental Health in the Creative Industries: A guide to help build resilience amongst your team
A Campfire
The Events Industry is widely recognised as a highly stressful industry sector, ranking as the fifth most stressful industry to work in. In light of this, Helen Moon (Eventwell) led an invaluable session on what can we do to minimise and manage stress, to better support the mental health of ourselves and our teams.
Watch the post event video Helen Moon created here, and read our article on mental health in the creative industries here.