RESOURCES and PAST EVENTS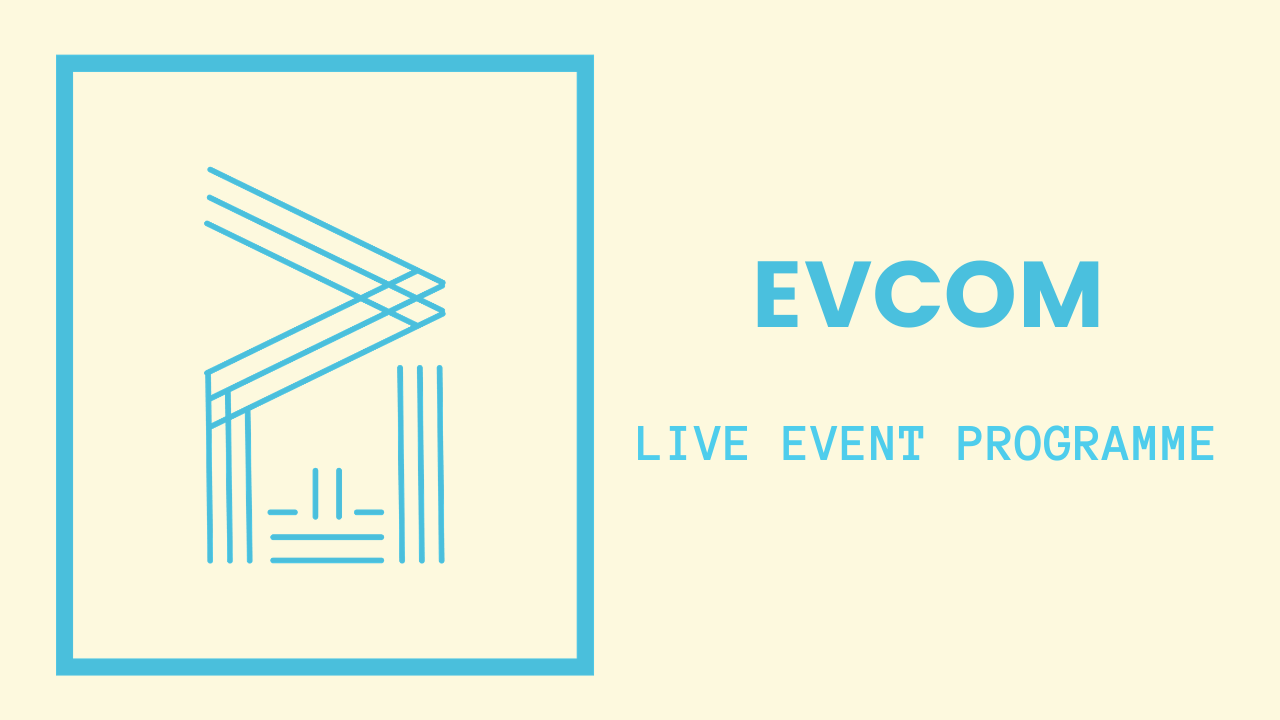 From idea to film: the creative process as transformation
Where: Starstruck Space, 56 Greek Street
When: Thursday 5th May, 5:30pm – 7:00pm, followed by a drinks reception
We speak to writers and directors from the corporate film sector about the creative process, and how they go from a client brief and an idea to a successful piece of film.
Facilitator: Sonal R. Patel (Partner, Brunswick Group)
Part of EVCOMference Deconstructed
You can check out our writeup and image gallery from the session here.
Transforming Creativity
Where: House of St Barnabas, Soho
When: Wednesday 4th May, 6:45pm – 8:00pm, followed by a drinks reception
A selection of companies take 10 minutes each to present a creative project they have worked on, to inspire and share best practise with our audience. Following the presentations, the agency representatives sit down for a brief panel discussion about the creative trends we are seeing in our industry, and the way that creativity has and is transforming.
Speakers include Oliver Addams, (Long Form TV Editor, Karma), Kate Dawkins (Director & Founder, Kate Dawkins Studio), Kevin Palmer (Creative Director, Jack Morton) and Andrew Reid (Board Director, Shelton Fleming)
Facilitator: Andrew Smith (Creative Director, A-Vision)
Part of EVCOMference Deconstructed
You can check out our writeup and image gallery from the session here.
Transforming The Industry with EVCOM's Shadow Board
Where: House of St Barnabas, Soho
When: Wednesday 4th May, 5:30pm – 6:30pm
EVCOM's Shadow Board come together to discuss how thinking has transformed on issues such as diversity, sustainability and mental health over the last two years, and how they'd like to see it transform further. We will ask them how they think the younger generation can transform the industry from within, and how young people can reach and impact those in business leadership roles.
The group is interviewed by senior leaders from the corporate film and events sectors.
Interviewers: Priya Narain (Co-Founder, Event First Steps) and Julie Sander (Head of Production, Verity London)
Part of EVCOMference Deconstructed
Senior Leaders' Breakfast with Will Page
Where: JLAB, 114 Berners Street, London, W1T 3LJ
When: Tuesday 3rd May, 8:15am – 11:15am
What: This meeting is by invitation only for the Senior Leaders of the EVCOM Membership. Tea and coffee on arrival will be followed by a facilitated meeting around the theme of 'transformation'. Leaders from the corporate live and film sectors will discuss the transformation of the sectors so far, how our industry might transform in the future, and further sector specific issues and wider concerns. This will be followed by breakfast and then an audience with Will Page.
Will Page is the former Chief Economist at Spotify and author of Tarzan Economics. Drawing on what the music industry learned about disruption, he shares his lessons on how to tackle change and reinvent in the digital age. He assesses the new dynamics of competition, looks at how attention scarcity is affecting business, and provides practical tools to help any organisation succeed in this new modern world. We will end the event with a networking session. This event is being delivered in partnership with Live Union and JLA.
Facilitator: Marc Wright, Simply Communicate
Part of EVCOMference Deconstructed
You can read our writeup of the session here.
Is there actually a talent shortage?
When: Wednesday 23rd March, 5:30pm – 7:00pm
Where: Starstruck Space, London
People are saying there's a talent shortage in our industry, but Robert Kenward (Fitability® Recruiter at YOU Search & Select and Founder of The Hub.Jobs) thinks it's bigger than that. This session will demystify and explain the myths and fallacies around such claims, and will help agencies and employers to navigate the current 'applicant shortage' by creating a realistic approach to recruitment.
Key takeaways:
The world has changed; your recruitment strategy needs to evolve too
Why and how employers need to reframe their offers
Why your job advert needs to sing not shout See you there!
Robert Kenward is a recruitment expert specialising in senior hires within the events, mice and experiential sectors. He is an experienced speaker, mentor, moderator, industry commentator and EDI advocate who is able to convey his expertise and experience to an audience with a vibrant, passionate and vehemently honest approach.   
Robert has over 21 years' experience of the recruitment and events sectors and brings a unique perspective of hiring from all angles – as a candidate, a client and a fitabilty® recruiter. Robert brings a direct and pragmatic approach to recruitment, matching the personal and career aspirations of candidates to a company's business growth plans. Robert has held over 480 pro bono one to one sessions to date with people who need job seeking advice, insight, guidance, support or just a shoulder to lean on. This support was launched during the pandemic and Robert continues to offer these sessions to the industry. 
In 2021 Robert launched The Hub.Jobs, a global, industry specific people and jobs board, supported by some of the sectors most regarded associations and initiatives, to help people in the events, mice and experiential sectors find work and for employers and recruiters to find industry specific talent.  Robert lives in Brighton, UK with his wife and most weekends you can find him building Lego or on the water with their two young sons.  
New Year, New Business, A New Way
When: Wednesday 26th January, 5:30pm – 7:00pm
Where: Starstruck Space
The creative sector is currently experiencing a huge shift in the way clients engage with agencies. This presents many challenges, and opportunities, for agencies. How can agencies gain an advantage to succeed in this changing landscape? Is there now a way for your agency to grow more effectively?
Our members joined Rob King, Founder at The Client Key, for a focussed workshop looking at how to deliver more effective new business and sales campaigns – specifically for creative agencies. The workshop was structured around the following steps to grow your agency:
1. Brand Proposition – how to deliver a clear simple message that clients understand.
2. Client Audit – understanding who are the right ones for your business.
3. Engagement – the best way to find and engage prospects, across lead generation and client conversations.
4. Acquisition – how to effectively win them as clients.
5. Listen & Learn – improving your process to create a self-sustaining new business engine in your agency.
Read our writeup of the session here.
EVCOM London Live and Film Awards 2021
The EVCOM London Live and Film Awards call for the most creative and progressive work being created by agencies and individuals today. We instigated new categories, to reflect the impact of Covid-19 on our sector, and the virtual/ hybrid nature of so many events. This year, the event was held at The May Fair Hotel and was a night of glamour and celebration! Read our writeup of the evening, including a full list of winners, here – congratulations to all of them! Enjoy photos from the evening here.
EVCOMference 2021
EVCOMference 2021, our annual programme of knowledge-sharing, workshops and inspiration for people within the corporate film and events sectors,took place on Thursday 9th September 2021. The programme responded to the theme 'Fit for the Future'. We heard the client perspective on a number of fundamental issues: diversity and inclusion, sustainability (both within business and environmentally), workplace culture, impact of Brexit and the future of corporate communications. Further breakout streams explored leadership, talent (D&I, skills) and value (business and culture).
View the opening remarks below. If you're an EVCOM member and would like to view recordings of the main sessions, please get in touch with Amelia.
EVCOM Clarion Awards 2021
A Virtual Ceremony
Shortlisted agencies and individuals were invited to attend an entirely sustainable virtual awards ceremony on the 8th June, hosted in collaboration with DRPG. The afternoon featured screenings of the winning films as they are announced, as well as invaluable thought leadership content from industry experts!
You can watch the recording of the ceremony here: 
EVCOM London Live and Film Awards 2020
A Virtual Ceremony
The EVCOM London Live and Film Awards took place virtually on 18th November 2020. They called for the most creative and progressive work being created by agencies and individuals today. Shortlisted finalists and their guests were invited to watch the ceremony live-streamed. Here the winners were announced and their films screened for everyone to enjoy. We celebrated both the brilliant work that makes the awards scheme what it is, and the industry as a whole in the wake of Covid-19. 
You can watch the recording of the ceremony here: 
16th July 2020 - EVCOM Clarion Awards
A Virtual Ceremony
We went live from DRPG's studio for our first ever virtual ceremony to reveal the winners of the EVCOM Clarion Awards, which champion live and film work with a cause-driven focus. Sponsored by DRPG, cvent, Syntiro Associates, Radley Yeldar, Brandcast Health and Present Communications.
You can watch the recording of the ceremony here: 
5th March 2020 - THE TRUTH ABOUT PITCHING – WINNING STRATEGIES
A Campfire
Designed for company principals, directors and owners, this thought provoking campfire shared crucial findings and insights from clients on pitching to help our guests get to grips with a new, more profitable and purposeful approach to pitching. Angela Law from Every Sense works with numerous creative and live event agencies and production companies every year. Through a qualitative client research programme, Every Sense also speak to dozens of clients every year. Angela shared the consistent patterns of assumptions behind pitches and pitching from both an agency and client point of view when compared to actual behaviour. Attendees came away from this campfire with a new understanding of what clients look for and why, how to move beyond the dog fights, when to pitch, when to decline and how to focus your efforts and energies on a winning strategy.
The team from Visual That live scribed the event, as the images they produced are below: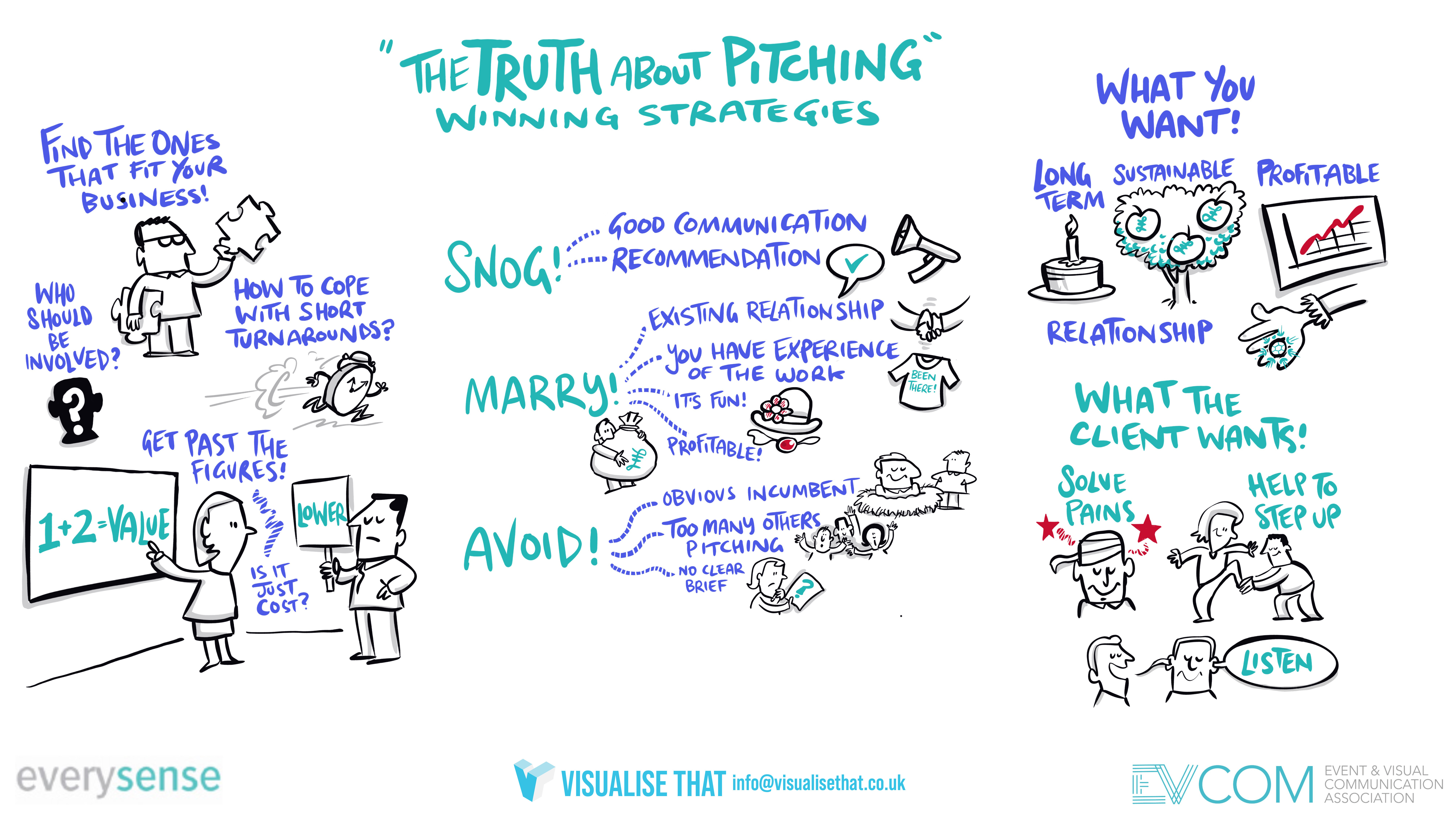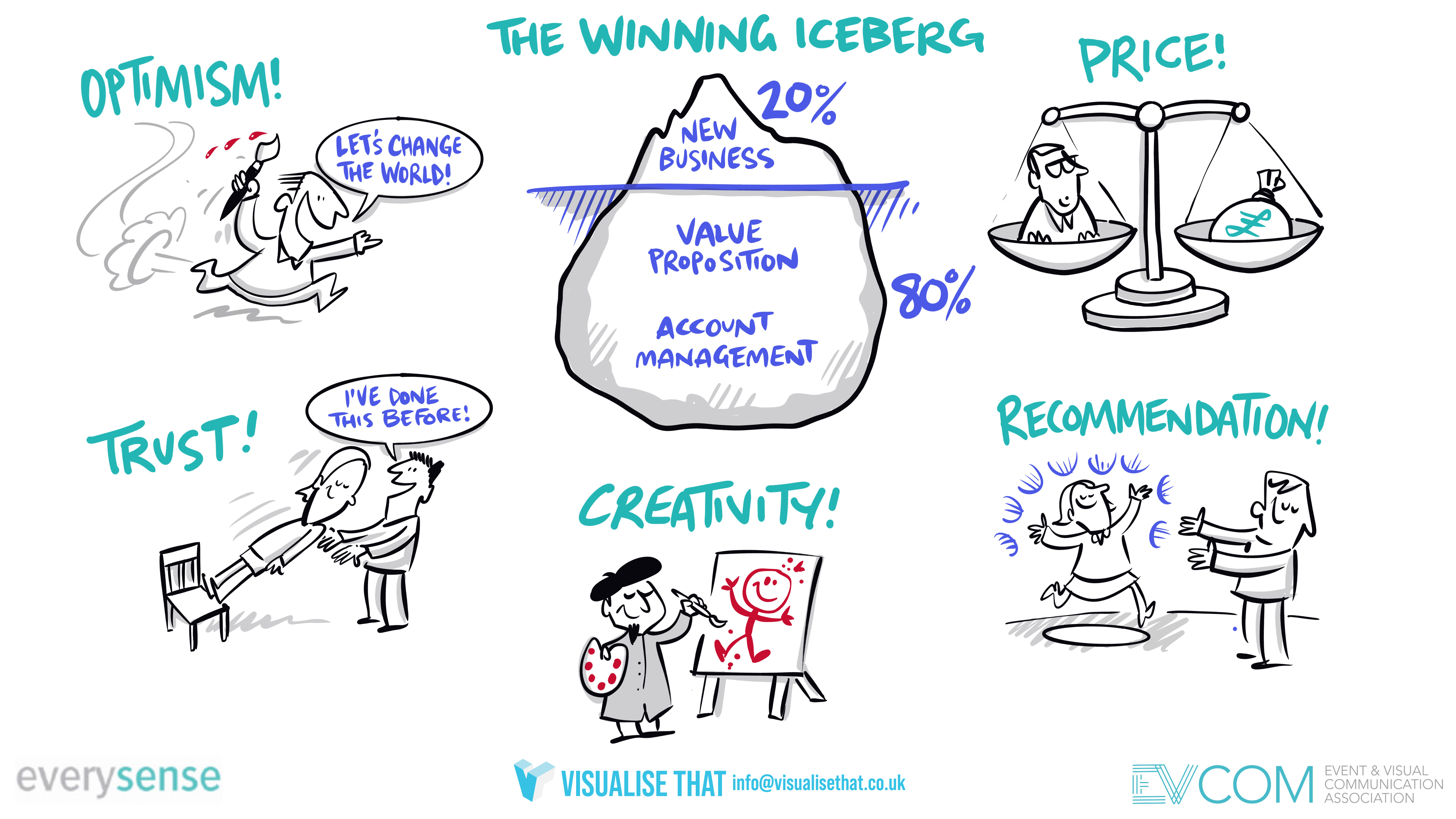 4th 2020 March - Fuelling Film: Corporate Film & The Energy Sector
Talking Pictures
Talking Pictures brought together guests from across the corporate film industry, to discuss corporate film within the energy sector, both in the fields of oil and gas, as well as in the field of renewable energy, such as sun and wind. The fossil fuel industry arguably powered the British documentary movement and today's energy industry continues to fuel corporate film production particularly in the light of climate change. This session featured outstanding work from the BFI archive and some of the best of contemporary production, followed by an insightful panel discussion.
Watch the short film we created about the event here.
22nd January 2020 - Addressing Mental Health in the Creative Industries: A guide to help build resilience amongst your team
A Campfire
The Events Industry is widely recognised as a highly stressful industry sector, ranking as the fifth most stressful industry to work in. In light of this, Helen Moon (Eventwell) led an invaluable session on what can we do to minimise and manage stress, to better support the mental health of ourselves and our teams.
Watch the post event video Helen Moon created here, and read our article on mental health in the creative industries here.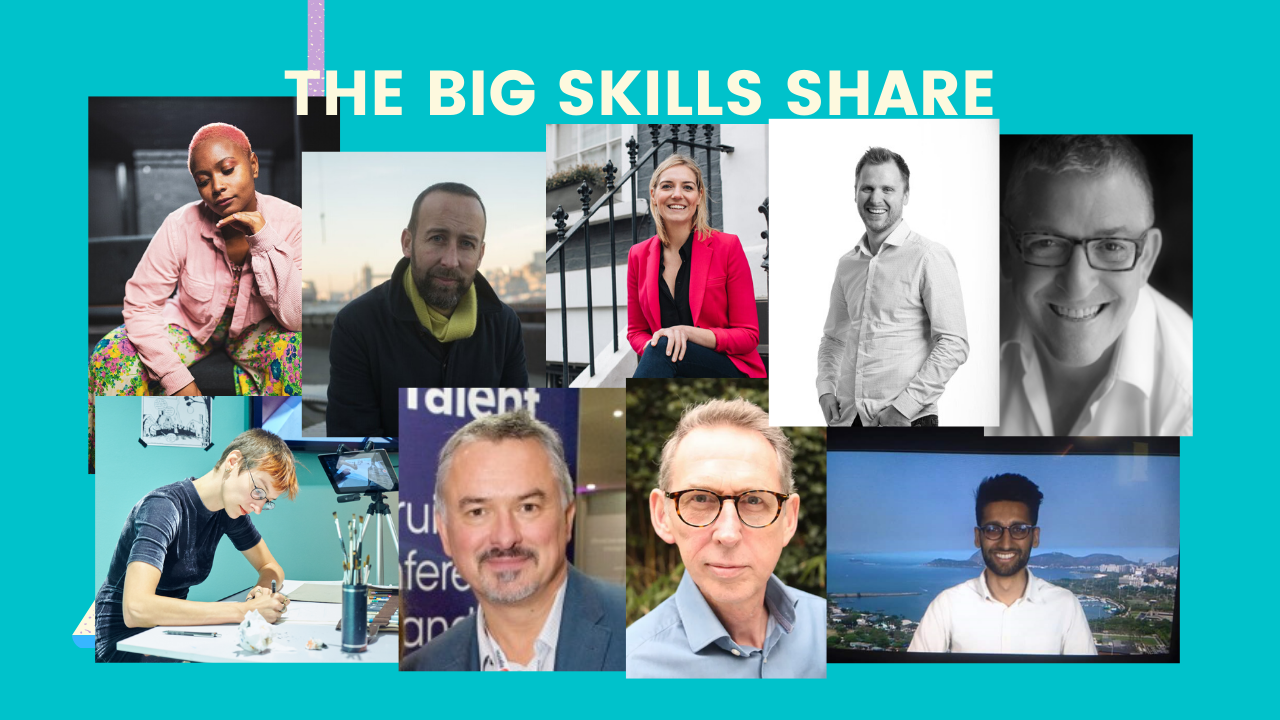 Tuesday 16th June
2PM: Creative Richard Holman shares three tips to finding those elusive great ideas.
3PM: Illustrator and artist Lucie Arnoux talks about her creative process and how she gets started on a new project.
Find out more about both sessions here.
Wednesday 17th June
2PM: In a live interview, Tony Evans (EGI Live) shares how to plan and design a strategic event in the current climate.
3PM: Humza Chaudhry (Celebro Media) takes us on a tour of the Celebro studios and shares his experiences of remote broadcasting during the pandemic and top tips for how to produce content safely but creatively at this time.
4PM: We interview Kevin Hosier (GCN Talent) live, as he sheds light on the skills gaps and recruitment challenges that have emerged as a result of the impact of Covid-19.
Find out more about both sessions here.
Thursday 18th June
2PM: Trainer and Facilitator Andrew Blair shares his insight into the possibilities and practicalities of experiential learning in a live interview.
3PM: Dan Walker (Ashfield Meetings and Events) shares his top tips on how to get a focused outcome, by thinking inside the box!
4PM: Katie Morhen (52eight3 PR) shares her top tips on how to get the press interested in your event.
Find out more about all three sessions here.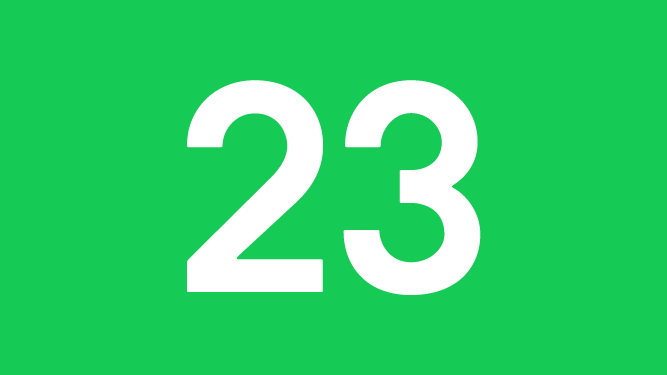 Thank you to TwentyThree for supporting our webinar and virtual events programme.