jfdi and Opinium conduct annual research which culminates in their New Business Barometer report, the largest survey of new business professionals in UK creative agencies.
116 new business respondents completed the survey in 2021, which is an incredibly significant amount. Over half the responding agencies had a staff of less than 50 people, whilst the rest were above that number. Below you can find some of the headline findings of the report, which we discussed in our virtual roundtable last week. Attendees heard from jfdi and Opinium as they shared key findings from the report and presented the figures. They then opened up the floor to discussion, where attendees could share their questions and discuss the new business issues they were facing. jfdi listened to our attendees and then shared their personalised advice for going from strength to strength this new year.
Headline Findings
Preparing for new business
Many smaller agencies don't have a dedicated new business person, which means that often CEOs and MDs lead on new business strategy. Larger agencies, on the other hand, see new business being lead by people who's roles are dedicated to this.
Following a significant drop in 2020, larger agencies have returned to their new business revenue targets of previous years, whilst smaller agencies have consistently decreased their new business targets since 2019.
Across both large and small agencies more money has been invested in marketing (although medium are down), and 'marketing as sales engagement emerges as the top prospecting strategy'.
Collaboration is the name of the game, which chimes with the collaborative work that came out of the pandemic. Smaller agencies are more likely to form alliances and partnerships, whilst large agencies are taking advantage of being able to leverage group opportunities.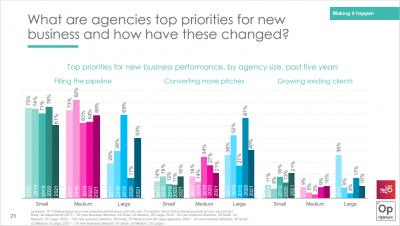 Making it happen
Top priorities for new business performance rank in order (from top to bottom) are as follows:

Filling the pipeline
Converting more pitches
Growing existing clients

Medium and large agencies are pursuing fewer opportunities overall. Interestingly the value of opportunities for medium sized businesses rose in 2021, whilst small and large sized agencies' value opportunities fell.
Converting the opportunities
Smaller agencies have the lowest conversion rate of pitch to opportunity, medium sized agencies convert half of their pitches, and large agencies have the highest conversion rate.
The value of opportunities has increased for medium and large companies.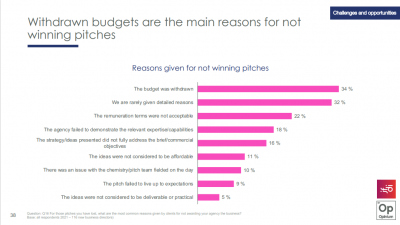 Challenges and opportunities
Withdrawn budgets were cited as the main reason for not winning pitches, whilst many said they weren't given detailed reasons by potential clients.
Strategies this year centre around growing clients and creating a clear offer to the market, whilst the pitching process takes more of a backseat.
Resource for new business is one of the biggest challenges being faced, whilst Covid and Brexit are impacting too.
Want to know more about how these insights apply to your agency or simply join the conversation? Email Mark and Camilla (jfdi) – mark@jfdi.uk.com & camilla@jdi.uk.com
Find out more via The Drum here.
jfdi is the leading specialist new business consultancy that works exclusively with agencies, and only agencies, across the marketing services sectors. jfdi has worked with over 800 agencies to win more new business, by filling pipelines, converting pitches and growing existing clients. They do this via training, consultancy, coaching and providing hands-on, senior new business directors if needed.
For the fifth year in a row Opinium are delighted to partner jfdi for the New Business Barometer 2021. Opinium is an award winning strategic insight agency (Market Research Society Agency of the year 2021) built on the belief that in a world of uncertainty and complexity, success depends on the ability to stay on the pulse of what people think, feel and do. Creative and inquisitive, we are passionate about empowering our clients to make the decisions that matter. We help our clients harness the power of insight to build, grow, promote and make strategic business decisions.