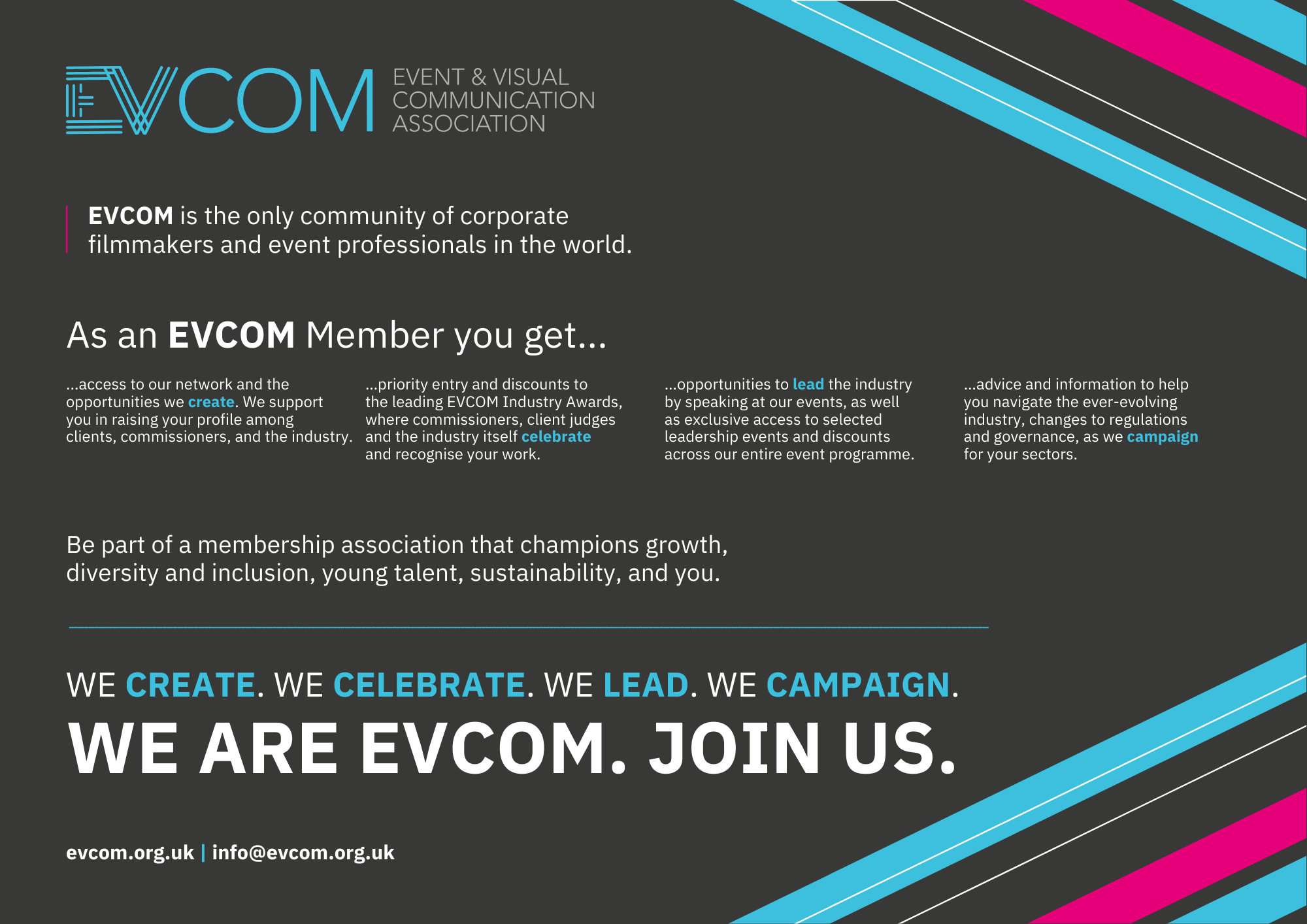 To join the EVCOM network please fill out the below application form and submit your payments details. A member of the EVCOM team will then be in touch to set your membership up. All memberships (except our individual memberships) are linked to the company and we encourage everyone within that company to take advantage of the EVCOM membership.
We've updated our membership categories to better reflect the range and diversity of the member agencies we represent. We recognise that agencies are, by their nature, entrepreneurial and often fast-growth businesses. Please note, we are currently offering free membership to Black individuals and Black-led teams until the end of 2022. If you would like to take this offer up, please email Amelia on amelia.brown@evcom.org.uk and they will get you signed up!
Otherwise, membership fees are as follows:
Charity: £295+VAT
Educational Establishments e.g. universities: £295+VAT
Freelancer: £295+VAT
Start up agency (under 2 years old)/ Growing agency (2-5 employees): £295+VAT
Small Company (6-30 employees): £795+VAT
Medium Company (31-50 employees): £995+VAT
Large Company (50+ employees): £1600+VAT
International Company (small = 1-30 employees): £495+VAT
International Company (large = 31+ employees): £995+VAT
The EVCOM community is growing and we want to make sure that membership is open and accessible to all. At EVCOM we are pleased to be able to represent members who adhere to our shared Code of Ethics and who drive best business practice in live, film and digital every working day.
EVCOM supports their members by the following:
We showcase our members via quarterly updated directory
We help members to meet and do business through a managed lead referral process
We provide professional business advice on a free to access or discounted basis to members
We maintain a roster of expert client and commissioner practitioners who review and critique best practice submissions and give help and advice to members
We host peer-to-peer best practice exchanges once a month with first place free to members
We host specialist subject matter sessions once a month with first place free to members
We partner with the British Film Institute, the Creative Industries Federation, the British Visit and Events Partnership and other relevant trade associations to access reciprocal member benefits and work together to professionalise our industry
We partner with the Event ROI Institute to offer EVCOM Members 20% off their open courses. Book your place here
We nurture an active and growing digital community with opportunities for members to contribute to news updates and reach new audiences for their work
We partner with the leading trade press to promote member news and views and to lobby for the best interests of our members
We host a topic-led annual meeting bringing together respected industry thought leaders and subject matter experts
We host an annual awards submission and judging platform to showcase innovative project practice year-round and publically applaud the best-of-the-best in our industry
We bring EVCOM members together online through our dedicated member area and our Facebook group
Please find our 2020 report here, which details the new and ongoing initiatives we have worked on this year and how we responded to Covid-19.
Code of Ethics
EVCOM are extremely proud to position clients at the heart of everything we do and have created a new Code of Ethics for members.
New members will have to agree to comply with this new code. We hope, above all, it will create a common purpose which will help EVCOM members to differentiate themselves and to stand out.
CLIENT FIRST
Our clients are our number one priority – client interests always come first.
RESPECT
We will hold our clients, partners and suppliers in the highest regard, irrespective of race, religion, disability, gender, age or sexual orientation.
PASSION
We will bring a passion to our work that is a reflection of our commitment to our clients and a reflection upon us as professionals.
COLLABORATION
We will work with our client, all other suppliers and partners, as consummate professionals. We will operate on a trust-based partnership with all whom we work with to secure the best outcome for our client.
DIVERSITY & INCLUSION
We will work actively to combat the lack of diversity and inclusion in our sector. We will commit to tackling barriers to recruitment and career progression for underrepresented groups, and to greater senior representation.
EXCELLENCE
In the service we provide, from advice to execution, we will strive always to do the best work possible for our clients.
INTEGRITY
Everything we do on behalf of our client will stand up to scrutiny. From income sources, to suppliers used, and fees invoiced.
ACCESSIBILITY
We will consider a diverse range of access needs when planning and executing projects.
SUSTAINABILITY
We will work to create events and projects that are as sustainable as possible, from suppliers to venues and locations.
CONSENT
We will respect people's different physical and emotional boundaries. We will deal with any situations in which people's consent is breached very seriously.