The brilliant Sharon Baker (Fly Don't Walk), shares her tips and advice with us on leadership during this time of crisis.
A recent survey showed that of the creative sectors, the film and events industries are being the worst hit. Leadership is crucial to move us through this time. Sharon uses the following model to demonstrate exactly what that leadership needs to look like: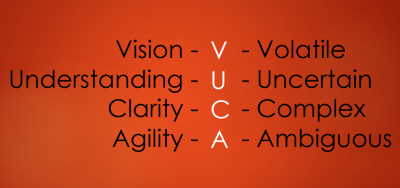 The VUCA model identifies the leadership qualities (on the left) which are required to combat and work through crisis situations (as described on the right). She goes through these one by one, offering concrete examples of each, and ways to achieve them. This is an invaluable resource, especially now, and we hope you benefit from it. Thank you to Sharon for sharing her expertise with us!
Resources to accompany:
Article on Linkedin on how to remain grounded: https://www.linkedin.com/pulse/how-remain-solid-grounded-time-sharon-baker/
THE DRUM – advice for agencies at this time: https://www.thedrum.com/opinion/2020/03/25/do-not-procrastinate-practical-advice-agencies-during-the-coronavirus-outbreak
A survey of the impact of Coronavirus on creative agencies Mar 2020: State of the Agency Survey
Harvard Business Review on how to communicate to employees (mentioned on the video):
https://hbr.org/2020/03/communicating-through-the-coronavirus-crisis
McKinsey – advice for companies to mange the impact of the Coronavirus: https://www.mckinsey.com/business-functions/organization/our-insights/demonstrating-corporate-purpose-in-the-time-of-coronavirus?cid=other-eml-alt-mip-mck&hlkid=fbe09dbff56f4fd4a6fbf17fb8775477&hctky=11848646&hdpid=babb515c-f5f7-4c27-88c9-97b702911bc8
Spheres of Influence, from Stephen Covey – A tool to help overwhelm. It helps you identify and focus on the things that are in your control, identify what you can influence and what you have no control over: Spheres of Influence
The Change Curve – explains clearly what emotions people may go through when faced with sudden change – and that there is light at the end of the tunnel: The Change Curve
You can view our full virtual programme of EVCOM Sessions here.