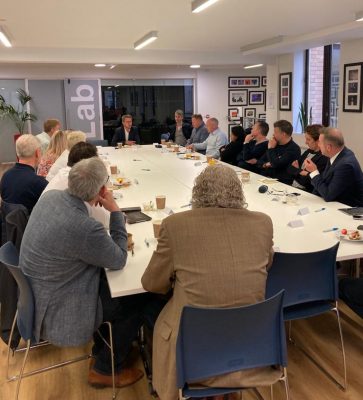 To kick off our deconstructed EVCOMference this 2022, we invited senior leaders from our membership of corporate filmmakers and event organisers for a breakfast meeting followed by an audience with Will Page. Attendees arrived at Live Union's office where the meeting was being held, and enjoyed a spread of breakfast options. They then sat down to a conversation facilitated by Marc Wright (Simply Communicate), sharing the ways in which their businesses and the industry has changed over the last two years.
The pandemic has had a huge impact on the live and film sectors, and some of these changes are here to stay. Remote shooting and directing is now commonplace in film companies, and the days of flying a full crew and kit around the world are behind us. Clients are more structured, one attendee observed. They are looking at strategy in a more long-term way, and are therefore often more interested in a full campaign, rather than a single event. Agencies are having to adjust to the fact that their biggest concerns are external ones which they can't control. Hyper-personalisation is the name of the game, and this has stretched through to internal communications as well.
Ways of working have also changed, with many people still not back in the office. One attendee spoke about the need to offer genuine flexibility to employees, meeting their needs rather than assuming what they want. Another talked about the process of creating that vital company culture – how can you make somewhere feel like a great place to work even when people aren't coming into the office? The younger generation especially, thrive on the social interaction and learning opportunities embedded into a physical workplace. How can these be recreated? This is something agencies are hearing from clients as well, who say that employee engagement is one of their top priorities, along with ESG.
The group talk about some of the challenges of the new world. Clients have got used to shorter lead times, one attendee remarked, and another said resource was a major issue. Technical and creative teams with very different approaches have been forced to collaborate, which has united lots of fantastic talent but not been without its difficulties. With so much content being produced, attendees also talked about the difficulty of "cutting through the noise". Understanding what your audience wants and cares about is vital for reaching them in a world filled with content. Inflation is a real worry, and attendees discussed uncertainty around how to deal with it and when to take the increased costs back to the client.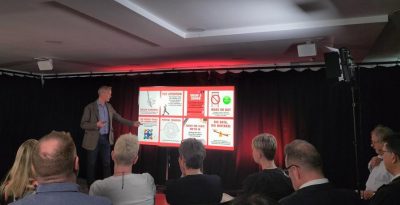 The future is uncertain and there are still plenty of questions the sector is asking. One attendee voiced a concern that as brands return to live events, the money available for content creation will decrease. How can we keep content at the forefront of clients mind? Digitalisation is here to stay, but we don't know what form it will take and how the likes of the metaverse will impact our sector in the coming years. With teams on set and in the office less, how can you find different ways of working to ensure that creativity stays alive and is developed?
Our senior leaders shared their thoughts and insight throughout the session, asked questions of each other and shared both their own challenges and best practise. The group then moved through to JLAB to be the live studio audience for a streamed talk by Will Page, the former Chief Economist at Spotify and author of Tarzan Economics. He drew on his knowledge of how the music industry has dealt with disruption to share his lesson on how to cope with, and grow from, change, especially in our digital age. He talked about competition, attention scarcity and what skills organisations should be honing to keep up! He ended the session by taking questions, both from the live studio audience and from virtual attendees watching from home!
Part of EVCOMference Deconstructed, our three day programme of events, webinars and content around the theme of 'Transformation'. Check out our full programme here.