This year we worked with Moving Image to bring back the UK Top 50, a ranking of brand and corporate film producers working in the UK. Previously called Corporate 50 and run by Televisual, the ranking is returning for the first time since 2019. And plenty has changed in the last few years. The list is a really important measurement of success in our sector, a celebration of the brilliant work so many companies are doing and a reminder of the size and scope of the corporate and brand film sector.
To create the UK Top 50, we asked companies to fill in a survey about their year in 2021. More than 60 data points were used to assess each production business. Our advisory panel, which was made up Marc Wright (Simply Communicate), Andrew Thomas (Communicate Magazine), Rammy Elsaadamy (prev. PMI) and James Bennett who ran the Televisual Corporate 50, reviewed draft results and offered independent guidance to develop the judging methodology. Each agency's position in the table was ranked across four categories, weighted at the following percentages: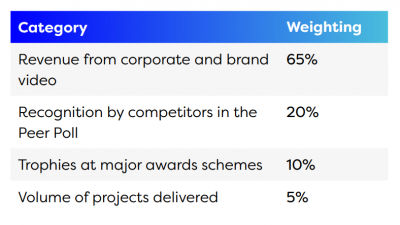 You can find out more about the methodology and see greater details of the list, including the placement of agencies this year in comparison to 2019, via a detailed PDF produced by Moving Image here: UK Top 50 2022
Or you can view the UK Top 50 at a glance below.
To begin, the top 20 are as follows:
1. Casual  
Making video happen. Round the world. Round the clock. We help people and organisations make change, interpreting your beliefs, services and products through compelling hardworking video. Be seen, heard and understood. Highlights of 2022: Some of the highlights from the last year – ​launched our digital production platform – Smart Casual. Expanded our US operation with a new office in Chicago. Expanded into Europe with an office in Barcelona. Expanded into Australia with offices in Sydney and Melbourne. Completed rebrand as well as completed a 6 x 35-minute documentary series
We're storytellers with purpose – and we never stand still. We embrace the latest ideas, technology, techniques, and delivery methods to make your project special, whatever the budget. Offices in London, Doha, Durban, Vancouver, and Paris. 700 international awards to date, and the only company so far to be named New York Festivals TV & Film Awards' Production Company of the Year Worldwide (15 years running). After 30 years of success as an independent business, we joined Zinc Media Group in 2022 – a factual television, brand and audio content production powerhouse. This partnership is providing The Edge and our clients with exciting new possibilities and opportunities, giving us the ability to bring brands to life in interesting ways.
3. RD Content
We opened one of the largest film studio campuses in the UK.  The RD vision is making better content, simply. At RD we are passionate believers in the power of storytelling to move people. We use innovative and pioneering tech to help the world's biggest brands use the latest platforms and technology to tell their stories. As a global video production agency we believe in the importance of being hands on. That's why every member of our team is a maker of stories. We opened a US office which now has over 13 people.​We were awarded production company of the year from Cannes Dolphins.​
We're a next-generation production agency. We've successfully merged agency creative with production expertise. Our creative delivery model has evolved. Effectively replacing outdated, elongated, expensive ways of working with collaborative, fast and reasonably priced services. We thrive on disruption and are well known for our ability to adapt to any creative challenge. Constantly re-inventing and bringing new ideas that move people, change perceptions and inspire action. During 2021 we focused on talent retention and acquisition which has been successful. our work flow system is super organised which is appreciated by freelancers and enables creative productivity and our unique culture continues to reward, retain and entice talent.
We're made up of more than 200 specialist brand and digital strategists, film-makers, developers, UX designers, creatives, reporting consultants, employee engagement experts and sustainability gurus. We're here to deliver work that works for our clients. Our content, campaigns and thinking add up to something more. We combine the right evidence and the right inspiration to build belief. That's not easy, in these uncertain and tumultuous times it takes the right mix of people, expertise, ambition and a big old serving of passion for delivering meaningful work. 2022 marks RY's 15th year of filmmaking. Our work won awards both at home (EVCOM Clarions) and abroad (New York Festivals), with a reputation as leaders in the sustainability communications space, We've also recently submitted our B-Corp application to become a company balancing profit and purpose.
We believe in the power of creativity to help enhance corporate reputation. By bringing corporate narratives to life, we create compelling multi-channel ideas for critical stakeholder audiences. Our creative and production specialists execute campaigns and content across design, film, live events, and digital content to deliver impactful messages to the right audiences at the right time. Brunswick Creative continue to produce large integrated live video events for some of the world's largest companies.
7. DRPG
DRP are the thinkers, makers and creative doers. A global team of passionate creators built to help businesses connect, communicate, and convince. We understand the why, we define the how and make the what possible. Whether you need that vital strategic insight or an employee experience to help retain your best people, we're your single point of contact for creating communications that engage, excite and inspire in every detail! Highlights of the year include being awarded Queens award for Enterprise Sustainable Development, winning our first Campaign Magazine Brand Film Awards for internal and a highly commended in editing, winning Video production company of the year at Lens Awards​ and overall growth in revenues and size of team.
8. WING  
WING are a multi-award-winning film and advertising studio on a mission to deliver the unexpected and unforgettable. We combine the creative flair of traditional ad agencies with the cost conscious, time efficient processes of production companies delivering high-end film content to the world's largest brands. In 2021 we delivered our third consecutive Olympic project for Coca-Cola, and have continued our relationship with Formula 1 teams, creating content for Mercedes, Aston Martin and McLaren. We pitched for and won the contract to create 100+ films for the host broadcast output at the FIFA World Cup 2022. We were named Campaign and PR Week's Production Company of the Year 2022.
Gorilla, Gorilla produce brand documentary shorts, animated explainers, campaign films, social bites, and content strategy to help our clients tell powerful stories of change. We work as full-service, global production and content creation partners, as a safe pair of hands to support the in-house brand, communications, marketing, social, and campaign teams for a range of clients including Amazon, Anglo American, The Body Shop, HSBC, and Sainsbury's.
10. Pukka Films
Pukka Films are experts in changing behaviour through the universal language of film. Our award-winning films are used by global organisations to improve workplaces, work practices and businesses, Our rigorous research creates credible, complex characters and accurate, realistic situations that audiences recognise, identify with, believe in and act upon. We deliver memorable, relevant, rewarding films which people want to watch as a catalyst for effective behaviour-change.
11. Quite Frankly
Connecting audiences since 2007, we offer a full production service, from creation through to distribution and we pride ourselves on a strong editorial mindset. With offices in London, New York and Bangalore. The year has seen development of a great young team and moving to a fully cloud based post process has proven to be a game changer.
12. Studio Giggle
Studio Giggle has been creating award-winning content for over a decade. Based in our studio in The Paintworks in Bristol we specialise in designing and producing interactive, immersive content for extraordinary events. In addition our wonderful team also create animated and filmed content for global brands and their communication and marketing needs.
13. Heehaw
A collective dedicated to the creative arts using their talents to produce impactful videos, animations, branded content and campaigns for our clients. Our backgrounds are diverse; filmmakers, storytellers, marketeers and designers – all these elements help build the collective strengths of our team and add real value, experience, and passion to our work. Over the course of many years we have helped some of the world's most influential organisations communicate to their global audience through engaging and emotive storytelling. We also diversified away from client budgets and made our first scripted feature film, a made-for-TV movie with Reel One Entertainment, and we became VT suppliers to BBC's The One Show, a big step in our push into original content.
14. Inspired Films
We are a full service, multi award-winning content creation agency, delivering next level, brand defining content for some of the world's biggest brands, from Nike to the NHS. Drawing from our extensive experience in agency, TV, features and commercials, our talented, disruptive team of innovative, creative storytellers shape and craft incredible visual narratives that engage, inform and effect true behaviour change. Inspired offers an end-to-end service from creative strategy and ideation to distribution. And with 24 award wins & 48 nominations in the past two years, including recently being shortlisted for Campaign & PR Week's Production Co of the Year, we'd like to think our work speaks for itself.
Happy Hour Productions are a full-service creative production agency who work with brands of all shapes and sizes to create insightful, responsive advertising and communications. We have a team of industry leading creatives, strategists and producers, and have been producing everything from national TV advertising campaigns to marketing films, corporate videos, online video content, sponsorship idents and plenty more for over 15 years.
16. Bladonmore
Bladonmore are a of team of strategists and coaches, designers, developers, project managers and producers, helping you to communicate with confidence. Combining strategic thinking with creative delivery, we bring business strategy to life. We work with large corporates, investors, entrepreneurs and not-for-profits across international borders; from the US, to Europe and the Gulf. We have also significantly expanded of our employee engagement and are opening a new office in New York.
Starstruck is a digital, marketing and content production agency with a broadcast background. Established in 2007, Starstruck has brought a wealth of experience to a range of products and services, like digital marketing, social media, television production, radio broadcast, brand films, live events, comedy, virtual production, IP creation and strategy.
18. Raw London  
Our work is all about changing perceptions. If you want people to behave differently, first you need to change what they know, think, or understand. Learning something new, getting a fresh perspective, and seeing the world through someone else's eyes are the seeds that grow into behavioural change. We work across teams, sectors and territories to find human truths and unique creative solutions that make people feel, think, and see your brand, cause – or society – differently.
19. Hurricane
We use well developed messages, strong stories and creative ideas to build powerful content marketing and video marketing campaigns. We offer comprehensive video production and video marketing services and a well-defined and effective process to guide you through from first steps to final goals.
20. Affixxius
Affixxius is a fully in-house video production agency Our team and technical expertise have grown to match our creative ambition and client success. Affixxius are a fully in-house agency video production and agency video content partner specialising in the creation of high-quality content for uses throughout the commercial world. We produce campaigns for leading brands and agencies and pride ourselves on producing high-quality content that is creatively driven
The agencies ranked from 21-50 are as follows:
21. Big Button
24. nrg-digital
25. Toast TV
26. Liquona
27. Brickwall
28. One Small Pixel
29. Nowadays (formerly 3angrymen)
30. A-Vision
31. Firehouse
32. Bouche
34. Kaptcha
35. Mocha
36. Vermillion Films
37. Reels in Motion
39. Frantic
40. Aspect
42. Verity London
43. Brother Film Co
43. Lonely Leap
43. Wordley Production Partners
46. Sequel Group
47. LRI
48. Humanoid
50. Juice
Congratulations to everyone who has been recognised in the UK Top 50 this year. We are really proud to bring back this list for the industry. View the full report here: UK Top 50 2022