As we come to the end of August, we are delighted to announce some more of the featured sessions of our jam-packed EVCOMference programme. These sessions, led by individuals with invaluable expertise, are not to be missed! We will be hearing from our esteemed speakers across the topics of holistic diversity and inclusion strategies, sustainability communication strategies and measuring effectiveness of corporate comms strategies, as well as gaining a pan-European perspective on the live communications industry. Find out more about these sessions below, and get your hands on tickets to see them here.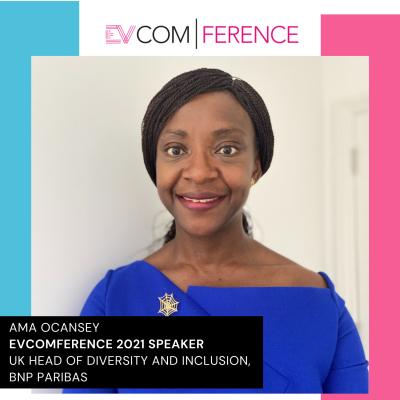 We are really excited to be welcoming the Head of Diversity and Inclusion at BNP Paribas, the brilliant Ama Ocansey, to speak. Sharing her vast experience of diversity and inclusion within a large, international financial institution, Ama will begin with assessing some of the challenges faced and debunking a few myths in a session entitled 'The Holistic Approach to D&I'. The main thrust of her session is based on importance of a holistic approach and the intersectionality of inclusion. She will also discuss the importance of the messaging and communication of diversity and inclusion both internally and externally. Following the resurgence of the Black Lives Matter movement last year, many companies are embedding diversity and inclusion into their strategies so this will be a vital session for anyone looking for guidance in their approach.
Ama is an inclusive leader championing corporate culture to be curious, diverse and equitable. Ama works with senior management, business heads and human resources to implement and execute her DEI strategy across 10 business lines, employing over 9,000 people. Ama is regular keynote and panel speaker in her subject area. Ama is a qualified Solicitor of England & Wales and begin her career in a Magic Circle law firm, where she worked in their London and Tokyo offices. She then moved to a  leading investment bank where helped build their emerging capital markets business across EMEA. Outside of work, Ama has an interest in studying and developing access to finance for individuals and entrepreneurs in developing economies, and is a NED for the Financial Inclusion Forum. She also mentors junior City lawyers and students.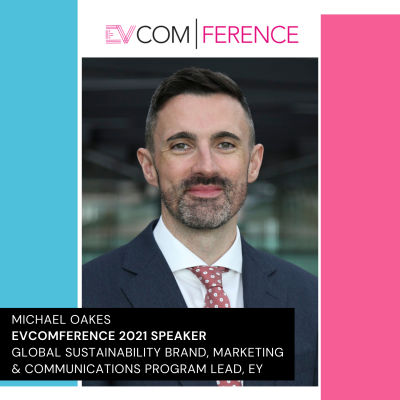 Across our industries we've seen a growing focus on sustainability. So we are very glad to be welcoming Michael Oakes to EVCOMference to discuss that very topic. In his session 'Successfully Communicating Your Sustainability Programme', Mike will share with you how to creative a distinctive, high impact sustainability communications strategy and his experience of shaping stories with impact. He will look at how the right teams, with the right range of voices and skills are formed creates effective collaboration and how to stay grounded in a sea of hot air – avoiding greenwashing and greenwishing!
Michael Oakes is the Global Sustainability Brand, Marketing and Communications Program Lead at EY. He leads the development and activation of EY's Global Sustainability brand and communications strategy. This includes the launch of EY's carbon ambition, the founding of the S30 forum of Chief Sustainability Officers, and the development of EY's Value-Led Sustainability framework that helps clients protect and create value from sustainability. Michael's career includes communications, editorial and events leadership roles at Virgin Atlantic, The Economist, UBM Aviation and the Middle East Economic Digest.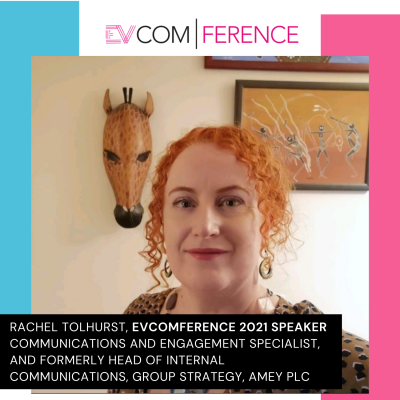 In this illuminating joint session about measuring the effectiveness of corporate comms strategies, Rachel Tolhurst, Communications and Engagement Specialist [formerly Amey Head of Internal Communications] and Mike Elkington, Senior Communications Manager – Digital, Amey Plc, will share their case study of how Amey's communication team developed their measurement approach. They will delve into ROI, the dangers of vanity statistics and keeping and eye on the big picture. You will leave with examples and tips that you can put into practice right away and learn how to be your own hero!
Rachel Tolhurst has worked in communications and engagement across financial and infrastructure services. She is passionate about the value of data to drive insight and improvement. Her approach is based on 25 years' experience and making sure to look on the brighter side of life.
With a background in technology, design and marketing, Mike Elkington, built his first website in 1996. Since then, he's been quietly transforming the way businesses use their digital channels.  Fascinated by the "Digital Body Language" of metrics and the insights they give, he's on a mission to show that data is anything but boring.
In the session, 'From Impact, Through Resilience to the Renewed Future of Face-to-Face Communication' we are really looking forward to being joined by the Founder and Manager Director of LiveCom Alliance. Maarten Schram will be joining us to speak about the key challenges and future opportunities in the live communication industry. The LiveCom Alliance European Industry Survey, yearly conducted by the renowned RIFEL Institute, exposes the dramatic impact that Covid-19 had on the live communication sector. Turnover, projects and employment were most heavily impacted. During these unprecedented times our industry has continued to show resilience while facing the challenges that the pandemic, followed by the reignition of the business, brings. As the industry kickstarts the eagerly awaited comeback of meeting each other face-to-face, Maarten discusses where the opportunities are in the renewed future of live! Revealing insights, and bringing you an interesting 'after corona/before corona' benchmark, this survey and the session around it are not to be missed for those doing business across Europe!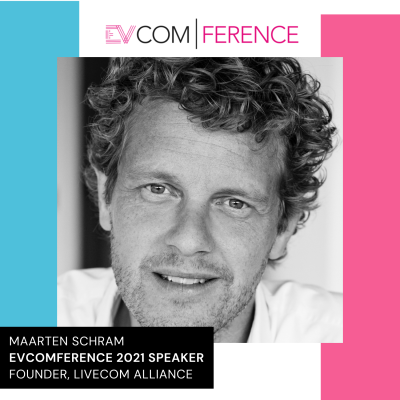 Maarten Schram established LiveCom Alliance in 2016 as a non profit foundation on the believe that the live communication industry deserves a pan-European approach and audience, and would benefit from an overarching dedicated yet independent institution. Today, serving twelve national organizations (participating associations) and affecting over 1.000 leading agencies and companies (associated members) around Europe. Maarten thrives the pan-European industry creating a stronger, more sustainable and more interesting playing field by introducing the first pan-European Code of Ethics (2017) and first pan-European Pitch Guidelines (2018). Furthermore he publishes the European Industry Survey yearly. The LiveCom Alliance European Industry Survey aims to capture the major trends and economic impact drivers for the live communication industry in the world's biggest free trade area. Since 2019 this study has been conducted by the renowned market research RIFEL Institute, an important step towards building a comprehensive overview of this important industry. Maarten is also managing director at the Independent Dutch Event Association (IDEA), the association for Dutch leading event agencies. Since he graduated from the InterCollege Business School in The Hague, he is working in the event and live communication industry for 25 years. Maarten is also jury member and involved in the advisory board of several national and international awards and events and was during the pandemic year member of the program team of the Dutch Fieldlab Events program.
Get your tickets to EVCOMference here. We look forward to seeing you there!