Recently, (June 2022) the BFI joined forces with ERIC, to research what's stopping young people from pursuing a career in the screen industries. 'New research finds 13 to 16-year-olds are not receiving adequate or up to date careers advice about the screen industries, presenting a major block for new entrants to join the sector,' says the BFI as they introduce the report.
Reiterated throughout the report is the headline takeaway: young people are intrigued and eager to learn more about the industry but feel let down due to the inadequate amount of support from their careers advisors and film and TV companies themselves.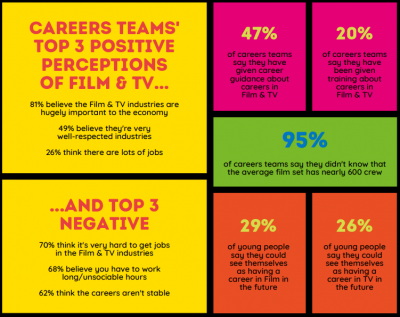 2/3 of young people say they would be open to hearing more about screen industries with 1 in 5 saying that their dream job would be in the screen industries. However, these young people are struggling to find out about the industry and to break through into it when they know so little about it. 45% of young people said they get little to no careers guidance at their schools. 48% schools said that they only had one staff member trained in being able to hand out careers advice, because of insufficient funding.
The small careers teams in schools are struggling to find information regarding screen industries that schools can pass on to their students. In fact, ERIC found through their research that only 1/5 careers teams knew where to find relevant information concerning screen industries.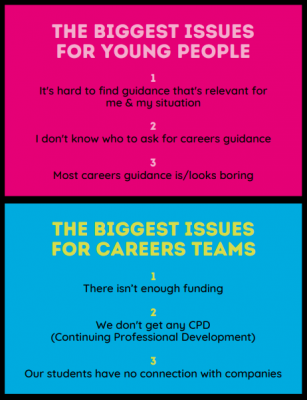 Looking at these facts and figures, it is obvious that the support students need in order to push their way into the screen industries is simply not there. The lack of communication between the industry and the schools is what's letting young people down. This coincides with a lack of funding for schools, preventing them from being able to research the industry and share the resources and support available for young people who'd like to get into.
The screen industries and schools must learn to help one another, building relationships between them so that information and resources can be shared across this bridge, to give the innovative and brilliant young people of our country a chance at a career they love.
If you are an aspiring filmmaker, remember to check out the EVCOM Next Gen area, which is full of resources for young filmmakers to find out about the industry and get opportunities within it.
Read the full report here.
By Sam McShane
EVCOM had the pleasure of welcoming work experience student Sam to spend the week with us. He worked across a range of administrative, writing and designing tasks for us, as well as helping at the EVCOM Clarion Awards, checking tickets, helping set up and generally supporting the team. It was great to have him with us.