As broadcasters and filmmakers how are we doing when it comes to female representation? 
Even in 2021 it is still not a level playing field for women in the media. Women hold only 16% of senior roles in the industry, are less represented at the Oscars (only one woman has been awarded best Director), and out of all of the films that have won an Oscar since 1929 only 49% have passed the Bechdel Test. The Bechdel test, created by Alison Bechdel in 1985, is a method of measuring female representation in fiction and film. In order to pass the test, a film must feature a) at least two named women, b) who talk to each other, c) about something other than a man. It would appear that while things are improving, the portrayal of women in the movie business still has a way to go.
In the Broadcast media it is a similar story, improvements have been made but there is still work to do. The broadcast and tabloid press can be a powerful platform for women to speak out about oppression and abuse of power – an opportunity for people to tell their stories of rape, sexism, gender bias and other unacceptable experiences. Take Gretchen Carlson, one of the brave individuals who filed a lawsuit against Fox News. It was in part the coverage of this in the New Yorker that paved the way for the #MeToo movement as thousands of women came forward to tell their stories. For women to be heard, for them to be taken seriously, the courageous journalism of advocates, such as Ronan Farrow and the publications who ran these stories against powerful and influential men such as Weinstein, was essential.
U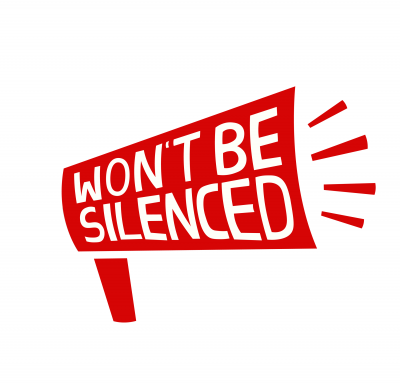 nfortunately the 'silencing' of women is nothing new. The first recorded example of a woman being told to 'shut up' dates all the way back to the start of Homer's Odyssey, almost 3000 years ago. Since then there have been so many other defining moments in history where women's voices haven't been heard, from the silencing of female slaves, to not allowing women the right to vote, to the Witch Trials of the fifteenth century. Even today, the word 'witch' is still heavily used to silence or devalue women and their voices. You only have to look at Hilary Clinton, a strong, powerful woman who was branded a witch throughout the 2016 US elections time and time again. Images flooded social media of her on a broomstick wearing a black hat with green skin.
Across time then, women who speak out have been branded: liar, manipulative, narcissistic, 'she deserved it'. These are all words and phrases that are used against them/us. As media professionals we have a responsibility to use our power and influence to ensure that the language used to describe women is not used to silence them because having a voice is crucial. By redefining whose voice is valued, to include all women, we redefine the media and its values.
From the representation of women in film and content to the percentage of women holding senior roles, it is clear that as an industry we are not there yet. To be clear – we don't have to believe every story we are told but as filmmakers and content creators we have a duty not to try to silence those who speak out by labelling them as liars, witches and bitches. Our responsibility lies not just in the stories we choose to tell but also the way in which we choose to tell them. It is on all of us to choose how we represent women in those stories, and what words we choose to describe women with uncomfortable stories to tell. Chances are they are not witches, liars or bitches, so let's not call them that. Not ever again.
This article was co-authored by ex EVCOM Chair Rachel Pendered and Media Zoo Marketing exec Eleanor Collins who are working together on a research piece on the role of women in the media. 
Photo credit: Shutterstock