We are in a time of political upheaval, and political messaging is more at the forefront than ever with the rise of Fake News and the likes of the Brexit Bus. Communication around political issues is changing beyond belief, and not always for the better.
In the midst of all this it is inspiring to be able to share two projects – one film and one event – with you from our membership that are putting a spotlight on deportation and human rights, two vital political issues that we don't hear enough about!
Tim Langford creates an impactful film about an immigration scandal that saw thousands deported, in support of the charity Migrant Voice and TOEIC
In 2014, Amin had his right to stay in the UK taken away after being accused of cheating on an English language test in Leicester.
But he's never been to Leicester and has proof he travelled to a London test centre on that day.
He's one of almost 34,000 students and entrepreneurs accused of cheating on the English test known as TOEIC. The Home Office revoked their visas and deported thousands. A further 22,000 were told their test results were "questionable".
Stripped of their right to work or study, many are destitute and suffering severe health problems. Unable to travel, most have missed family funerals and weddings.
Inquisition is a campaign film I made for the My Future Back campaign jointly run by the charity Migrant Voice and TOEIC that was released early 2019. The film was launched at the Houses of Parliament to a 120 people and became the focus for the campaign – in attendance were BBC Panorama, The Times and The Guardian, Thames TV London News + 8 MP's and 2 Lords. The film was shortlisted for both the Clarions and the Best Director London Film Awards in 2019.
This is one of the most powerful and overwhelming films I have ever made; Inquisition is a campaign film about a terrible miscarriage of justice suffered by at least 34,000 students in the UK who came here in good faith to study from India, Bangladesh and Pakistan. Their treatment has echoes of the Windrush scandal. The film is designed to support the charity Migrant Voice and the students themselves as they continue their dogged campaign for justice. Filmed on a shoestring budget it uses simple testimonial techniques to tell their story. Big shout out to my team who helped make it possible by offering their services at minimal cost – DoP Michael Sanders and editor Keith Wright.
"The students had a wonderful day and experience. They have left with more confidence and energy to keep fighting for justice. It was a very pleasant change for them to see British people who are so kind and understanding and willing to give their own time and energy to support them in their efforts to seek justice. They have met of course lots of kind and understanding people but this is the first time they are offered such support and opportunity. They are very very grateful, so am I," said Nazek Ramadan, Director of Migrant Voice.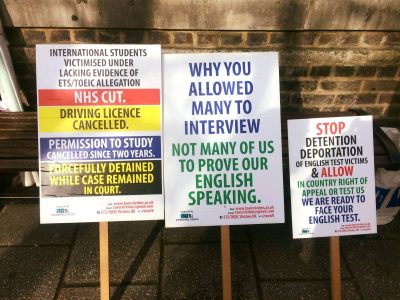 Broadsword Event House deliver Trust Conference, the flagship event for the Thomson Reuters Foundation who raise awareness around human rights issues and inclusivity
The Thomson Reuters Foundation is the corporate foundation of Thomson Reuters, the global news and information services company. They work to advance media freedom, raise awareness of human rights issues, and foster more inclusive economies. They held their annual flagship event, Trust Conference, at the Queen Elizabeth II Centre in the heart of London. Day one addressed creating a fairer economic system for those left behind and day two looked at closing civil society space, with a special focus on media freedom and tech and human rights. We ensured that the powerful imagery that accompanied the stories being told over the two days were displayed in a big and bold manner. To kick off the day we designed an impactful opening sting which included hard hitting news pieces from the Thomson Reuters archive and was accompanied by exciting motion graphics that made full use of all the displays.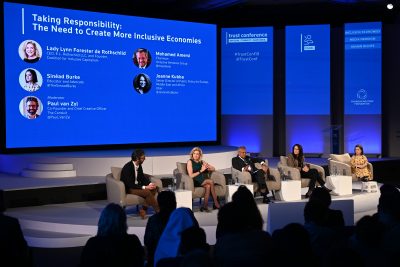 Thank you to those who contributed their brilliant and vital work to this member feature article.