Nearly 9,000 people sleep rough on the streets of London every year (Streets of London), and and Shelter predicts that over 120,000 children in England will wake up homeless or in temporary accommodation on Christmas Day this year. Yet there is still so much stigma around supporting homeless people, and too little being done to end this crisis and put a stop to homelessness. As the weather gets colder, it's gets even harder for homeless people.
So we have asked our members to collate the brilliant work that they do, work which highlights this issue and supports charities working to support homeless people.
The Edge Picture Company document a poignant and true story of homelessness
We recently produced this film for the well-known homeless charity Shelter. It is a powerful, poignant and emotional drama that is based on a true story of a woman who loses her home due to tragic circumstances, and is helped back onto her feet by Shelter.
Raw London reframes homelessness in Crisis' new Christmas campaign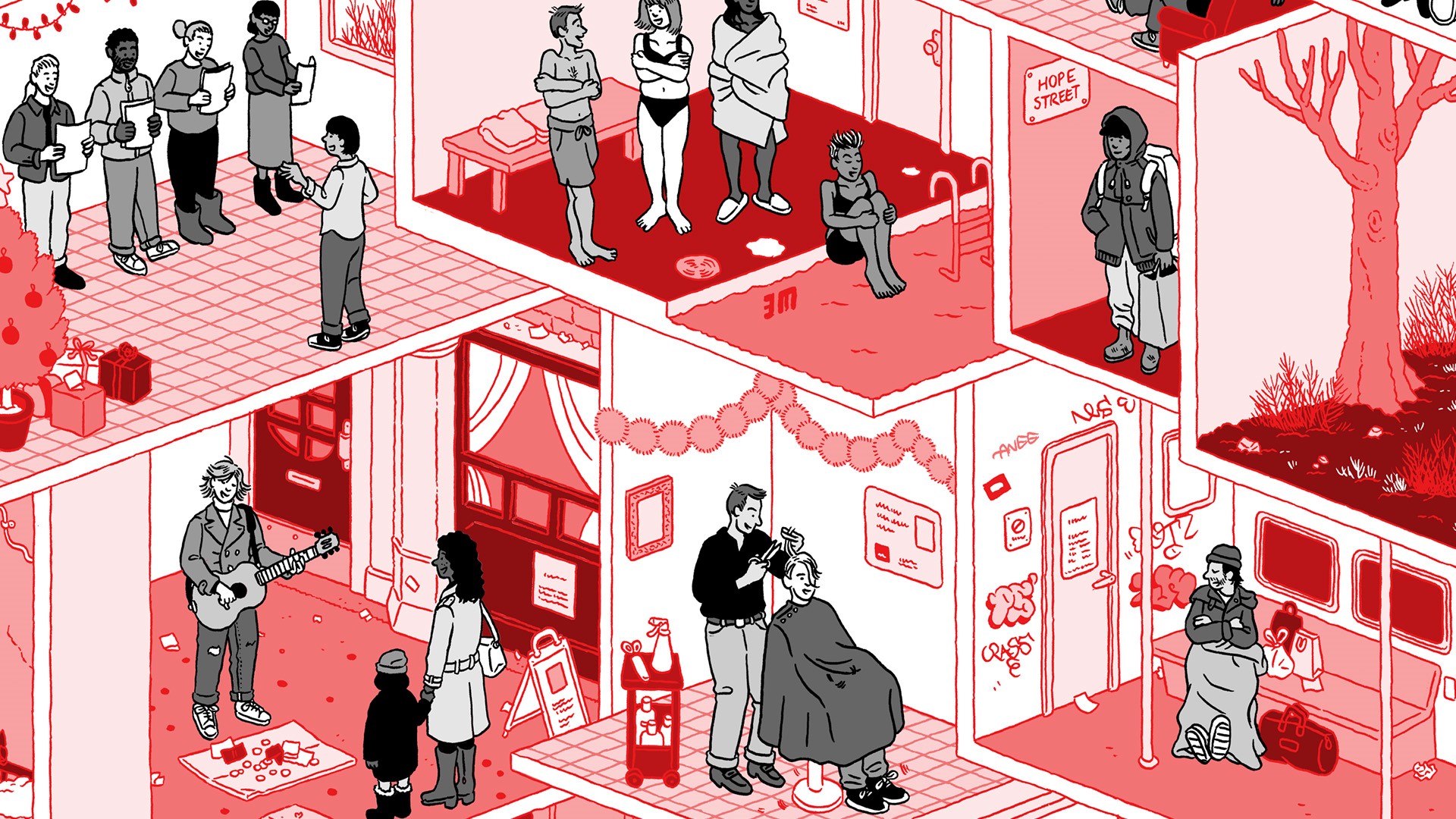 Raw London has created the lead visual identity for the Crisis Christmas campaign. Inspired by the Where's Wally? books, Stephen Biesty's Incredible Cross-Sections and German wimmelbilderbuchs, the rich illustrations convey the scale and complexity of homelessness by telling hundreds of personal stories at once. The campaign aims to shift the conversation away from individual needs to concentrate on messages of prevention, predicting conditions that can lead to someone losing their home and giving support at the right place and at the right time to stop people losing their home. The creative therefore reframes public perception to see homelessness as a systemic and societal issue, while keeping personal stories front and centre. To bring the concept to life, Raw London worked with revered illustrator and graphic artist Ilya Milstein, known for his work with The New York Times, Apple, The Metropolitan Museum of Art and It's Nice That.
The campaign portrays real-life stories to facilitate fundraising, conveying the systemic problem, and maintaining the dignity of Crisis members and the homeless community as a whole. The campaign launched last week across Crisis services comms, and will soon roll out across retail stores, in volunteering packs and on digital channels.
Gavin Buxton Knight depicts global homelessness through the story of a family of refugees
Across the world, refugees are fleeing war torn countries. Homelessness is a global issue and this film tells the story of a family of refugees.  Ali & his wife have three young children and it took them over two years to travel from Iraq to join other family already living in Hungary.  I made this film with the charity SOS Children's Villages who looked after them in refugee camps in Macedonia & Serbia along the way (SOS are sponsored by Microsoft).
Gorilla Gorilla! produce a mini-series of short iPhone documentaries about the experiences of homeless people in London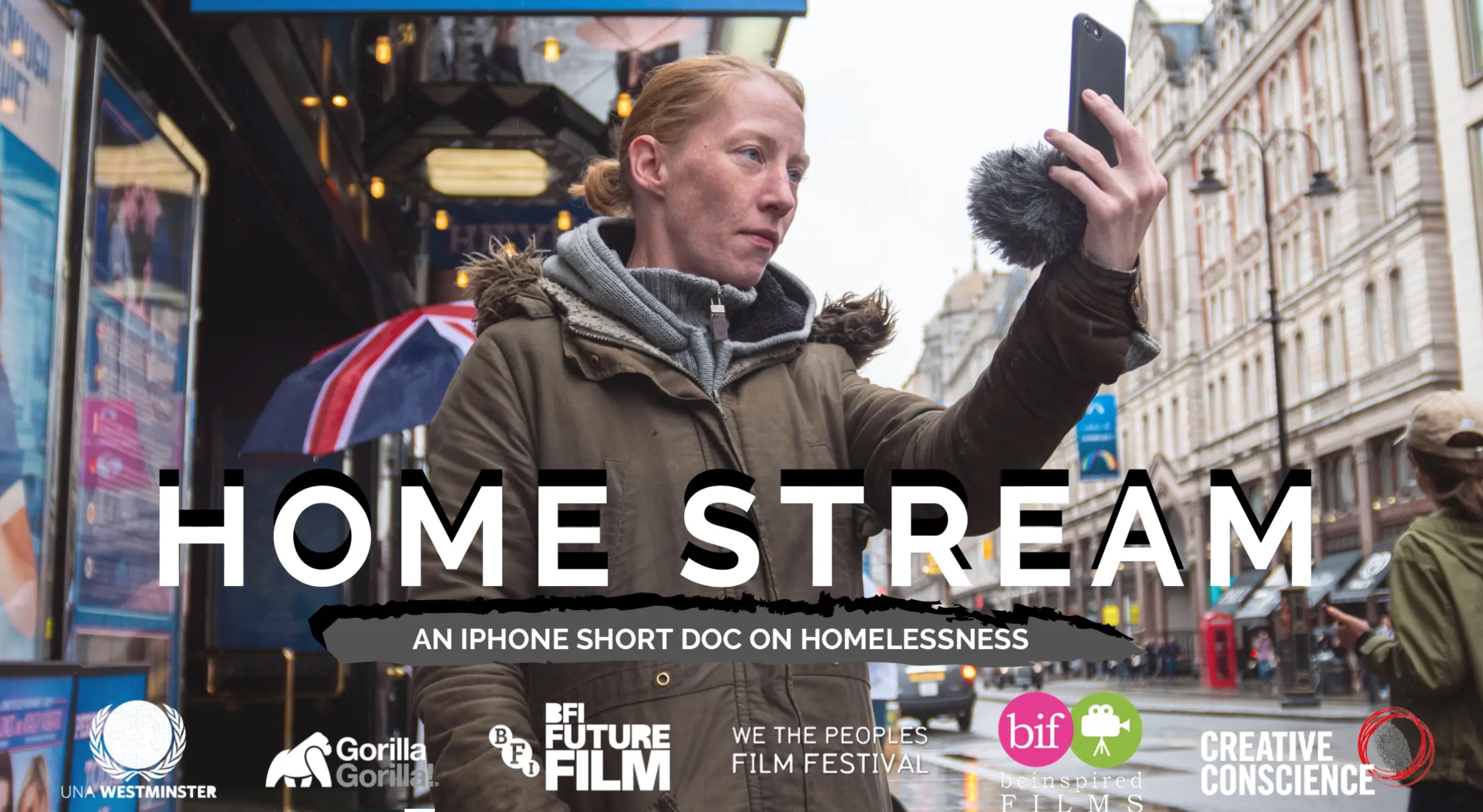 At Gorilla Gorilla! we've been working with up and coming filmmaker, Giulia Gandini, throughout 2019 to create a mini-series of short iPhone documentaries about the experiences of homeless people in London. The project was of particular interest to us for two reasons: homelessness is something we have supported through charitable donations and pro bono film work since opening for business in 2014. Secondly, it afforded us an opportunity to see how user generated filming could be pushed creatively to give agency to people who are homeless themselves thereby helping to reshape perceptions.
The project team have successfully filmed with three contributors: Lily (who has been homeless for a year and a half), Roland (currently sleeping rough in a tent in West London parks, he has been homeless for 3 years) and Karolina (currently 4 months pregnant and living from hostel to hostel). You can watch Lily's story here. Roland and Karolina's stories are currently in post-production. Home Stream is screening at BFI Southbank on November 14th and at the 'We The Peoples' Film Festival organised by the UN on November 19th. It's also screening at a London event run by Shelter about social housing and homelessness on November 26th. It's due to be released online in 2020 by Real Stories in the UK and NowThis in the US.
3angrymen works with Crisis to produce film that imagines the reality of sudden homelessness
Commissioned to mark the 50th year anniversary of Crisis, the national charity for homeless people, Together We Will End Homelessness is a film that imagines the tangible possibility of waking up to find a world where homelessness has disappeared. With this hopeful outset, the film opens at dawn and an ordinary day is made extraordinary by the absence of homelessness. Places we might walk by without looking become our focus; a park bench, an empty tent, abandoned sleeping mats. We are given a peek into the spots that we have become accustomed to seeing homeless people sleep in, and yet their palpable absence in this film provides a powerful alternative vision for the city.
TINKER TAYLOR produce a documentary on homelessness in Birmingham for the City Council
Birmingham City Council commissioned TINKER TAYLOR to create a 15-minute documentary addressing why people become homeless, what the Council is already doing to tackle this, as well as their vision for the future and how the people of Birmingham can help. The film features interviews with thirteen different people. Among them are local councillors, charitable organisations, and people with personal experiences of homelessness. The variety of contributors necessitated extensive scene-by-scene storyboarding of the film.
Using key messages provided by the client, we sketched the film's narrative, crafted bespoke interview questions for each participant to elicit our desired key messages. Many of our interview locations are popular rough sleeping spots, and so their use in the film visually reinforces the Council's engagement with the issue. We adopted a loose, observational videography style throughout. Shooting the footage 'on the fly' immediately engages the viewer as it feels familiar – this is the way most of us experience homelessness after all. The style is authentic, grounded. It feels real. The video also features an animated sequence covering key statistics about homelessness in Birmingham, to inform – and shock – the viewer. We wanted to open people's eyes to the severity of the issue.
Tackling Homelessness was released on June 18th 2019 at the Everyman Cinema in Birmingham, to an audience of 60 invited guests – including members of the media. It was subsequently featured on 'BBC News at Six' and various local news outlets, where its raw and honest portrayal of the homelessness crisis was highly praised. The film was described by Jon Sparkes, CEO of Crisis UK, as "one of the best films about homelessness I've ever seen".  In the future we hope to bring the film and Q&A to local schools, educating young people about the homelessness crisis that's all around us.
Nationwide Building Society partner with St Mungo's to support HomelessWise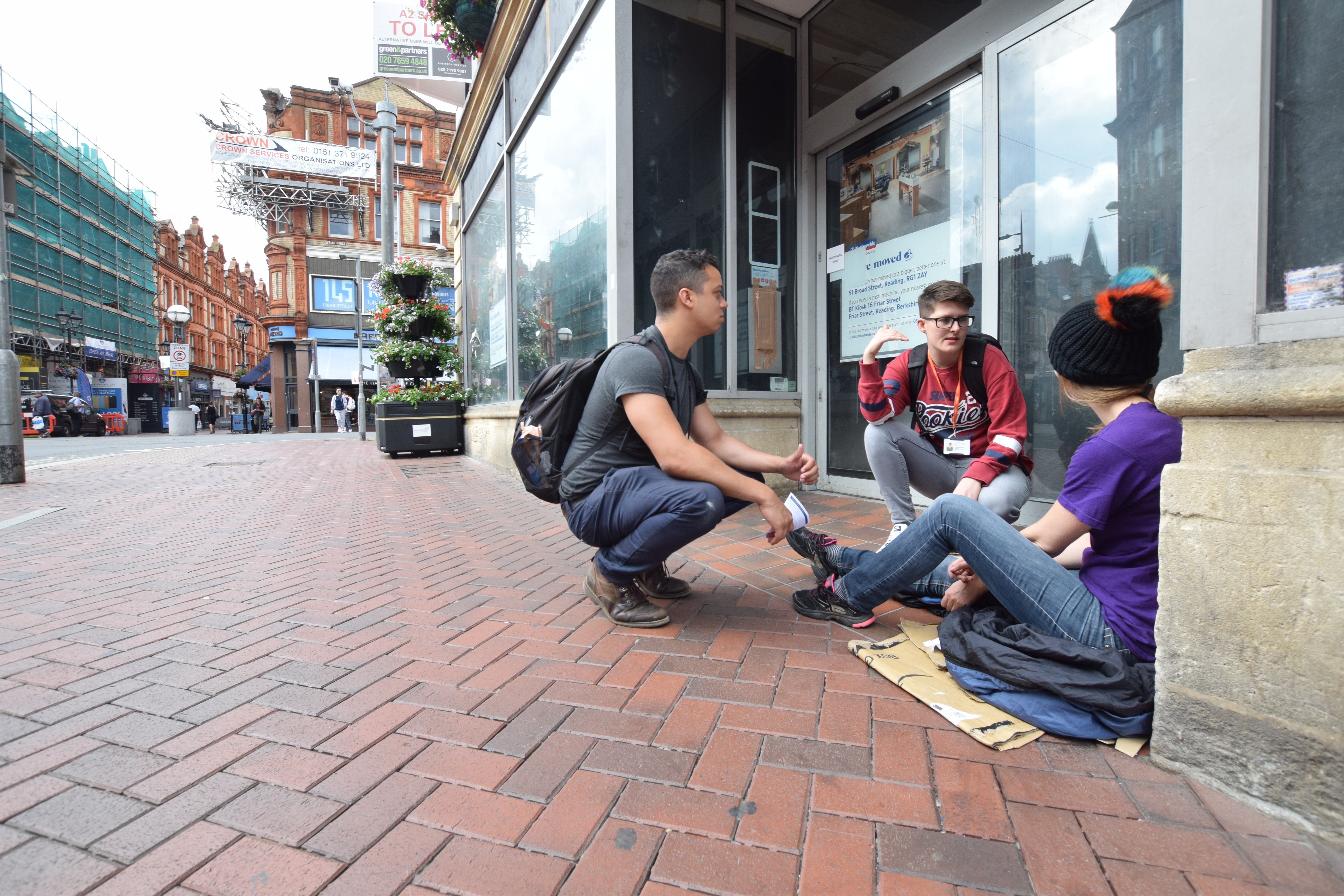 On any night, it's estimated there are almost 5,500 sleeping rough in Great Britain, however many people don't know what to do when they see someone affected. There's also still a stigma around homelessness, but it can happen to anyone – many of those sleeping rough have lead 'normal lives'.
Here at Nationwide Building Society, we believe 'Everyone should have a place fit to call home', which is why we've partnered with homelessness charity St Mungo's – so our colleagues know what to do if they come across someone sleeping rough outside one of our branches. This means we can get them the best and appropriate help.
We're supporting HomelessWise, a new online portal which signposts our branch colleagues towards a range of local support services across the UK and practical help for homeless people sleeping on the streets. Not only are we the first on the high street to support HomelessWise, but we're also the first financial organisation. We're hoping other retailers follow our lead so we can make a real difference to those sleeping rough this Winter.
Petra Salva, St Mungo's Director of Rough Sleepers, Ex-Offenders and Migrant Services, said: "There is a clear and growing interest amongst the business community in being part of how we all help to reverse the rising number of people who are homeless and sleeping rough. St Mungo's sees HomelessWise as a community of members who are informed and educated about homelessness, and who know how to connect people in need to local services that can help. We're extremely grateful to Nationwide for helping pioneer HomelessWise and look forward to working with more socially responsible businesses to help end homelessness."
Karma create work for the Vineyard Community Centre, a local charity and support service for poor, vulnerable and homeless people
We've been working with the Vineyard Community Centre for a number of years which is a local charity and support service to help meet the needs of the poorest and most vulnerable in the community and in particular works with homelessness and the many issues and difficulties that surround this. Over the years we've helped design their website, make short films about their work and have been able to film some of the service users. The first film tells the story of the Vineyard Community Centre and the work that they do, and the second two are interviews with two people that were once homeless have managed to turn their lives around with the support of the Vineyard Community Centre.
drpG and Penguins took part in the annual Wrap Up London initiative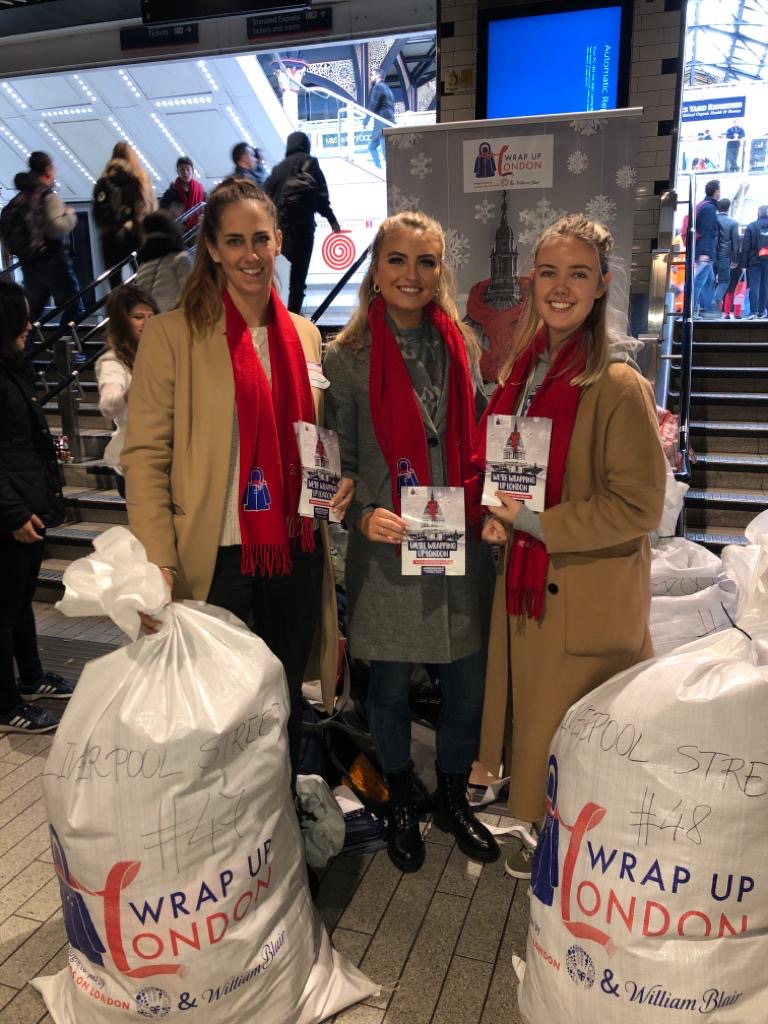 The annual Wrap Up London is an initiative by Hands On London and William Blair, collecting unwanted coats and jackets for charity at six London Underground stations. Donations are redistributed to local charities and community groups who directly offer support to people who are homeless, refugees, older people, people fleeing domestic violence, and those at high risk through living in poverty.
On Monday 11th November, drpG and Penguins took part in volunteering at the busy Liverpool Street Station, drumming up support for the cause through raising awareness, distributing leaflets and collecting donations of coats from commuters.
"This is the ninth year Wrap Up London has taken place and what better way to help than to be at the frontline volunteering and getting Londoners behind this great cause. Volunteering on a Monday morning during rush hour can be tough as commuters are on auto-pilot to get to their destinations, but the reception has been great, we've handed out a lot of flyers to people who want to help and have had great feedback from those who have already started their own in-office collections. This was our first-time taking part and we will definitely continue helping, we're currently looking at old uniform of fleeces and coats we can forward on to them. We want to make a difference and positively impact the lives of those less fortunate." comments Ryan Curtis-Johnson, Head of PR and Marketing at drpG.
As we've seen above, our member agencies are taking action to highlight and battle homelessness. Support the efforts of the drpG and Penguins teams by donating your unwanted coats. You can find more information about how to do this here. The team at Yellow Fish are running a team Christmas gingerbread making class with all proceeds going to the homeless – a lovely way to get the whole team involved! Crisis, St Mungo's and Shelter – all charities our members have produced work for – are always looking for help and support, such as volunteers for winter homelessness shelters and donations from those who can.
This year at the EVCOM London Live and Film Awards we hosted the final of Events R Talented and a raffle and auction, all run by Meeting Needs who are raising money for Buses4Homeless, a charity which converts buses into spaces for homeless people. They refurbish decommissioned buses into spaces for Eating, Sleeping, Wellbeing and Learning in order to re-engage homeless people back into the community. Find out more about their brilliant work and how you can support it here.