After a short summer break, our member feature article is back to showcase the brilliant work being created by all of our members. And this month the theme is 'Health'. From mental health to physical health, films to conferences we have a whole range of projects and campaigns featured. The projects work to raise awareness, to celebrate historical medical institutions and to announce new advances in the field.
Thank you so much to everyone who shared their work with us this month. Take a look at the showcase below:
Speakeasy Productions animations raise awareness of personality disorder
Speakeasy Productions worked alongside the Scottish Personality Disorder Network (SPDN) to create a trio of animations which aimed to raise awareness and understanding to improve the experiences of people who meet criteria for the conditions commonly known as 'personality disorder', their family, friends and colleagues. The objectives for the films were to tackle the myths, stigma and social exclusion associated with the mental health condition, to help the viewer to 'see the person' rather than the diagnosis and, above all, help people feel a sense of hope following diagnosis.
We took the approach of forming a steering group of around 25 members, a mix of healthcare professionals and individuals with lived experience of a personality disorder diagnosis. We met virtually on a weekly basis for a year, taking advice and input at every stage of production, from scriptwriting and character development to storyboarding and voiceover selection. At its core, the thing that made this project special was the real sense of 'collaboration' and 'shared experience'.
Here's some quotes that highlight the films' impact:
"I've been every one of those characters & have felt each of their pain, I love the hopefulness & how much it shows that you are not alone & that there is help out there."

"I think most people will find something to relate to. It represents the dark times …but then moves towards an empowering and hopeful message. It also has good clear messaging on what family/ friends/ professionals can do in terms of offering an empathic response."
You can view the full trio of films here: https://f.io/Jffod4VW
RD Content address mental health in health and safety
Construction consultancy firm Mott MacDonald realised that mental health is often overlooked when health and safety is discussed. Perhaps due to its invisibility, realising the ways it can impact physical safety can be very difficult, so what if we create an experiment where you could see the effects of mental health on the outside? Inspired by a real employee's experiences of anxiety, we tasked three members of staff to build a tower of coloured blocks, constantly introducing them to obstacles along the way. By doing this, the participants were confronted with the ways mental health can impede your ability to do your job safely. The film was hugely successful on Mott MacDonald's internal intranet, prompting them to release it on their social media platforms, where it was met with an outpouring of praise.
ITN Business celebrate 75 years of the NHS
ITN Business produces content for organisations across the healthcare sector, and in 2023 has raised awareness of a number of disease areas and conditions – such as cancer, rare conditions, kidney and heart health. We are particularly proud of our programme and campaign to celebrate 75 years of our healthcare service. Launching on the NHS' 75th birthday, this gave us the opportunity to showcase the incredible people working across the NHS; providing a platform and voice to bring to life how, collectively and individually, they make an impact. It was inspiring to hear from patients, doctors, nurses and businesses who have devoted themselves to saving lives and caring for our communities. This was a unique programme for us, as it also allowed ITN to extend our gratitude and thanks. As well as a 'hero' campaign film, we created a dedicated microsite to share all of these stories – from a special showcase, to our own personal stories, and our 'NHS at 75' full programme.  Our content has so far received many hundreds of thousands of views.
You can take a look at the microsite here: https://celebrating75years.itn.co.uk/
CTL Communications launch a new indication for the first ever treatment of an ultra-rare disease
When launching a new indication for the first ever treatment for an ultra-rare disease, impact is everything. We brought world-leading pharmaceutical colleagues together to collaborate and build long-lasting connections in 'the city that unites', Budapest. Kicking off with a bespoke anthem, alongside a visual showcase that paired real-life patient footage with brand-inspired gold line animation, our curated week-long conference built to a series of standout moments. Including: a tailored agenda of workshops, breakouts and panel discussions within identity-specific room designs, navigated via a specially-created event app. An action-packed cruise down the Danube with immersive treatment-themed installations, finishing at Budapest's iconic Liberty Bridge, lit up in New Horizon brand colours. And finally, the Dragon's Lair – which challenged colleagues to pitch ideas in a fantasy-inspired arena for the chance to secure project funding, complete with smoke, fiery lighting, bespoke staging, and a pair of huge LED dragon eyes. Safe to say, it was an unforgettable launch with long-lasting impact.
Plastic Pictures use dogs to encourage physical activity
Paws for wellness: How your dog can lead the way to a healthier, happier life.
Did you know that people with type 2 diabetes are at a higher risk of heart attack? With the help of Hugo, the adorable and very clever Golden Retriever, a special canine GoPro harness and of course our expert film crew, we created a doggy POV film to show how being physically active for at least 30 minutes a day (on most days of the week) can significantly lower the risk of heart disease. This film-led campaign 'It's Your Heart. Protect It' is a collaboration between Boehringer Ingelheim, Lilly, Havas Health and Plastic Pictures. The social media outreach across Facebook gained over 1.2M views and 150 comments. Hugo was a wonderfully obedient and docile dog who waited patiently between takes and then did whatever was needed – although he did break character once because of his love of tennis balls! At Plastic Pictures, we live to shape ideas, move people, change perceptions and inspire action with our films. Especially so when there are dogs involved! Watch this space for Plastics' own #MentalHealthMatters series which features the PP teams furry friends.
Watch the final film here: Doggy POV Film
Crew credits:
DOP: David Crute – AC: Matt Choules – Producers: Amelia Wise & May Wong – Production Assistant: Sarah Wildash – Editor: Freddy Chenevix-Trench – Dog: Hugo / Owner: Ursula – Actress: Catherine Bowens
Jack Health, Jack Morton's specialty healthcare practice, highlights the importance of mental health
Jack Health, Jack Morton's specialty healthcare practice, shows the importance of mental health through a partnership with St. Patrick's Mental Health Services. As the first European mental health hospital founded by Jonathan Swift in Dublin, St. Patrick's wants to transform the older part of its existing hospital into an educational visitor centre. Blown away by the creative presented by the Jack Health team, St. Patrick's partnered with the agency to bring the vision to life. Within the centre, attendees will journey through the history of mental health treatments with exciting, interactive installations and experiences into the modern day to promote mental well-being and health awareness. Doors will open in 2024 to an initial audience of school-aged children (teenagers), followed by the wider public.
The Edge Picture Company encourage colleagues to be there for each other
The Edge have been keen advocates of Mental Health awareness for a long time, and we take huge pride in delivering projects that help to open up conversations and instigate positive change for our clients.
One example is the 'Be A Mate' series which we produced for Network Rail (NR) in partnership with the Campaign Against Living Miserably (CALM).
We produced 4 films to lead an internal campaign within NR, promoting Mental Health and Wellbeing to the organisation's thousands of employees. They were created as an interconnected series that would feel familiar and grounded to the audience – but with a twist!
The 'Be A Mate' campaign worked as the series central theme, acting as a simple call-to-action: Just be there for your colleagues. The aim of the campaign was to help destigmatise mental health challenges within NR, showing how important it is to feel able to talk openly at work, and exploring the different ways to try helping a colleague who might be struggling.
The films have had huge success within the organisation, as well as winning a number of awards, and many of NR's partners across the rail network have requested to use them within their own internal Mental Health awareness campaigns. We're incredibly proud of the series and hope it will continue to help promote positive change long into the future!
Watch the series here: https://www.edgepicture.com/portfolio/network-rail-calm-be-a-mate/
TTA deliver the biggest possible impact with the smallest possible carbon footprint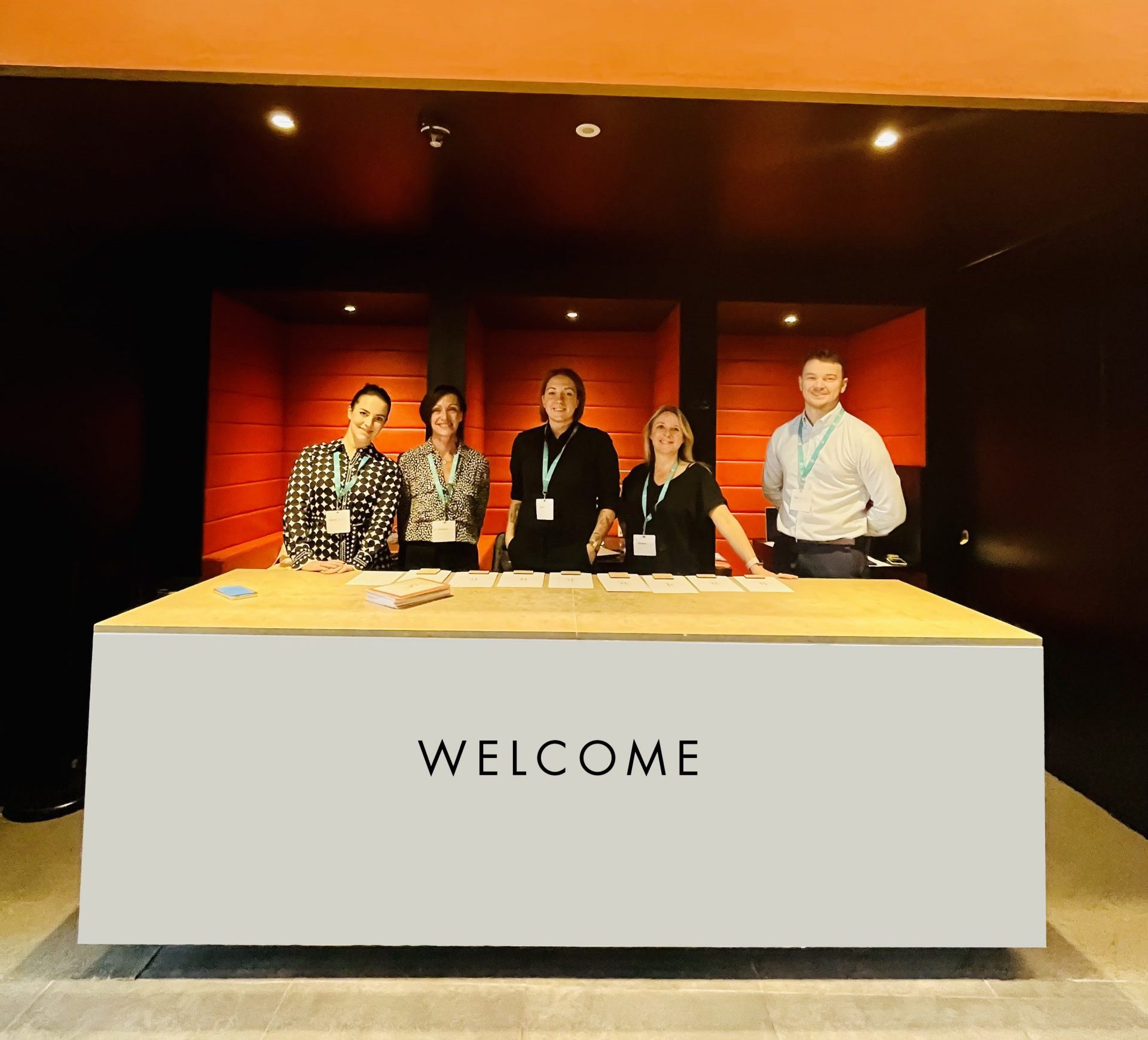 Healthcare is very much in our DNA at TTA.  For over three decades, we've supported our global healthcare clients' goals to inform, educate and create community through live experiences, and we're proud of our long-term relationship with our incredible charity partner, Shine Cancer Support. One of our forward-thinking pharma clients challenged us to deliver their first-ever employee conference with a dual mission: to unite its entire global workforce around a new vision and strategy, and to build cultural cohesion and connection between colleagues. And all with sustainability at its core. We delivered a creative, engaging and inspiring two-day experience that achieved on the corporate goals and embedded sustainable choices at every step of the event lifecycle. We prioritised environmentally responsible travel options, reduced food miles, and minimised waste and resource consumption while maximising reusable and recyclable materials. We captured and analysed all emissions generated by the conference, which were offset through climate action initiatives, to deliver the biggest possible impact with the smallest possible carbon footprint.
Thank you so much to everyone who contributed their inspiring creativity to this showcase!