2020 has been a challenging and unforgettable year for everyone, so for this member feature article we asked our members to share their 2020 with us, and we were honoured by what they came back with. Thank you to everyone who shared their experience, honestly and movingly, of this year, and to those contributed projects that were particular highlights! Here's to a 2021 filled with creativity and community – Happy New Year everyone!
Tim Langford, EVCOM Board Member and filmmaker, originated EVCOM's NHS fundraiser, which you can watch above.
Tim says, "I have two contrasting memories of 2020. 30th April was the day we released 'These are the Hands', a labour of love for the very many who made the film possible. Then on the 18th May I learn't that my best friend Gareth had died after a long battle with dementia.  He was never tall but he was a Little Prince (as a young man he loved the fable of The Little Prince by Antoine de Saint-Exupéry). In remembrance of the birth of the film and the death of my best friend –
"The most beautiful things in the world cannot be seen or touched, they are felt with the heart."
― Antoine de Saint-Exupéry, The Little Prince"
Events Together is an events management company dedicated to producing show-stopping events to bring people together. 2020 has been tough for everyone in the events industry, but we have still worked hard to put on meaningful events that recognise and respond to some of the challenges the world is facing. Our main project of the year was This Is Us Conference, our yearly event dedicated to diversity and inclusion in the workplace. In 2020, the Conference focused on diversity and inclusion for women, BAME, and LGBTQ+ people, covering topics such as the role of the trade union, cultural awareness and unconscious bias, and impostor syndrome. The findings of the conference included the fact that it is everyone's responsibility in an organisation to champion diversity and inclusion in the workplace, and that we need to be vulnerable with each other to encourage important conversations surrounding the topics. While we had to move the event online with short notice, we are pleased to say that it was still a great success. For example, we had a 150% increase in attendance compared to the previous year, and a global reach with attendees and speakers from the US, Australia, and Pakistan. As 2020 comes to a close, we're looking forward to everything that 2021 will bring.
Where do you begin with 2020?  Probably by ending it and looking forward to the Spring sunshine of 2021!
Ironically, we had a great start– February being our biggest month for new projects ever with both digital and film looking brilliant, and then…March if you can remember that far back and YKW hit us like a brick.
Overnight several of our projects were paused, then cancelled – that 10 day shoot in the South of France didn't seem such a great idea to us or our long term clients. Had that gone ahead we might still have people out there! However we are a multi-skilled lot and the dev team have remained busy throughout delivering world-class solutions in a world 'gone digital'. Sadly, for the first time we did have to say goodbye to a few people we just couldn't hang on to despite the welcome government support schemes. The important news is they have all found other work or retraining opportunities pretty quickly. It's probably an indication we only employ the best. Things have been picking up, more rapidly this last quarter, I'm pleased to say briefs are coming in.  Of course there's still a nervousness around on-site filming from clients with all the challenges everyone knows– Covid restrictions, risk assessments, last minute cancellations of crew/cast due to illness.  However we're ready, having been there done that we're very confident in our ability to deliver a great product and keep everyone safe. Finally, a highlight. We were thrilled to work with Odeon Cinemas for a pan-European project creating something different to all the other 'safety' animations we were all so getting familiar with.  Something stand out, instructive, memorable and thought provoking for social, TV and in-cinema was the all-encompassing brief. Our solution blew them away and is interwoven with some classic movie moments.  Can you spot them all?!
In the last couple of years, creating stunning animated and filmed content for events has become Studio Giggle's biggest focus. So when lockdown was announced in March, we watched all the work that we had lined up for the year disappear. It was incredibly daunting and scary. But we knew that we needed to adapt if we were going to survive. So our whole team spent months working incredibly hard learning new skills, new software and new ways to create events. This meant that over the summer we were able to launch our own XR Studio to hold virtual events for our clients. Our highlight was creating a virtual event for our CVC Capital Partners. The event involved us remotely filming 32 CVC employees in 19 countries, spending 16 days in the XR Studio, and 5 months carefully planning. The event was a huge success, and we have since hosted 3 more virtual events for CVC. We're incredibly proud of our team for all the work that they put in, but none of this would have been possible without the overwhelming help and support of countless freelancers and members of our industry – we are very thankful for them!
To say Top Banana has grown in 2020 is a strange sentiment – but we have. Over the last 12 months we've experienced loss and gain, but the resounding feeling throughout the company is one of strength, adaptability and resilience. Our employees have pushed the boundaries of creativity and overnight strengthened their skill sets to offer innovative virtual experiences – and the results have been incredible! Our clients have seen a new side of Top Banana and we're ready to take on 2021 with them (no matter what the world throws our way) with innovation and passion driving us all the way. The proof really is in the pudding, so here are a few of our best bits of the moments that have kept us going…
When the first lockdown started, everything stopped. It was a worrying time, but it also brought out the best in people. Thankfully, as restrictions eased, things got busy again and we had a great summer working on lots of interesting projects – all very different and each with their own challenges around COVID. It was rewarding to explore creative new ways to film safely without compromising on quality. This particular film is part of a series of short dramas focussing on different family types. We remotely cast actors from the same household to solve social distancing issues, filming as mock video diaries to avoid the need for a big crew. There was a wonderful spirit of camaraderie amongst the participants, all of whom brought bags of energy and enthusiasm to the project.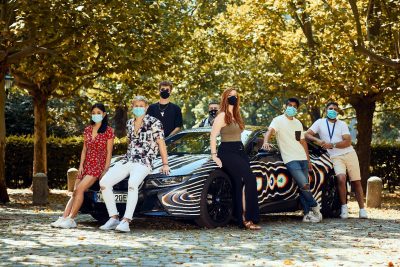 What a rollercoaster year! Obviously it's been very challenging for the industry as a whole and we at TRO are no different, but we are determined to make 2020 a year to remember not just for the difficult moments but for many positive reasons as well.
Amidst a pandemic which put the majority of projects on ice we are proud of how we managed to pivot our product focus and sell our flagship digital innovation – Virtual View – to one of the largest digital companies in the world, whilst at the same time our project teams were able to quickly adapt to constantly changing regulations to deliver multiple Covid-compliant live experiences in the UK and Europe for those clients who were still keen to activate. We also focused on strategically repositioning TRO as The Shared Experience Agency in order to fully align ourselves with where we see the future of the experience economy, post-pandemic, which you can read more about here: https://tro.com/shared-experiences-how-to-thrive-in-a-post-pandemic-experience-economy/
A highlight was when we electrified Berlin with an eSports and music influencer-led 'battle' for the city's streets in order to showcase BMW's innovation and involvement in Formula E. The week-long activity, including a world-first all-electric and hybrid convoy past the Brandenburg Gate, created an engaging stream of social output which reached over 34 million social media accounts: https://tro.com/bmw-berlin-electrified/
We were in the midst of a Global Retailer Conference and launch (for a very sexy supercar brand, who unfortunately we're not allowed to name!) at the Magazine in Greenwich in mid-February when news began to circulate amongst our wonderful team of freelancers and suppliers of events being cancelled and postponed due to Covid-19. Hurried conversations were overheard between rehearsals as our team compared notes and tried to work out how serious this could possibly be. Little did we know it would be the last live event we would be working on together in 2020…
At the end of June we received a very welcome live event tender opportunity – one of only a handful during the preceding couple of months and what would normally be our busiest time for pitches and live event delivery. The project was to launch the Alfa Romeo GTA to customers and media audiences, in just three weeks' time. We won the pitch and went into planning overdrive to showcase a car that was designed to celebrate the legendary Italian manufacturer's 110th anniversary. There would only be five hundred GTAs made and sold globally, so the event needed to be as special and exclusive as the car itself. Overlay the complexities of dynamic government restrictions around Covid-19 and you have exactly the type of challenge we love and thrive on at Lodestar. The first task was to secure a venue, and the stunning Garsington Opera Pavilion provided the perfect backdrop, offering an indoor-outdoor presentation event environment that exceeded government guidelines and reassured guests alike. Thereafter, from the personalised invitation by phone call, through to one-to-one guest hosting on the day, a GTA heritage experience, Italian picnic and the opportunity to test drive Giulia and Stelvio Quadrifoglio on local roads, guests enjoyed a very intimate and impactful encounter with the Alfa Romeo brand and its latest new model.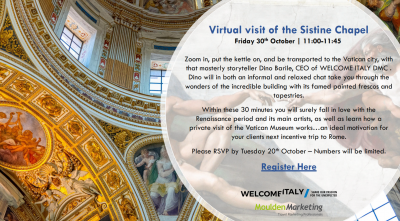 For Welcome Swiss and Welcome Italy it has been a sort of forced sabbatical year unannounced and not welcomed.
So what have we done? From our little window of operations we had imagined that the situation was going to be long, too long. We have been waiting for the pandemic to be won but waiting does not mean standing still. We have done a bit of house cleaning, we have invested time and energy but also a reasonable amount of money to redo our logos and web site, and we are proud of the result.
We have done a few virtual cooking lessons and we have done a successful virtual presentation of the Sistine Chapel in Rome…we say successful thanks to the feedback we have received. It is free, it lasts 1 hour in total and it is cultural. You can see an invitation here.
In addition to that we have created a couple of concepts for our events and we are producing a video showcasing Italy, Welcome Italy with a positive optimistic note question of starting the new year with a smile.
In the past 12 months, despite a worldwide pandemic, IT and technology sector have boomed and they became some of the most dominant industries to work in. Business can be done if you have the right talent to work for you and our client knows this. To attract great IT talent you need to sell the role – in this instance selling the lifestyle of working at the US based CoStar Group.
Our brief was to create a Welcome to CoStar video to attract and retain new talent showing what it's like to work at CoStar, what a typical day looks like, giving them a real insight into the company and overall the lifestyle of a CoStar employee.
Luckily for us, before Covid, we travelled to different CoStar offices across different states in the US and interviewed employees from different parts of the company to show what the company is about and to show potential talent what their workday could potentially look like. And the result a huge success, a natural and beautiful film that painted a clear picture of the role and lifestyle.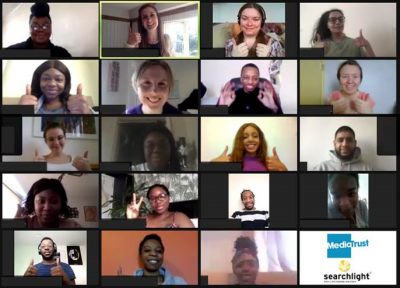 At Searchlight, we're committed to helping young people take their first steps into the media industry, and November saw us work with Media Trust as part of their Creativity Works programme.
Media Trust  gives marginalised groups and young people a stronger voice, teaching and training them in key skills for the TV and Film industry. Searchlight's MD, Cathy Alford and Head of Development Amy Osterley led a lively and very interactive online session offering CV and interview advice.
The enthusiasm and good humour of this year's cohort made for a very positive and uplifting afternoon.
Our year in review 
When the pandemic first hit, we like so many other event agencies, found ourselves with all of our live events being cancelled. It was devastating and happened almost overnight. But as the dust settled and we picked each other up, we discovered that the same fundamental building blocks were still there. The creative and technical expertise we are so lucky to have within our team, meant that we were able to rethink live as virtual and build ourselves back up against with a new broadcast hub in south-east London.
Since then, we've delivered a huge range of virtual events ranging from a global graduate induction programme with a custom-built platform through to an awards ceremony championing Women of the Future.
2020 has been all about reinventing Broadsword and ourselves, putting the pieces back together to craft a new offering and a new home. We have embarked on a new journey, acquired new skills but stayed true to who we are. Friendly. Uncomplicated. Reliable. Versatile.
Trust Conference 2020, Thomson Reuters Foundation
This year we produced the Thomson Reuters Foundation flagship event, Trust Conference as an online event for the first time. The event tackles some hard hitting subjects and exists to advance media freedom and raise awareness of human rights issues.  The one-day event attracted over 1,000 delegates globally and sold-out weeks prior to going live.
The content was a combination of pre-recorded content and live sessions weaved together with archive footage from last year's event. Three panel sessions and a live keynote were planned with Q&A managed via the platform (Hopin).
We sourced a unique filming location in London where the event would ordinarily take place, to record host and CEO Antonio Zappulla presenting his keynote, closing remarks and introductions to each panel. We found the ideal location on the Southbank (Sea Containers Events) that offered iconic views of the City and St Paul's to bring a little slice of London into everyone's homes.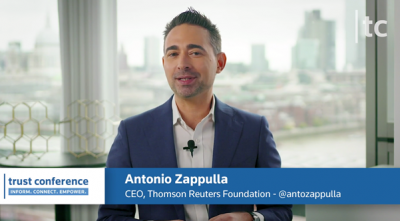 For the live panels we had 15 speakers joining us across the day from six different time zones. Speakers were checked in to a virtual green room ahead of their live session before joining the other panellists via our video mixing software. Once in the session, our technical team switched seamlessly between different shots of the panel to match the flow of conversation.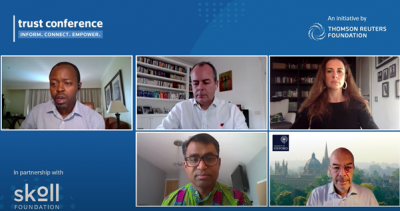 Our team worked from our broadcast hub in South London and streamed to Hopin's main stage for the plenary sessions. All live sessions were recorded and sent directly to the team at the Thomson Reuters Foundation to share on social media, further enhancing the reach of the event and encouraging global engagement and interaction.
RESULTS: Despite the event taking place over eight hours, a long period of time for virtual, the platform recorded the average time delegates spent in the event as 253 minutes with an average attendee rating of 9.4 out of 10.
Thank you so much to all of our members who have shared their work and experiences in this final feature of the year. We are proud to represent you and be part of one community!