Across three days, EVCOM members and sector experts will be part of a cross-community skills share initiative. Covid-19 has taught us that we are stronger connected. So from the 16th – 18th, we will be proving this! At 2pm, 3pm and 4pm each afternoon, you can find us for short (but sweet) 10 minute sessions via Instagram Live, where our members and friends will share their ideas, skills and tips so that we can all learn from each other! Follow us on Instagram @evcomuk to tune into the live sessions.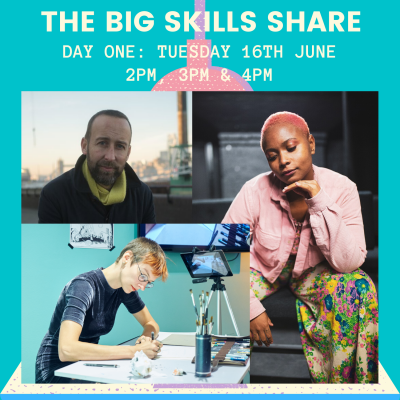 DAY ONE: Creative Inspiration!
115 people signed up for our creativity webinar last month, so we know that creativity is pretty important to all of you! So we've asked three creatives to share how they get inspired, have ideas, and stay creative!
2PM: Creative Richard Holman shares three tips to finding those elusive great ideas.
Creativity. After love it's the most valuable attribute we possess. Our need to express ourselves through words, music, art, cinema and performance is the better part of what makes us human beings human.
Which is why after twenty years spent hunting down ideas in the dark forests of advertising & design, he now devotes his time to helping others have better ideas themselves. He runs workshops, writes articles and books, speaks at events, podcasts, and, from time to time, has the odd idea too. Find out more about Richard's work here.
3PM: Illustrator and artist Lucie Arnoux talks about her creative process and how she gets started on a new project.
Lucie Arnoux is a London-based Illustrator whose intricate work is published in children books and comic-books, both in France and the UK. Lucie left her native South of France in 2011 to sketch around in London. She graduated from Kingston University in Illustration and Animation in 2013, and has since been working for a variety of clients. Along with the uninterrupted monthly publication of her comics in the magazine Lanfeust since 2011, she has illustrated children books for Pushkin Press (UK) and Flammarion (France). She has been Artist in Residence for Sidmouth Folkweek, the International Youth Arts Festival, Womad's world music festival and the Rose Theatre. She has worked under the direction of Tony-nominated designer Tim Bird for the production of The Wind in the Willows and Alice in Winterland. She is presently working on projects in France as well as the UK. See examples of her work here.
4PM: We interview Coco Jackson, self-taught photographer, about what inspires her to take photos and her advice for fellow photographers.
Coco is a theatre-maker and a self-taught creative photographer. She studied American theatre at Rose Bruford College, where she discovered a love of directing and writing, alongside her passion for writing. She is a founding member of Pink Freud Theatre, a queer and feminist company who create devised work, and produce an annual arts festival. She discovered her passion for photography several years ago, and has been exploring portrait photography, travel photography and event photography since. You can view albums of her work here.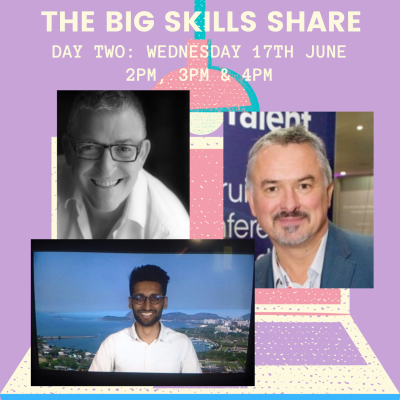 DAY TWO: 'How to's' from the people who know how!
2PM: In a live interview, Tony Evans (EGI Live) shares how to plan and design a strategic event in the current climate.
Tony founded egi:live communication in 1996 to advise and support leadership teams as they drive engagement and the progressive behaviors that deliver strategy in world class companies by helping them to create the space and time for the conversations that matter.  Working with companies such as Pernod-Ricard, Deloitte, GE, BP, Amadeus and Novartis across Europe, Asia, Africa and North America. 
He is passionate about the value of engagement and is a former chair of the Guru Group within the Engage for Success movement and a fellow of the Royal Society for the encouragement of Arts, Manufacture & Commerce.
He is a governor of The Windsor Boys School, a trustee of the Windsor Learning Partnership multi academy trust and a director of sustainable tech start up Co2Motion.
3PM: Humza Chaudhry (Celebro Media) takes us on a tour of the Celebro studios and shares his experiences of remote broadcasting during the pandemic and top tips for how to produce content safely but creatively at this time.
Humza oversees the global commercial operations for Celebro, a company that operates TV studios for hire in London, Washington DC and LA. They work with broadcasters, production companies, agencies and corporates looking to create content in either a TV studio setting or on location.
Humza started out in news broadcasting, working in news event planning and live production management for Reuters and others, before moving into a commercial role four years ago. He speaks multiple languages, including Arabic, French, Urdu and Punjabi, and is a passionate advocate for digital innovation as well as diversity and inclusion in the media industry.
4PM: We interview Kevin Hosier (GCN Talent) live, as he sheds light on the skills gaps and recruitment challenges that have emerged as a result of the impact of Covid-19.
Kevin has been involved with the conference and exhibitions sector since 1994, working in content production and management with a variety of companies including IIR/Informa, EMAP and DMG, before establishing Media Types, his own recruitment business serving the industry in 2001. Prior to co-founding GCN Talent with the Global Conference Network, Kevin was Head of Global Recruitment and Talent Management at UBM (Conferences). He has been Co-Director of GCN Talent for over five years, working alongside fellow Director Katharine Mann to deliver senior-level talent to the B2B/Live Events industries.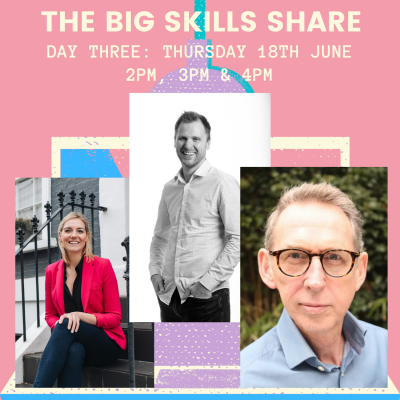 DAY THREE: Insider Insights!
2PM: Trainer and Facilitator Andrew Blair shares his insight into the possibilities and practicalities of experiential learning in a live interview.
Andy Brown is a freelance trainer and facilitator. He has spent nearly twenty years supporting leaders and managers with their interpersonal skills to achieve successful strategic relationships and deliver clear messages with high personal impact. He offers individual coaching and group training design and delivery, with specialisms in online coaching and experiential learning. Before becoming freelance, he worked as the Creative Director of Learning at RoleplayUK, where he specialised in improving personal and team communication using innovative learning techniques and art direction of corporate training films. Find out more about him here.
3PM: Dan Walker (Ashfield Meetings and Events) shares his top tips on how to get a focused outcome, by thinking inside the box!
Dan Walker is the Head of Live Events at Ashfield Meetings & Events & SPARK THINKING where he is responsible for the live events team (including the content, communications and production departments). With a clear focus on audience engagement strategies, innovation, technology and group activities – plus any other unique and inspiring solutions that an event may benefit from – the role oversees the communications team in their development and delivery of content, as well as advising internal teams on the most appropriate channels for their target audiences.
4PM: Katie Morhen (52eight3 PR) shares her expert advice on how to get the press interested in your event.
Katie is dedicated to the events community and believes in technological innovation, crafting the optimum attendee experience, delivering new audiences and cultivating an empowered events community.
Having worked at the coalface at Reed Exhibitions and Easyfairs, Katie uses her experience gained over fifteen years as an 'in' to help suppliers understand organisers better.
Follow EVCOM on Instagram @evcomuk and tune in across the week for wisdom, advice and skills sharing from across our community!