We are really exciting to announce that we will be holding the 2020 EVCOM Clarion Awards ceremony at Cathedral View at The Passage, Victoria on Thursday 9th July. As well as being a stunning venue, The Passage is inspirational in its commitment to CSR, a value that is shared with the EVCOM Clarion Awards. 
The Passage is a homelessness charity who work to create and provide resources to help homeless people transform their lives. Their resource centre, provides a range of primary support services including nutritious food, warm clothing, shower facilities, housing advice, healthcare, employment, training and education services, and social activities. Their Outreach Workers focus on the Westminster area, making contact with and providing support to homeless people in the area. The Passage House is their 40-bed hostel, which provides initial accommodation for homeless men, as well as support. They also support long term rough sleepers via their studio flats in Montfort House. We are delighted that EVCOM is able to support the brilliant work The Passage is doing to help homeless people, by hosting the EVCOM Clarion Awards there.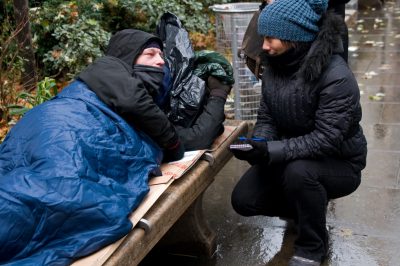 We will welcome guests into a reception area with a celebratory glass of prosecco, followed by the ceremony itself, where the winners will be announced and the winning entries screened! We will then celebrate in the Roof Top Garden, with a view across London. 
The canapes will be provided by The Clink, a catering service with a difference. The excellent food they serve is prepared by serving prisoners who are currently training at the award-winning Clink Restaurants. Where possible Clink Events uses ingredients grown in the prison gardens at HMP High Down and HMP Send, making for fresh and seasonal catering options. The Clink works in partnership with like-minded social enterprises including Centrepoint, a homeless charity, to staff the event. 
We are really excited to be working with The Passage and The Clink, two charities who are making a real difference to people's lives. And it seems fitting, given the focus of the EVCOM Clarion Awards on rewarding work that is all about social awareness and engagement.