EVCOM asked our membership to respond to a survey to document the impact of Coronavirus on businesses, freelancers and the industry. Looking at the results of the survey, the headline sentiment could be 'down but not out.'  Yes, members have been hit hard in terms of revenue and have significant concerns over the short–term future but the creativity, inventiveness and resilience of members also shines through. Perhaps the overall sentiment is best summed up by some of these comments initially on the damage and concerns:  
'There may be some business from virtual events. It won't be enough. Unless we have a vaccine that works ,deployed widely by the end of this year we are unlikely to see live events as we know them reappear until the middle of next year by which time I suspect many event agencies will be gone. They are my clients. Without them I will have no company.' 
'It's going to be tough, we need business events to be classed differently to mass gatherings and clear directives from H&S bodies and the Government to be able to stimulate the industry.' 
'Help! 30 years in business and then no income for a year. We need grants, rates relief and rent support like other hospitality businesses or we will not survive.' 
'I wasn't doing brilliantly before the virus and this necessitates a re-think and revaluation.' 
And then, looking to the future:  
 'In our opinion, we believe the impact will demonstrate that film and especially editing, graphics animation services are more critical than ever before.' 
'The unknown is the biggest factor right now. 95% of our work was either lost or postponed and no clear route out of this situation. We are actively implementing measures that will evolve our business to be able to deal with whatever lies ahead.' 
'Forcing change in a challenging but necessary way towards online/virtual/hybrid; new balance of the meeting carbon footprint, new remote ways of working that will need our skillset to curate organisational culture. Maybe a consolidation or possibly an explosion of bright young new start-ups by digital natives for digital natives – both will need creativity.' 
'After the initial adjustment, it has galvanised us into new ways of thinking, different approaches and more 'real' conversations with client. Although revenues are significantly down on previous years, the opportunities are still there and are exciting.' 
'We were already pivoting to virtual and hybrid (indeed having published papers 6 months prior to COVID) as response to the climate pressure cooker / crisis. This accelerates that shift which for us is good. However, there's no escaping we've seen a brutal implosion in tradition event revenues. We had strong balance sheet and morale is high, and our blue chip clients are supportive and open to new ways of doing things. However, the new virtual and hybrid space is a different business model and requires skills some staff don't have. We expect a significant reduction in traditional activity… maybe 20% possibly up to 30% across the entire event ecosystem.' 
About the respondents   
63 EVCOM members responded, which makes up just over a third of the membership (35%). Of these, 54 (87%) described themselves as having Company membership and 6 (10%) freelance. As far as sector is concerned, 27 (44%) described themselves as Film and Video and 25 (41%) as Event Services, with the next largest group of respondents working in PR, Marketing and Branding and Consultancy with 11 respondents (18%) each. In terms of size of company by numbers of people employed before coronavirus, micro enterprises (1-9 employees) and small enterprises (10 – 49 employees) each accounted for 27 respondents (44%) while 6 respondents (10%) were from medium-sized enterprises (from 50-249 people) and only 2 respondents were from large enterprises (employed more than 249 people.)  
Coronavirus impact on revenue   
64% (40) out of the total 62 respondents described their income as having decreased between 50%-100%. 23% of the respondents reported experiencing smaller reductions. Only 10% of respondents have seen income remain the same or increase. Larger revenue decreases were seen in Event Services compared to Film and Video. Over 80% of respondents in Event Services say revenue has decreased by more than 50%, compared to fewer than 50% of respondents in Film and Video reporting revenue decreasing by the same amount. Only in Film and Video is there a response saying revenue has increased. Micro enterprises (1-9 people) had the largest response that revenue had fallen by 75-99%.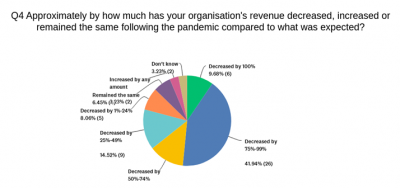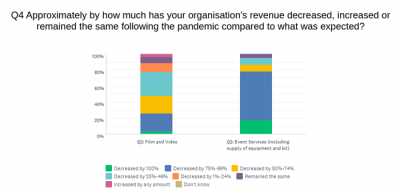 Looking to the potential revenue outside the UK over the next 12 months, 53% (33) anticipate reductions of between 50%-100%. 13% anticipate revenue reductions of less than 50%. However 21% anticipate revenue outside the UK remaining the same or increasing by any amount.   Event Services expect larger decreases in revenue from outside the UK with 72% of respondents in Event Services expecting revenue outside of UK revenue to fall by 50% or more compared to 47% in Film and Video expecting the same decrease. 26% of Film and Video respondents expect revenue outside the UK revenue to remain the same versus just 4% of those Event Services anticipating it will remain the same.  
The respondents were totally split on whether their organisations' ability to trade was under threat with 44% responding that it is and 45% it is not. However, over half of respondents in the Film and Video sector (56%) said that the ability to trade as a viable entity is not under threat, whereas over half of respondents (57%) in the Event Services sector said the ability to trade as a viable entity is under threat 13% of all respondents forecast they could only continue to operate for 1-3 months, 29% for 4-6 months and 34% over 12 months. The percentage of respondents saying they will be able to operate for over 12 months increases with company size.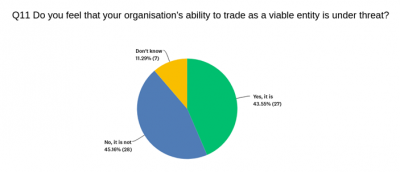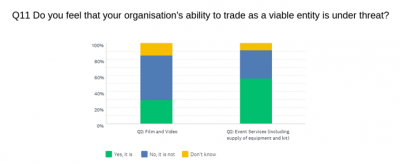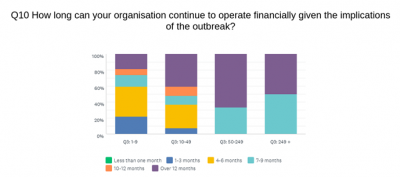 People and finance         
94% of respondents reported all their people working from home, with exceptions being on site for maintenance, live streaming, running broadcast studios and keeping servers working. Some 61% had people on furlough at the time of responding, while 14% had implemented redundancy or other layoffs, 40% had implemented salary reductions by Company Directors and 16% had salary reductions across all employees. Other measures included reducing salaries by reducing hours, or moving to a 3 day week.   Actions taken to maintain revenue or reduce costs were as follows: 43% accessing Government support services including furlough, 28% temporarily reducing or halting use of freelance talent, 26% renegotiating premises or office rental. 32% were temporarily stopping or reducing delivery of services or production. Only 13% were delaying payments to creditors.  In text responses comments on proactivity included: 'Investing in a new business venture;' 'Pivoting to digital services' and 'Creating new offers to align with our clients' new (and projected new) ways of working.' 
Accessing Government support 
By far the most popular form of Government support is the Coronavirus Job retention Scheme with 69% of respondents having either received support or having an application in process, while an additional 5% were considering applying at the time of responding. Next most popular actions were Deferring VAT payments (56% having either received support or having an application in process and 18% considering applying) and Deferring Income tax payments (34% having either received support or having an application in process and 21% considering applying.) Other actions quoted include accessing a European Business Growth Grant while one respondent explained: 'We miss out on hospitality rate relief as we operate from offices and it is done through how the premises are rated, however we have asked the council for hardship rate relief.'  
People looked to a wide range of sources for information with those most frequently cited being Gov.uk, BBC, PACT, EVCOM, C&IT, M&IT, APA and BECTU. Respondents also quoted looking to LI for good insight, to various international travel and meeting publications, to their accountant, and to local sources such as chambers of commerce.  
Respondents also provided impassioned and detailed requests on what they thought the UK government could do to better support them and their sector.  Most requested were: more flexibility and an extension in the furlough scheme, correcting the policy that excludes directors who pay themselves by dividends from any government support, and re-categorising and recognising the event industry as explained in this detailed comment:  'The UK Government needs to recognise the MICE industry as a distinct sector that is separate from hospitality suppliers such as hotels, bars, restaurants etc., and allow those companies operating in the MICE arena more access to some of the reliefs provided to these venues – such as business rates relief. Going forward, it's equally important that Government does not make the mistake of treating us as organisers of "mass gatherings" such as festivals, concerts and sporting events and instead recognise the distinction in the 'organised meetings and events' that we typically deliver for the corporate sector – and the value that this revenue generates for the UK economy; while another respondent states: 'recognise the creative industries as key fundamental to our future society and economy and well–being.' 
Looking to the future 
Asked which actions they were likely to undertake in the next 12 months to maintain or build revenue 87% were planning to develop new services, 71% were aiming to develop their brand and profile,  60% were planning to develop new markets in the UK, 44% were planning to develop new products, and 40% intending to target new markets internationally. 26% were planning to close offices or premises and work remotely. In terms of the factors which might cause most problems international travel restrictions topped the list with 79%, continuing social distancing measures 73% travel restrictions in the UK 58% and marketing and communications budget cuts 56%, closely followed by low consumer confidence 48% and providing a safe working environment for guests/clients/event attendees 47% and providing a safe working environment for own people 35%.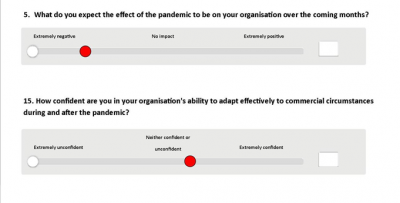 One respondent explained: 'We already see clients reducing budgets for 2021 by 40 to 60% and some clients are (very) close to not even attending some events in 2021, let alone the remainder of 2020, because they believe visitor attendance will plummet and hence undermine the value of attending traditional annual congresses and exhibitions. However, we see a huge opportunity for our virtual events work so we are excited to be heading more quickly in that direction, which will be a threat a swathe of the industry that lacks digital capabilities.' While another commented: 'So many issues around filming and how we work as a crew; too many to mention.'  
How EVCOM can help  
The most popular activities for participation to date were the EVCOM Clarion Awards, Campfires and EVCOMference although 34% of respondents had not participated in any of the options with one respondent mentioning the difficulty of attending London network events, and another that EVCOM appeared to be becoming less relevant for video producers.      
Members reported that what they found most useful about EVCOM were Knowledge & professional development seminars and events, followed by Networking events, Opportunity to meet clients and Opportunity to win Awards via various Award schemes. Of potential services that EVCOM might offer, Training & Education was favoured by 50% of respondents followed by Legal Services at 37%. The EVCOM weekly mailings were cited by 74% of respondents as their main way of receiving information, followed by 58% citing subject specific emails from EVCOM.   
Some 36% of respondents stressed the importance of EVCOM using its position to lobby government in partnership with other bodies especially around issues concerning Government understanding of the event sector and support for events and for SME's; around international travel and on freelancers. One respondent explained: 'Continue to lobby the government to seek clarity on the likely rules for social distancing at live events, and other restrictions. Allow travel overseas without quarantine through testing. Canvas and publish the results of client surveys to identify how attitudes towards live events and anticipated budgets have been affected. Create an online forum / members' area that members can interact with.' 
In addition, there was support for bringing more agencies and agency owners together for idea and experience sharing and more frequent updating and sharing, highlighting the importance of a sense of community in the present moment.