Last week we announced the UK Top 50, a ranking of brand and corporate film producers in the UK, in collaboration with Moving Image. And this week we wanted to home in on the top 20 and how it's changed since 2019, the last year this survey was conducted.
The winning margin was small, but Casual top the table for the first time over The Edge Picture Company. Ever-present in the top 10 since 2014, Casual take number 1 spot thanks to large-scale international expansion, new product development and consistent marketing. They finished highest in three of our four criteria, revealing a talent for business success and creative recognition.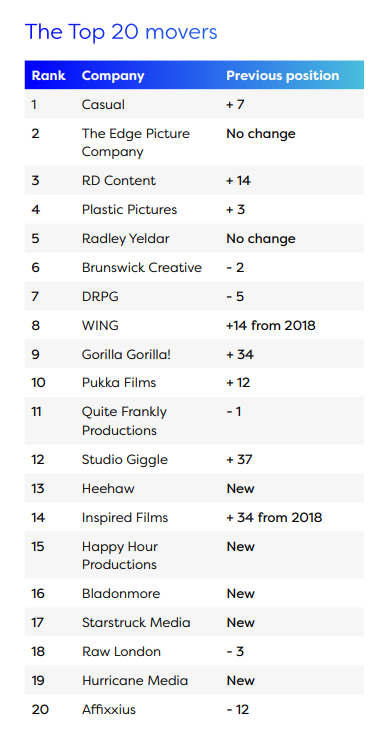 The Edge maintain their impressive consistency in the top three. They have been there since 2009, an unmatched performance that has made them the producer to beat for as long as most of us can remember.
RD Content, first ranked in 2016, achieve their highest ever position, driven by rapid business growth, an ambitious business plan and now a major studio space. Plastic Pictures are another successful challenger, progressing from 39th in 2014 after a string of client wins and major awards.
Radley Yeldar, Brunswick Creative (formerly Merchant Cantos) and DRPG have all been consistent top 10 performers over recent years. Whilst WING, Gorilla Gorilla!, Pukka and Inspired Films rise 14, 34, 12 and 34 places respectively.
Nine out of the top ten companies are EVCOM members, so we are particularly proud of how the EVCOM community has performed this year. Congratulations!
Read the full report here: UK Top 50 2022