EVCOM and the BFI recently unveiled a new short film to raise urgent funds for the NHS Charities Together appeal. The film featured a mix of historic footage of the NHS for the BFI National Archive and contemporary footage of NHS staff and volunteers, all to the soundtrack of Michael Rosen's poem 'These Are The Hands'. We speak to Tim Langford, filmmaker and EVCOM Board Member, who made it all happen.
Tim, you spearheaded this campaign to raise money for the NHS during these challenging times. How did you come up with the idea?
It felt like one of those light bulb moments. It was Thursday morning, 2nd April and I caught the end of Radio 4's Today programme and heard a BBC presenter called Sophie Raworth reading Michael Rosen's poem 'These Are The Hands'.
In between mouthful's of toast I probably heard only one verse or so, but it was like my brain just ignited and a 'back of the envelope' idea just began to write itself.  You can tell from the email that I sent at 09.44 precisely to Claire Fennelow at EVCOM because it sounds a bit scatty and breathless. I wrote: 'Claire on a totally other note – you will know the Michael Rosen 'Hands…' poem has caught the zeitgeist…What if a member can get access to BFI NHS catalogue/archive…record the poem as v/o and cut a film which we then put out there…Its just that we have – like me – members who make films for NHS – we have Patrick at the BFI – we have access to facilities – we can get a v/o and a music track…we get permission of course from Michael Rosen reps…it will cost next to nothing…and maybe we can then think how to market/network it through EVCOM??? Could it be a fundraising tool?'
But you know I think my head was already receptive because I had already been thinking for days 'what can I do, what can I do?' in response to the impact of Covid-19…Then again it's like sliding doors, if I didn't happen to turn on the radio that morning, who knows…?
Why is this cause so important to you?
Several reasons – professionally I was quite down. I felt a bit impotent in the face of the lockdown. Isolated. It felt so overwhelming and I really was desperately searching for a purpose during March and I really did think that we, at EVCOM, should be seen to be putting something out there and then I've always thought 'What am I doing on the Board? not a fat lot'…And I do like a cause and a campaign. The other aspect was that all of our family histories are intertwined with the NHS. After the last few years of the ruptures in our country it's the NHS that seems to be the last connection that we have with each other, something that we rally around. I lost my Dad in '93 and Mum in 2013 , both to cancer, but we were all very grateful for the loving care, nursing and attention they both received…You don't forget.
What's your connection to 'These Are The Hands' by Rosen? When did you first read the poem?
I read the poem properly at 09.10 on the 2nd April after that Today broadcast! That was the first I knew of it. Then I learnt about why Michael wrote it – to celebrate the 60th anniversary of the NHS in 2008. I loved it's simplicity and I loved it's rhythms. And I felt that 'of course that's what care is about – touching, about hands'…And I do love a metaphor.
You got some fantastic people and organisations involved in and supporting the project. How did you go about reaching out to those people, and how did it feel to get so much positivity back?
I feel very humbled and very blessed. Genuinely moved. On the one hand you are feeling awkward saying "look we don't have any money…" but on the other it feels oddly liberating because you are actually asking others to buy into a cause, asking for help, like the Liverpool anthem "walk on – with hope in your heart", you're appealing to their heart; because in the first 1-2 weeks I was manic, calling and e-mailing people like some demented fool.  It was a simple idea which, in reality, was quite complicated to pull off but it was the way people rallied round early on and got behind it so quickly that made the difference; that same day on the 2nd April – beginning with Claire Fennelow, Sara Cooper, Andrew Smith of EVCOM and then Patrick Russell, Head of Non-Fiction, at the BFI…Between us we then reached out to others – I can remember Andrew said ask Ricky Barber to take care of the sound (who I knew too) and approached film stock libraries and a designer. Patrick started to advocate for the idea within the labyrinths of the BFI because getting free access to their archive was key to the idea and he and colleagues set the wheels in motion internally. I approached editor Keith Wright to cut the offline and he managed to juggle bringing up a baby with editing at 5 a.m in the morning. Pete Stevenson from The Edge Picture Company was another one who who lent a hand early on. Then as we reached a critical stage of the project towards the end, when I really did still need a lot of help, Sara Cooper, like a force of nature really, stepped in and marshalled a lot of post/design resources and drove it, as a producer, to get it finished over a 3 to 4 day intensive period.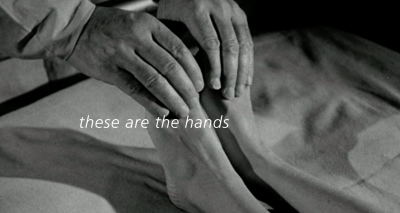 Were there any setbacks along the way? And any words of wisdom you can share with us for dealing with the challenges that came up?
There were several setbacks – sourcing a 'name' to do the v/o, got a tad frustrating, we went through a bit of a list of actors and drew blanks until we hit paydirt with Iain Glen and Lipservice. With Michael Rosen's situation, being so ill of course, we had to make a decision on whether to push on with making the film or wait until we knew if he/his family would give their blessing and permission to use his poem as it was made clear to us via his agent that we would have to give it time, which, of course, is entirely understandable when you think about what they were all going through. So we laboured for sometime under a lot of uncertainty.  At one stage Claire said to me 'what's your plan B?' and I really didn't have one! So it was a risky path we trod. It felt like all or nothing.
Words of wisdom?  Persistence! Conviction. Blind faith!  If you start something like this then you are going to have to live it and be prepared that the process will become all consuming of your time.
Critical thing is you need allies and you need others to share ownership. Persistence – you make your own luck largely because you have tried everything and then something turns up. What fills you with hope is the kindness of others and their willingness to give their time, resources and skills to serve a cause. Sometimes even if it's to say 'no' the act of people returning your call or responding to an em is actually really welcome.
Dr. Brené Brown, the leadership guru, talks about 'stepping into the arena' and the power of vulnerability and, counter-intuitively, there is something quite energising about being in that state of being.
And any highlights you'd like to share of working on the project? 
There were many! Obviously the number of people who donated their services or resources to the project.  But there were some key turning points – actor Iain Glen was in my top 5, so when he said 'yes' my heart just soared and also when his voice agent Max at Lipservice responded so positively to my initial enquiry. Hearing the first take of his v/o (recorded between pillows in his bedroom) which just so elevated everything. Later on, of course, it was Michael Rosen's family granting us permission to use the poem. Because he was so desperately ill we just didn't know for weeks so when his family agreed, well, you can imagine the elation and the relief! There was also a moment over the final weekend of the edit when the film seemed to finally come together and work better emotionally and creatively.
How did it feel to see the film go out into the world after all that work, and see the reach that it had?
Pleased and relieved that we delivered on our promise. Some pride too. I have had a lot of feedback from present and former NHS employee's and it's been very uplifting to hear about how the film connected with them.
Text CLAP to 70507 to give £5 to donate or donate online here.