This week, Dino Barile, Managing Director of destination management companies Welcome Swiss and Welcome Italy, talks to us about the joy of ideas, discovering new books and unwanted sabbaticals!
What is your favourite thing about what you do?
Meet new people, excite them about destinations and events, act and perform. And then when it is all over, take a moment to unwind and drink a well deserved glass of wine. Simplicity and friendship are the key words!
What is one thing you've learnt/ are learning from the current crisis?
(Mostly) nothing lasts forever! And yet time to think and rethink has helped us question things and improve where possible.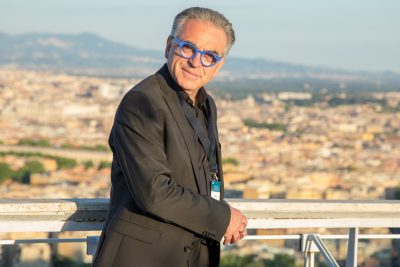 What does creativity mean to you?
When you are given a challenge…you look at a white page and you say, "What now?" Then slowly but surely you start drawing and writing…something shapes up, you share it with the team, then with a client. Finally (if) the answer is 'I LIKE IT!", you know you have filled the dots and that is the greatest reward.
Can you recommend a resource for us to check out – could be something you've found incredibly useful, a source of inspiration for you or just something that made you laugh at a difficult moment?
I have discovered a Japanese writer Murakami. His novel 'Killing the Commendatore' is a delight of surprises and yet nothing really happens!
As they days get colder, what TV show/ film/ book will be getting you through?
'Peaky Blinders'. And waiting for the new 'James Bond' that has been partially shot in my home town, Matera.
What have you missed most during lockdown?
The thrill and pleasure of making it happen – this sabbatical year is unwelcomed and unwanted.
Can you suggest a song to add to our autumn playlists?
'Echoes' by Pink Floyd over and over!
'One Minute With…' is a series of articles and films where we ask our members questions and they answer in just one minute! If you'd like to be involved in the initiative please get in contact with Amelia at coordinator@evcom.org.uk to express your interest and find out more!