I met with Guy Horner, CEO of TBA Group, and Justin Hochberg, CEO of Virtual Brand Group (VBG), at TBA Group's London offices. Justin is based in Los Angeles, but he was over for the week to spend time with Guy and the wider TBA Group team. Guy and Justin kindly agreed to sit down with me to share their thoughts on the metaverse, why it can't be ignored and how to do it right. Experience agency TBA Group and metaverse creation company VBG recently announced an exclusive partnership, bringing together their skillsets and offering an end-to-end service to create experiences in the metaverse.
I ask them to start off by introducing themselves, TBA Group and the new relationship with VBG.
Justin begins, "As many of your readers may know, TBA Group – which comprises six individual companies, is really the pre-eminent experiential marketing firm. They create brand experiences at everything from F1 to Dr Martins to Boots. They work in three sectors. One is sports, one is brands and the other is entertainment. They don't just do events, they provide the experience around it. Obviously during the pandemic live events and experiences needed to pivot. TBA Group was very savvy and very quick to pivot from live events to virtual events.
I run a company called the Virtual Brand Group. Our simply actionable result is: we put you in the metaverse. And what that means is that we strategise, build and then operate your experience as a brand in the metaverse. And that brand could be a retail brand, a sports league, an entertainment personality, a fashion company that wants to have virtual fashion, a TV show like Love Island."
Guy adds, "Our vision collectively with TBA Group and VBG is to work with the world's largest sports, consumer brands and entertainment companies to build out and operate their metaverse experiences and put them at the forefront as the first movers, the most innovative companies. This is not just for marketing. Brands can generate huge revenues from selling virtual goods and that's what we're here to do, to help people understand the opportunity that is a once in a generation moment to create these experiences and be a first mover, and then help them turn them into massively successful business."
So what can the metaverse bring to the events industry, I ask.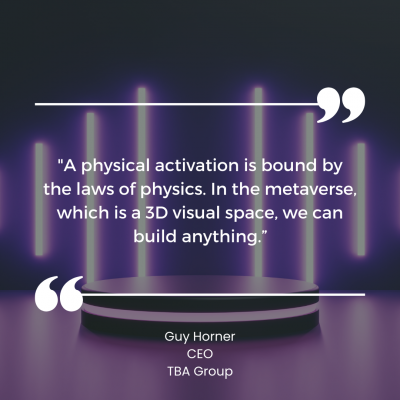 "It occurred to Justin and I, that if we're working with these global rights holders, entertainment brands and we're activating around something, well that's fantastic but why not extend that experience beyond just the event. You're there, you're enjoying it, but once you leave it's over. It doesn't have to be. The things that we build are what we call a 'persistent experience' which is a fancy word for saying imagine we did an activation that is 365 days of the year. Most of these activations are at events, whether they be World Rugby, F1 or a music concert, most of the world doesn't get to attend these things. Not only can we extend that fan experience on a 365-day basis but we can open that experience to people from around the world who will never be able to attend and give them a taste of what it's like to be there and experience it. The third leg of the stool is, not only can we extend it and make it more available but what we can achieve is a lot more robust because the truth of the matter is, a physical activation is bound by the laws of physics. In the metaverse, which is a 3D visual space, we can build anything," says Guy.
Justin continues, "What we're putting out there really is the ability to connect the virtual world to the physical world. And I think this is important. This world is not meant to exist in a lane all by itself. It actually connects to everything. In the virtual world we can empower people to own part of the brand, to take control of it and make it their own, so that they feel much more connected to it. So that was our thesis." He cites the #twinwithyouravatar hashtag that swept through TikTok, where people dress like their metaverse avatars and make videos. Take a look at this example:
Justin and the VBG team are responsible for launching global fashion brand Forever21 into the metaverse in an award-winning project. Watch the trailer for it below:
I ask Justin about the process of creating something this multi-faceted on this scale.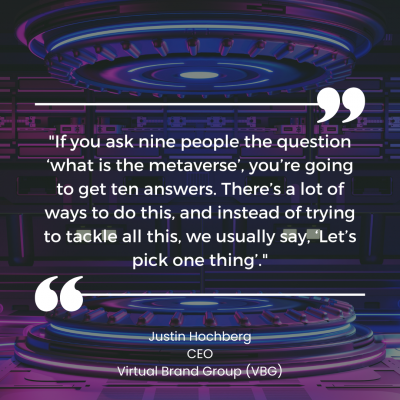 "One of the great things is that we move at an incredibly rapid pace. From concept to execution for Forever 21 was ten weeks or less. One of the things that a lot of executives are probably asking is 'What is our metaverse strategy?' And then the person in charge, let's say at the CMO level, is like, 'How do we do this?' Because it's not one technology. If you ask nine people the question 'what is the metaverse', you're going to get ten answers. There's a lot of ways to do this, and instead of trying to tackle all this, we usually say, 'Let's pick one thing'.
And the other piece of it is, unlike a movie, or a concert, or your earrings – a physical good, when that's done and finished it either sells or it doesn't. Those go on sale, and they sell out – great. They don't sell, they go on markdown, and if you're the manufacturer there's nothing you can do about it. In this world we launch things with thoughtful consideration, knowing though if it doesn't work, we're just going to go in and change it because it's all virtual. One of the key things to understand is that trial and error is the key part of this experience. Which is a little hard for a lot of brands to do because they're very focused on 'the finished product has to be a finished product'. And what we would say is the finished product has to be good enough to represent your brand but it's never a finished product, even if you've nailed it."
For those looking to be successful in the metaverse space, Justin has some key pieces of advice to share:
First of all, the metaverse does not have to be scary and confusing. It can be very easily accessed. Brands think it's going to cost them millions of dollars to build something in the metaverse, when that just isn't the case. The cost is not that high and there are so many options. And the amount of time it takes, even on a high-end build, can be twelve weeks not twelve months. So it's actually more accessible than you think it is.
The metaverse, like anything, could be used for marketing but we think that the metaverse is to be monetised. Think of this as another sales channel that can be sustainable on its own and revenue generating. Within that, there's two types of revenue generation. There's products that you sell that are virtual items – virtual fashion, virtual music, virtual helicopters, anything. And then the second revenue generator is using the metaverse to connect to your physical sales like we do with Forever21 where if you buy a virtual goods item you get a discount to go buy a physical item. So it's two types of revenue. It's brand new revenue that you've never seen before for virtual goods, and it's acting as a sales funnel to your physical, real world goods.
Don't worry about finishing it, because you're never going to. Iterate, iterate, iterate and learn. People are very forgiving right now because it's so new. You can get away with trying things.
Who is this metaverse thing for? It's for everybody. If you look at the demographics, Roblox as an example is played by 200 million people a month and it's 50/50 male and female. And all different ages. It does skew on the younger side, and by younger I mean 40 and below. But then again, it's so early days. The early adopters of course are going to be younger, more tech savvy.
In a world where you're not bound by the laws of gravity, don't recreate what you've already built in the physical world. Innovate. Be creative, make it fun, change what it looks like, changes the way things interact with each other. And because its' a 3D environment we can have fun with it, and provide something that you can't get someplace else.
If consumers are using a product, there's a way to make it work in the metaverse. If you're sitting there reading this article and you're wondering if there's something you can do with the metaverse, ask yourself this one simple question: do I have a consumer? If the answer is yes, then yes is the answer. If you have a consumer, this technology enables any product to have a way to connect with consumers.
I ask him what he predicts the timescale will be of the metaverse becoming something people use and engage with on a regular basis, and what the key milestones on this timeline are likely to be.
A question for a question, Justin asks me how much time I spend on my phone, on screen. For 6-8 hours a day most people, he says, are staring into a screen. "The leap between that and the metaverse isn't huge. People spend on average 78 hours a month on Roblox. That is more time than the average user combined spend on TikTok, Facebook, Instagram and Netflix. So people are already doing this."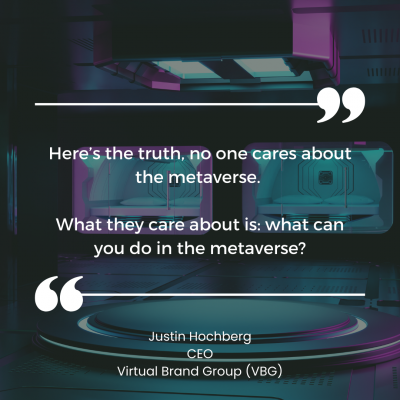 But even for those who don't play games, the integration of the metaverse into our daily lives is just around the corner. "I would say, in the next 24 months. Think about how far we've come talking about the metaverse in the last twelve months, where we started at absolute zero. Now think about that accelerating faster and faster because that's the way things work. People are talking about it, money's being poured into it, people are starting to use it.
If we do our job right with TBA Group and VBG, we will be providing the reason why you're doing that. If we put retail brands and sports brands and concerts into the metaverse, you will then go into the metaverse to access them. Here's the truth, no one cares about the metaverse. What they care about is: what can you do in the metaverse?
Our job is to bring products and services into this world. Our job is to make this so seamless that you just think about the experience you're going to have there."
Looking forwards I ask Guy and Justin what they are most excited about, and how they expect the metaverse to develop further.
"One of the greatest joys of this opportunity is there are no rules," says Justin. "In terms of consumer access to goods or experiences, it's transformative." He imagines what the metaverse could be for travel. "We could create all the greatest monuments in the world and give you the perfect birds eye view with none of the wait. And I don't just mean a cool looking set of videos from the Taj Mahal. We can provide food. Eventually you're going to be able to smell things from the metaverse, and taste things from the metaverse. There are technologies that now are being developed where you can plug in to your iPhone a little scent – think of it as a little add-on – and when you go to a certain thing, scents get emitted from that. It can be a whole sensory experience. Now all of a sudden, the world is fully accessible."
Despite all that, some people and some clients are pushing back against the metaverse. So I ask Guy and Justin what advice they'd offer for convincing people, and more specifically clients, to engage in what the metaverse has to offer.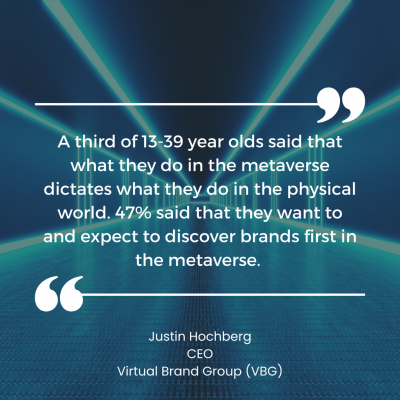 Guy outlines, "Clearly one of the biggest challenges is to help people understand what this is, what it can to do for them and how to make it easy to onboard them. The metaverse is the most transformative consumer marketing channel of our entire lifetime, and it is still day one. How many products do you use today that weren't even on the market five year ago? So if you are a brand today and you're trying to stay relevant, and you're not in the metaverse and the challenger brands are all there, what's your longevity? There's a ticking clock on you right now." Justin then reinforces this, "A third of 13-39 year olds said that what they do in the metaverse dictates what they do in the physical world. 47% said that they want to and expect to discover brands first in the metaverse. The metaverse is where behaviour patterns are being developed, and if you're not there to help develop that behaviour pattern there are generations of people who are going to grow up not knowing that Coca Cola is the real thing. That is both the threat and the opportunity. People are building massive brands in the metaverse that are displacing giant brands because that's where the consumers are. Think of all the things that are launching off of TikTok these days. Now think about an immersive experience and the power of what you can do there."
And if you do manage to convince clients to take a step into the metaverse, then there are a few things Justin recommends steering clear of.
What NOT to do:
Everybody is slapping the word metaverse onto their business card today. There's a bit difference between a bunch of people that are writing whitepapers and a bunch of people that are actually building and selling in the metaverse. So if you're going to pick a partner, make sure you pick a partner that can execute on the ground. You don't just need a games developer or a technical team. You actually need someone who has three sets of interlocking skills, which is why the TBA Group-VBG combination is so powerful:

Building: you need someone who understands how to build things, virtually or physically.
Marketing: you need someone who understands how to market things creatively.
Operating: because it's iterative, you have to keep innovating on it.

Analysis paralysis. That's when you end up missing the boat. Don't let the perception of there being so many possibilities get in the way of actually starting to do something.
Don't forget that this is super fun. And you can have a lot of joy, and your customers will thank you for it.
OFFER: If you're thinking about venturing into the metaverse, VBG is offering EVCOM members a complimentary metaverse audit. Email [metaverse@tbaplc.co.uk] to make the most of this member-only offer.
Thank you so much to Guy and Justin for sharing such a wealth of insight around the metaverse and what it can offer. I can't wait to see what you create together in this space of endless possibility.
Resources:
You can find out more about- what TBA Group do and the experiences they create here: https://www.tbagrp.com/
You can find out more about what VBG do, their projects and their engagement here: https://www.virtualbrandgroup.com/
You can follow TBA Group on LinkedIn here: https://www.linkedin.com/company/tba-grp/
You can follow Justin on LinkedIn here: https://www.linkedin.com/in/justin-hochberg/. Justin regularly posts content that engages with the many discussions happening globally around the current and future possibilities of the metaverse.
You can check out the webinar we ran with metaverse expert Dr Mark van Rijmenam as part of EVCOMference on how the metaverse will change business forever here: https://videos.evcom.org.uk/how-the-metaverse-will-change-1
You can catch up with our panel discussion as part of EVCOMference around what events might look like in the metaverse: https://videos.evcom.org.uk/what-will-events-look-like-in-the-1
By Amelia Brown