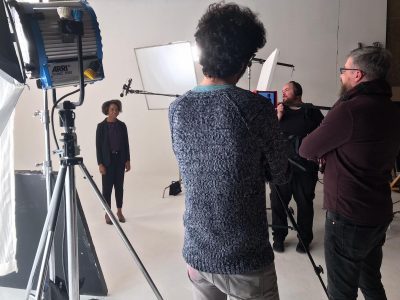 By Studio Giggle
This year we are celebrating Studio Giggle's 15th Birthday. Like all great British ideas, the company was conceived in a pub over a beer. It was born out of a desire to create work on the cutting edge of technology and creativity, which is still at the very core of what we do.
When I asked Steve about the intriguing name, he smiled; it's a question he's been asked many times.
"Giggle really sums up the way we work. Creativity should be fun! It is often stressful, but by keeping a sense of humour and a lightness to our approach, we can make the whole process more enjoyable for everyone involved."
The creation of The Giggle Group wasn't a spur of the moment decision. Steve had honed his skills over ten years, starting in theatre then working for various production companies as an editor, director and writer. He met James Carnaby and Adam Castelton, who helped him set up the company and whose continued support and advice are always welcomed. It was this experience that prepared Steve to open The Giggle Group in 2006.
In 2013, two worlds collided as Steve met Jonathan Brigden on a flight to Dubai as part of a UKTI creative industry mission. Jonathan had been running his own company, Knifedge, for 19 years. Knifedege created immersive and innovative events and groundbreaking projection content for an impressive list of global clients. It was evident that Steve and Jonathan shared similar creative ambitions, a love of immersive and live events and most importantly, a sense of humour. We also moved to our current home in the heart of Bristol's creative community at The Paintworks.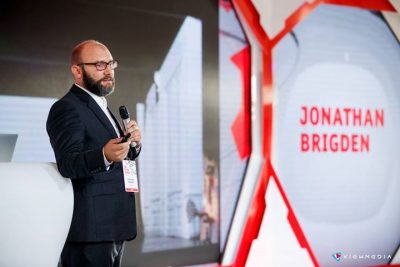 In 2014 when Jonathan and Steve decided to merge their companies, they could create one cohesive animation and event machine.
In 2017 a new era of Giggle began when we rebranded from 'The Giggle Group' to 'Studio Giggle'. This better reflected the growth and transition of the company over the years, from film to animation to creative studio. The "Studio" part of the name was to draw attention to the incredible team, which enabled us to deliver our award-winning work.
In its 15 years, Giggle has weathered some major global events. In 2008 Giggle overcame the financial crash by switching the company's focus to animation over film production. In more recent years, the Giggle team showed extraordinary skill and creativity during the early days of the COVID19 pandemic. This was a challenging time for the company as we shifted to a remote working model and pivoted our production pipeline to deliver virtual events. This resulted in our most successful year to date. We won Manchester United as a new client, we hired 4 new staff members and developed XR and Virtual production solutions, all in just 6 months.
Studio Giggle in 2021 is a very different company from The Giggle Group of 2006. We now have offices in Bristol and Brighton, with our own Green screen virtual production studio which doubles up as our R&D test space. We can deliver live and virtual events anywhere globally, producing work for some of the biggest brands on the planet. As 2021 comes to an end, and we take a moment to celebrate 15 years of Giggle, we also look to the future. We intend to continue to create spectacular content for both live and virtual events, combined with beautiful animation and film with storytelling at their heart. We aim to always be at the forefront of our industry. We will continue to research and develop new technology solutions that can enhance the work we create for our clients.
We would like to take this momentous occasion to thank all of our team, suppliers, partners, freelancers, family and friends but especially our clients. Their continued trust and belief enable us to evolve and grow in ways we could never have imagined.
Roll on 2036 for our 30th Birthday!
If this has inspired you to work with us then please contact Jon@studiogiggle.co.uk or call 0117 972 0081.