To tie in with this week's EVCOMference Deconstructed, the theme for this member feature article is 'Transformation'. We asked our members to send in their projects responding to the theme. From cars to explosions, the virtual world to the spooky, there's a whole range of inspirational projects to take a look at!
An explosive shoot with Pukka Films
Recently Pukka films transformed Heathrow T4 (closed for business) into Heathrow T4 ("full" of passengers and staff, and post a PBIED going off)!
To do this we spent 3 days on site, used over 30 crew, and 250 cast and supporting artists and dressed the area to look like a bomb had gone off. This all had to be captured on the site's own CCTV and filmed in a way so that the pre-blast and post-blast action is continuous. Which involved a huge AD team, a very quick set dress and a long shooting day.
We also produced two behavioural change dramas, one from the perspective of a shop worker, who post-blast administers first aid to the injured and the other from the perspective of three security control room workers who have to manage their site post-attack.
Check out the behind the scenes trailer we made for the shoot:
Experiential environment creators 2Heads transform the Belden CIC
As experiential environment creators, we've been known for transforming a space or two in our time. One of our favourite creations in 2022 was the Belden Customer Innovation Centre in Stuttgart.
A truly cross-agency project, the Belden CIC was first created in lockdown, online and in its own virtual space, unveiled through an online Grand Opening that enjoyed 43,000 engagements across 2,700 sessions and 61 countries.
Fast forward 12 months and Belden opened their physical CIC, as beautiful as its digital twin and offering more opportunities for collaboration as Belden ramp up their new brand awareness agenda. From the creative and digital team to PMs and production, every part of the agency was involved in this multi-layered transformation. The question is, can you tell which is digital and which is live?
Transforming Launches with CTL Communications
CTL Communications were tasked with launching a new region for a global client, including a new identity, launch event and integrated communications campaign across multiple internal channels, with just two months' lead time. Stakeholder workshops ensued, alongside design and video teams working hard to create a winning concept. Planning was in full swing for a face to face launch event in Dubai, including live artists for an impactful opening, gala dinner, awards program and more. Just 4 weeks in and 4 weeks to go, Omicron spread rapidly across the world and the event was flipped to virtual. Determined to make an impact without the energy generated from an in-person event, the team pulled out all the stops, transforming the original solution, with a comprehensive email campaign, gamification to drive engagement pre-, during and post launch, bespoke event app for interactivity, prizes and giveaways, video production featuring 7 different regions from the India, Middle East, Turkey and African continents, beautifully designed presentations, awards program, online platform, a dedicated sharepoint site updated throughout the program including post-event content on demand and more. The event culminated in an emotional and talented sand artist performance launching the new region. The team are now busy with a live in-person follow up Summit, and ongoing communications program to optimize the vast opportunities this new region brings to their customers.
"Make Your Mark" – Five days to transform a live event into a hybrid broadcast with Ashfield Event Experiences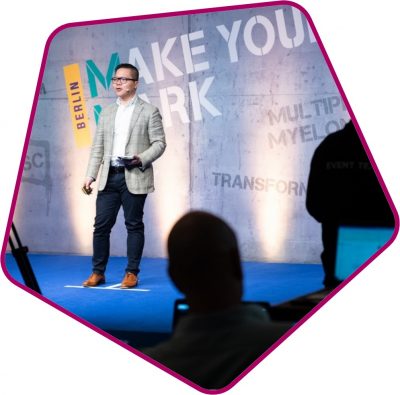 What do you do when a global pandemic puts much of the world into lockdown, five days before your pharmaceutical clients' major global launch event in Berlin? Ashfield Event Experiences rose to the challenge and transformed the "Make Your Mark" live event into a hybrid solution – on the same dates and turning the original venue into a broadcast studio.
Converting all content, creative and logistics was no mean feat in less than a week, but AEE achieved amazing results –
Setting up a studio for the principal speakers and training them to confidently present in a studio setting with no physical audience.
Increasing the reach from an original face to face audience of 200 to over 300 virtual attendees from 36 countries.
Controlling, directing and queuing 18 presenters across 3 continents and respective time zones.
Maintaining interactivity to ensure attendees were getting the same outcome virtually as they would in person (718 comments, 937 messages, 280 images and 194 questions were produced with the meeting app).
"After many months and an intensive last week, I want to thank each and all of you, because you have been great partners along the process, with wisdom, patience and resilience to change everything, to remake what was possible, and to be with us until the last minute supporting a successful virtual event. Challenges is what make life interesting and overcoming them is what makes life meaningful, and we did it as a team." Director, Global Strategic Marketing
TRO x Ardbeg – A Transformation Case Study
As part of Halloween celebrations last year, we were tasked with designing and producing a multi-sensory experience at Homeboy Bar in Battersea to help introduce Ardbeg's malt whisky, Wee Beastie, to new customers. Guests were invited to literally step through the silver-screen and into the world of our 1950s Hollywood B-Movie, 'Hunt for the Wee Beastie'.
We used our creative production skills to completely transform the bar into a film set complete with classic cinema style signage, film posters, props, lighting and even a vintage popcorn machine with a skeletal twist. With a carton of popcorn in hand, guests were greeted by the mad scientist and other themed actors at each touchpoint, and were lead through the smoky peat bogs of Islay, the 'Wee Lab' and the 'Boggy Forest' before being invited to sample the smoky flavours of Wee Beastie.
Vehicle Design and Transformation with Gavin Knight 
I have just completed a video for the Royal College of Art through Eureka Design which is all about transformation in the world of vehicle design.
The RCA have trained designers for many years & the Vehicle Design course is world famous.
Prof Dale Harrow at RCA says: "We are on the cusp of the most significant change in how we design in an age when autonomous vehicles are on the horizon."
To address our future transport needs the RCA is creating a new Intelligent Mobility Design Centre, with new design courses which will be based at a new site in the Battersea Power Station complex.
Thank you to all our members who contributed their inspiring work!