2021 has been filled with further challenges presented by Covid-19 as well as new opportunities presented by a changing world. For our final member feature article of the year, we asked our members to share with us some projects that they were particularly proud of. From film to events, fishing to Gymkhana, this wonderful selection of work is a testament to the dedication of our members over the last year.
Inspired Films support NHS London Breast Screening Service
We are particularly proud of a recent recruitment film we made for the NHS London Breast Screening Service. The Covid pandemic has created a critical situation within Cancer services in the NHS, with huge delays in patient treatment and screening, exacerbated by shortages amongst mammographers, radiographers and other breast screening staff. Inspired Films were tasked with creating an emotive, powerful recruitment film that really brought home the importance and benefits of a career in this sector, particularly as this is a job that could quite literally change people's lives. Shot with real NHS breast screening staff across multiple NHS trusts, "One in Eight" is a film with a purpose and a vision.
Sequel creates a film for NatWest S&CC and Sole of Discretion in support of the local fishing community
Sequel Group's video team was pleased to make this film on location in the summer of 2021. With support from NatWest Social & Community Capital (S&CC) funding, Sole of Discretion is an ethical fishmonger in Plymouth who works with small boats of under 10 metres. They support the local fishing community and are counteracting the damage caused by industrial-scale fishing to provide high quality, sustainably sourced fish.
Filming mainly took place outside and we employed Covid safe practices for filming on the premises. It was a lovely opportunity to make a film about an inspirational person who is making a difference, and to get some beautiful shots of the surrounding harbour area to help to tell their story.
This case study was included in S&CC's 2020/21 impact report, which you can view at www.natwest.com/scc
JLLive deliver Global Offshore Wind's biggest Annual Conference and Exhibition
As live conferences and events began to return once again in September 2021, JLLive were tasked by Garth Halliday, Event Director, at RenewableUK to help deliver the Technical Production for Global Offshore Wind, their biggest Annual Conference and Exhibition. This was not only a celebration of their return to live events for the first time in almost 2 years but with global travel restrictions in place, the event also needed to be live streamed and recorded for a virtual audience with the use of virtual presenters and panellists and almost 10,000 in person attendees over 2 days.
Showtime! produced for Qatar Foundation by The Edge Picture Company
This project stemmed from an observation that there were no enriching drama or musical activities or programmes in Qatar Schools.  Qatar Foundation (QF) therefore spent a year teaching musical theatre to students aged 6-17 years old across the country.  This was due to culminate in a live show, but, due to the global pandemic, it was unable to take place.
But, as the saying goes, "the show must go on", so we worked with Qatar Foundation to bring the stage to the streets by choreographing and filming musical performances, which were then broadcast as an online event.
Showtime! became an online show featuring well-loved musical numbers from Broadway & the West End.  Accompanied by the acclaimed Qatar Philharmonic Orchestra, and featuring 75 students and staff from QF Schools, this was the first musical theatre experience for most of the cast.   An audience of about 2000 family and friends have watched the films, and they are going to be released as TVC's, on social media and streaming channels across Qatar. You can watch the Trailer above.
DRPG showcases community for Redrow
Redrow came to DRPG wanting a creative piece of work that embodied company values and showcased the product they offer. The video forms part of the longstanding 'A Better Way To Live' campaign. They wanted the audience to feel immersed, amazed, and wishing to build a new life with Redrow.
The one-shot drone video is an industry first that showcases The Highgrove and The Blenheim homes that Redrow offers as part of the Heritage Collection. It encapsulates the community feel of the developments, carrying on the story from previous campaign projects, using the same cast and characters.
Speaking about the project, Creative Director for DRPG Neil Gregory said, "The hero piece of content delivers a unique perspective of a 'moment in time' at a Redrow development, showcasing the community spirit and beautiful design of the properties through an ambitious single-take shot at a busy house and garden party. We are all really proud of every aspect of the campaign, and the hero film, in particular, is a great example of making anything possible."
Goose creates record-breaking events and a Gymkhana!
Here at Goose, we have two projects this year that have made us particularly proud:
Silverstone, July 2021: We were back delivering an epic record-breaking event soon after restrictions were lifted at the end of July. The whole team came together after a rollercoaster of a year for the first time in a long while, and we delivered the delayed 30th anniversary edition of The Classic. Although the weather tried, nothing could dampen our spirits. It was great to be back working with our extended family again, we've just about dried out and the cherry on top of it all was recently being awarded the Motorsport Event of the Year at the Historic Motoring Awards 2021.
Sicily, September 2021: We discovered a former NATO base and worked with Bentley to turn it into a Gymkhana course for the launch of the new Bentley Continental GT Speed. It was our first international event since the start of the pandemic and so many curve balls were sent our way but this incredible footage (above) and feedback from the client made it all so very worthwhile!
Please note: Goose was responsible for the event logistics and planning.  The Video was produced by Dave Hale for Bentley Motors.
TFI Lodestar designs programmes for the sharing of vital information and best practice around Covid-19
A lot of TFI Lodestar's work is done with Associations and not-for-profit Organisations. It's a privilege to help design programmes for the sharing of vital information and best practice – something that really hit home in June when we worked with the Royal College of Anaesthetists to deliver their "COVID-19: Lessons for the future of Anaesthesia and Critical Care Virtual Conference". This was a three-day global event to share new knowledge about the pandemic and to ensure that the international community is better prepared to respond to future healthcare emergencies. Speakers included Chief Medical Officer Chris Whitty, HRH The Princess Anne, community leaders and healthcare professionals from around the world. It was technically a complicated project, spanning time zones and mixing live broadcast with pre-recorded content, panel discussions and lectures, but the RCoA achieved its objectives with the publication of a white paper on pandemic management and the fostering of many new collaborative relationships.
BMW TurboCharged by TRO
With Goodwood Festival of Speed returning in 2021 as one of the first large scale events under the Government Test Event Scheme, we were tasked with making BMW one of the most talked about brands on site at the event, with the added challenge of attracting a new conquest audience – a big challenge given the reduced footfall at the event this year.
Our TurboCharged experience encompassed two separate sites – M Town and BMW Electric Boulevard – housing a breadth of enriching and entertaining experiences.  including the World Premiere of the BMW 2 Series Coupe which was streamed worldwide, parkour and electric violinist performances, a SIM racing competition, and virtual Formula E garage tours.
Even with a reduced budget and footfall numbers down by 26% due to the test event status, we managed to attract a new conquest audience which equated to 75% of the total visitors and BMW received the highest online media share of voice of any of the automotive brands at the event, with 70% of visitors from both sites sharing their BMW experiences online.
We were delighted that the experience won best 'Brand Activation at a Large-Scale Event' at the recent Drum Experience Awards, recognition of a fantastic effort by everyone involved during a challenging time.
Plastic Pictures create film to dismantle stereotypes
All brands can make a great impact by working together to accelerate change. We gathered members from underrepresented groups and asked them what advertising should do to help them feel heard, included, and understood. It all comes down to the fact that all brands should encourage diversity and strive to be unstereotyped. Plastic Pictures are working hard alongside experts from the corporate, technology, and creative sectors to help communicate the harmful stereotypes and biases that still exist in our industry today. We aspire to contribute to cultural change through our projects and strong relationships with our co-collaborators, Unilever. Together, we can create large-scale influence both behind the lens and in front of the cameras.
Liz Quick writes a book to support the events industry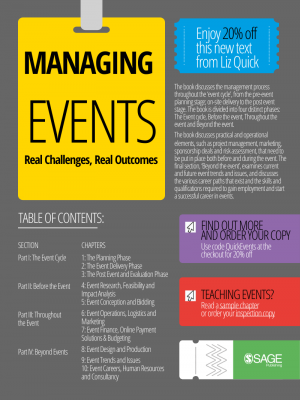 This year I have been pleased to use and refer to the book I wrote, called Managing Events, Real Challenges, Real Outcomes in my teaching. The book came out in August 2020, just in time for the emergence of the Covid pandemic – the biggest unforeseen challenge yet, which is reflected in the Preface of the book! The aim of this book is to combine the practical and academic aspects of event management, using anecdotes from my previous career in events and presents an industry perspective, with real-life event examples and contemporary and relevant case studies. The book aims to move away from more traditional academic  approach to  event management, focussing on the practical and operational elements, such as project management, marketing, sponsorship deals, virtual events, sustainability, evolving technology and risk assessment. I believe this provides a valuable insight to those hoping to enter the events arena, or even those already in the industry who want to learn more about it. The final section of the book : Beyond the event, examines current and future event trends and issues, and discusses the various career paths that exist and the skills and qualifications required to gain employment and start a successful career in events. Each chapter profiles someone currently working within the events industry, and presents a scenario of a real event challenge they have faced in their work role, relevant to the chapter. Further viewpoints from a second event practitioner and academic are included, before the final outcome is presented, illustrating  in each case, how real-life situations can develop and be resolved in practice.
Quick, L. (2020) Managing Events: Real Challenges, Real Outcomes, London: SAGE
Thank you so to each of our members who contributed your brilliant projects to this member feature article. It's certainly an inspiring way to end the year and look ahead to 2022!
Photo by Ibrahim Boran on Unsplash