We spoke to Steve Garvey about Moving Image's first Benchmark report, which looks at how 50 leading UK brands use video on LinkedIn and Instagram. Moving Image used data for Jan-Sep 2021 for these answers. 
How can brands make content that works for these different platforms?
You're right, LinkedIn and Instagram are quite different platforms. For LinkedIn's professional audience, Rolls-Royce and GSK have consistently topped our charts over the first 9 months of 2021. On consumer-oriented Instagram, it's Unilever, Aston Martin and Dr Martens.
The same film can work on both, but it makes sense to edit a different version for each platform, or at least post it with different text. For example, in all our analysis of over 4,000 videos this year, the 5 most-liked LinkedIn videos each month have never been the same as the top 5 on Instagram.
LinkedIn hit videos are information-led, like Rolls-Royce's thousands of likes for a time-lapse engineering video. Instagram is more driven by emotion, so Unilever's campaigns for sustainability, female empowerment and health can get hundreds of thousands of likes.
This means LinkedIn videos are more likely to be explainers or feature talking heads. Instagram videos are mostly ads or brand values statements, often featuring actors. Both platforms reward high production values, so if you want likes, you need a minimum level of creativity and quality.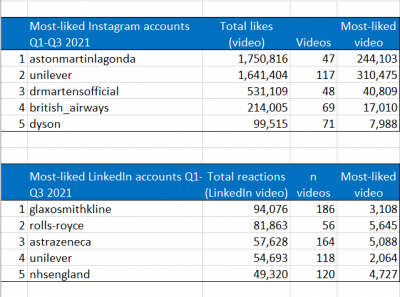 Did you notice any trends in the types of video and image content that were successful?
The biggest trends are the pandemic (no surprises there!) and global events, especially International Women's Day.
IWD triggered a spike in all posts including video on LinkedIn – there were almost twice as many videos posted in March as in April. However, average video engagement was the same in Q1 and Q2, so we don't see evidence that global events drive engagement. Events drive so much activity that it seems audience response is simply spread around more films.
You mention authenticity in the report – how important do you think this is and how can brands achieve it?
Authenticity is a necessary ingredient in successful video. Its absence can be damaging, as the Australian Department of Finance found with this recruitment film.
But you need more than authenticity to generate engagement. Videos can be true to the brand and honest, but still get little traction because they lack creativity and a strong narrative. This LinkedIn explainer video by Polypipe is a great source of information and might have worked for their business, but it would have got more reactions with a tighter script, stronger visuals and a simpler narrative on sustainability.
Dyson have a strong track record in producing engaging video, and this video turns technology development into a personal story that connects to our emotions.
Data can seem daunting, but it's so valuable and assessing your own data in this way is a vital exercise for understanding how to market to and communicate with your audience.
Thank you for sharing your insight with us Steve. View the headlines and full Benchmark Report here: https://www.movingimagenews.tv/benchmark-brand-video/