Laura Smith is our current Account Executive intern, based in our Manchester offices. She's studying Events Management at Manchester Metropolitan University, and is now in her ninth month of working with us. We asked her a few questions about her internship experience so far, and how it's impacted her understanding of the events industry.
Hey Laura! So, you've been part of the bunch for nine months now (how quick has that gone?!) how's your experience been with us so far?
I wasn't 100% sure if I wanted to do an internship at first because of the whole Covid situation, but after a chat with my tutor, I decided that it would be a great way of getting some more experience. I'm so glad that I listened and joined the Top B team, the experience I've gained has been amazing and the soft skills I've earned along the way too are invaluable.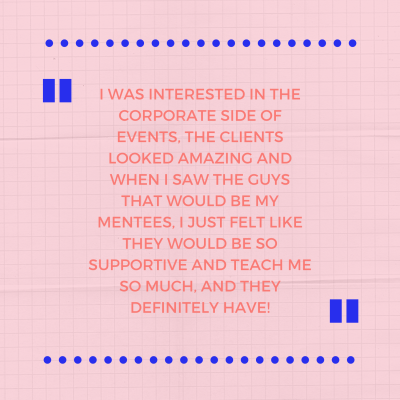 What do you think attracted you most to this internship this time last year?
I actually only applied to a couple of internships, because I was set on only applying to places that I really felt passionate about – so you can imagine how happy I was to get the call that I'd got the job here! I'd heard about Top B at uni before, but when I checked them out online I just felt like the values and work really resonated with me. I was interested in the corporate side of events, the clients looked amazing and when I saw the guys that would be my mentees, I just felt like they would be so supportive and teach me so much, and they definitely have!
Since you've been with us, are there any highlights that you've experienced, and you'd be able to share?
It's hard to single out one moment, because there's been lots! On a broader level though, I think the biggest achievement for me, and one I'm most proud of, has been the improvement in my confidence. From when I first started here to now, my confidence has grown so much – even my family have noticed it! I've always struggled with my confidence, and the pandemic gave it a knock too being stuck inside and not having the opportunity to practice it. My confidence has sky-rocketed now, and it feels so good to call suppliers without feeling nervous and get on with my to-do list worry free.
Over the past few years, it's safe to say that the events industry has had to adapt quickly, especially when COVID came along. Do you feel like you'd been prepared for this in your studies before joining us?
The events industry definitely had to adapt quickly, but I think universities and lecturers had to adapt quickly too, nobody could've been prepared for a global pandemic! To accommodate, one of my modules changed from live events to virtual events. It was tough, because I think virtual was relatively new to a lot of the industry, so we were all trying to get our heads around it at the same time. It was great that they adapted so quickly though, it gave me increased insight before joining Top B, but the biggest thing it taught me was how to apply myself and adapt when plans change, because I've learned that it's not uncommon in this industry.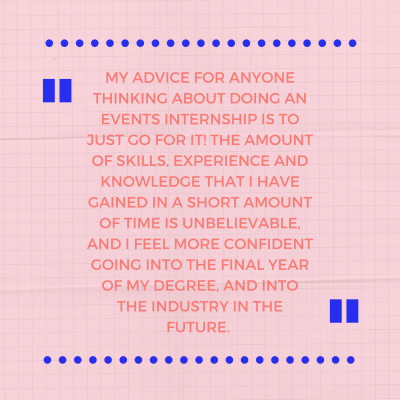 As we unfortunately approach the end of your time with us soon, how do you feel? What advice would you give to others thinking about taking an events internship, or starting one this year?
It's a bittersweet moment, I'm really sad to be leaving Top Banana soon, it's gone so quickly! I've truly enjoyed every moment, the team have been incredible and invaluable mentors, not only in work, but outside of work too. Although, I'm excited to put all that I've learned here at Top Banana, into my university assignments and finish my degree.
My advice for anyone thinking about doing an events internship is to just go for it! The amount of skills, experience and knowledge that I have gained in a short amount of time is unbelievable, and I feel more confident going into the final year of my degree, and into the industry in the future. For someone starting, I would advise them to give it their all, it's an incredible opportunity, don't let it go to waste. Accept your mistakes and learn from them, don't be afraid to ask questions, and grab every opportunity that comes your way and make the most of it you can!
Top Banana are a creative communications agency. They offer internships, share resources and run a Design Academy for undergraduates who want to be designers. You can find out all the key information via the links below: