Last week we attended Cvent CONNECT Europe 2022 for the Thursday programme of keynotes, panel discussions and association conversations.
We first heard from celebrity keynote Ashley Banjo, who is the Creative Director and choreographer for Diversity. He talked about the importance of creating an experience, not just a show, or in our case, an event. The key, he said, is storytelling, whether that's through dance or the journey you take your attendees on. There's inspiration everywhere, he said when speaking about where he finds his ideas. He recommended writing everything down that catch your eye, whether it's the flow of a tablecloth or an insight from a film you've been watching in your downtime. That idea might not be relevant to the work you are creating for years, but when the time is right, it'll resurface. He talked about the importance of listening to yourself, of working within your capacity, rather than someone else's. It was an inspiring start to the day, which then broke out into a series of smaller sessions.
A highlight of the breakout sessions included one we attended on using unique channels to reach your audiences. Madolyn Grove (Live Content Lead, TikTok) and Frances Rodriguez Balit (Event Web Specialist and Podcast Host @ Bbr Web Design & The Events Cast) shared their insight into using their own channels, and others like theirs. There's no one way to do it, they said. It's about leaning into what the platforms can do and finding "your own unique place online" that suits your audience. TikTok when used right, Madolyn said, can be a brilliant tool to bring your audience closer and is most effective when it is authentic and unfiltered. Francesca talked about the importance of delivering a 365 journey that can add value to your audience every day, not just on the day of your event. "The key to success in this industry is creating a meaningful two-way transaction," said Madolyn, and both agree that the future of creating this is amplification.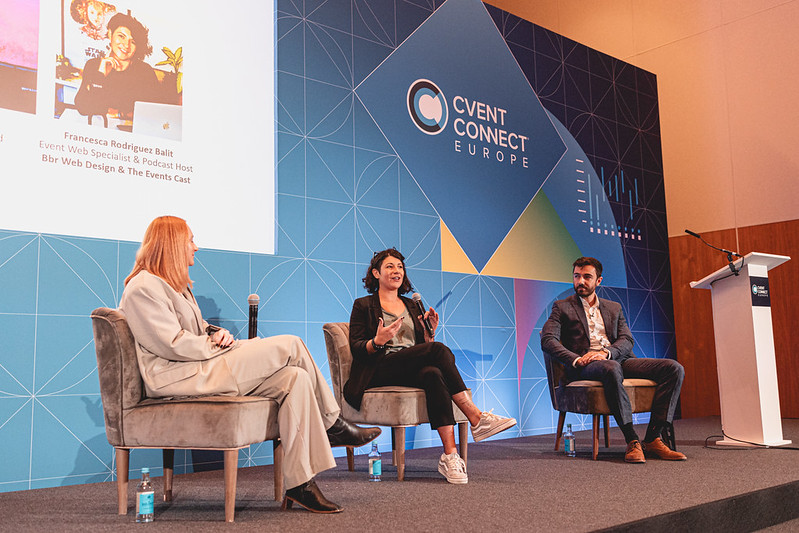 Later we attended a session facilitated by Felicia Asiedu (Cvent) we spoke with other event professionals and association leaders about how we can address the lack of diversity in the industry. In roundtables we discuss the issues we thought the industry was facing as well as potential solutions. We then shared these back with the group. The discussion group was just one of many Cvent plan to run, to bring people together to continue the much-needed conversation around diversity and inclusion, and advance the industry!
We ended the day at comedian and podcaster Cally Beaton's keynote. She came later to her career as a comedian, deciding to give it a go at a point where she thought it was too late to start a new career. She delved into her personal life to speak on the topic of change, encouraging a different perspective on it.
Thank you so much to our partner Cvent for having us at this year's conference. We engaged with so much insightful content and made brilliant connections.