This EVCOMference we will bringing together experts, agency leaders, clients and next generation talent for a series of panel discussions you won't want to miss! Each panel will tackle a different topic and offer a range of perspectives on that discussion point. From workplace culture to recruitment and retention, new business and opportunity, this range of panel discussions has something to suit everyone! Make sure you get your tickets to EVCOMference here, and find out more about our upcoming sessions below:
We are really excited to be bringing together senior women from the film, event and the experiential space for the session, 'What does workplace practice and culture look like now, and will it be better than before?'. They will discuss work practice and culture and how this has changed for all, with a particular perspective on how it has impacted women. We will be hearing from Jane Sayers (Head of Film, Content Engine, Shell Plc),  Karen Kadin (Managing Director/Partner, Brands at Work), Emily Clements (Head of Film, Radley Yeldar) and (Nicola Handley, Team Lead, Barclays UK). The discussion will be facilitated by Martin Fullard (Editor, Conference News), and as a father to two young children himself, will be able to add his own perspective. Together, they will answer the question: Does the future look bright or will there be a whole new raft of issues to navigate? This is going to be an insightful session for business leaders everywhere, especially those transitioning back into working in a face-to-face environment.
At our next panel session, 'Recruitment, Retention, Development and Talent Acquisition', you'll be able to join three experts (two from specialist recruitment companies and one specifically helping first jobbers) as they discuss the future landscape of our industry. Our speakers Robert Kenward (Founder, The Hub), Cathy Alford (Managing Director, Searchlight) and Benedicta Asante (Founder, Events 101) will tackle the questions, where will the talent come from, do the they have the right skills and how do you hold onto those that do? Looking to the future, they will ask address whether agencies are recruiting to improve their agency diversity and what problems lie ahead.
Next up, we will be hearing from a range of business leaders sharing their insights into where new business might present itself in the coming years and what these opportunities might look like. Our speakers Andrew Smith (CEO, A-Vision), Simon Hambley, (CEO, Strata) Sue Darlaston, (Senior Director – Sales Solutions, BCD M&E) will come together for a session entitled 'A Future of Opportunity', which will be facilitated by Maarten Schram (Founder, LiveCom Alliance). This will be a fantastic chance for attendees to hear from people at the top of their professions, with a view to giving the audience a greater understanding of how to find new business in the future.
Book your tickets to EVCOMference here!
MEET OUR PANELIST SPEAKERS: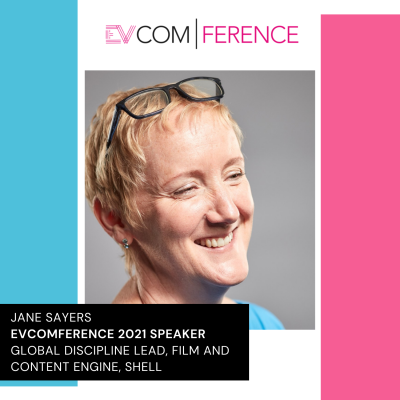 For 2 decades Jane Sayers enjoyed a highly successful career as a documentary director, making films for the major international broadcasters. She Series Produced the Emmy winning Stephen Hawking's Favourite Places in 2017.  Now a doyenne of Branded Content she heads up Shell's film discipline and has formed a hugely talented in-house team. Content Engine @ Shell has a mission to become the world's best content creators that only one brand can access – in their first 2 years they scooped 14 awards, including 6 EVCOM film awards in 2020.
*
Karen Kadin is the co-founder of the award-winning experiential communications agency, Brands at Work.
Brands at Work was named 2020's Challenger Agency of the Year by EVCOM and took home the Grand Prix from C&IT.
From live, virtual and hybrid events and brand experiences to employee engagement and cultural change programmes; Karen has over 20 years' experience leading transformational communications campaigns. She has had the privilege of working with leading multinational corporations across a diverse range of sectors including Healthcare, Financial and Professional Services, FMCG and Tech. Her passion is to help companies become better storytellers and in so doing, build vibrant brand communities from the inside out.
*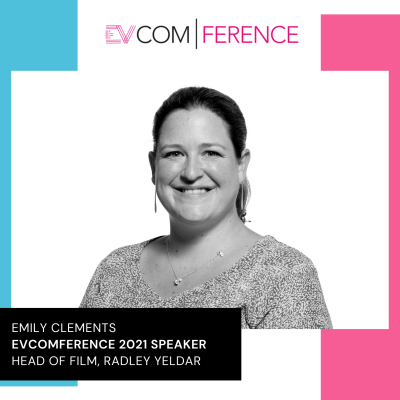 Emily Clements says, "An experienced corporate film-maker, specialising in documentary, animation, drama and new technology. I now lead the film team at one of London's leading independent brand, marketing and communications agencies. I am responsible for both the creative and commercial success of the team, delivering outstanding film and animation content to a wide-range of corporate and public-sector clients.
*
Nicola Handley is Head of Events for Barclays Bank UK Plc. With over 20 years' experience in event management, Nicola's expertise predominantly stems from managing in-house events at various financial institutions. In addition to heading up the events teams at Investec and Barclays Global Investors, previous companies also include LiFFE, Deutsche Bank, Goldman Sachs and BNP Paribas. Nicola has also organised events for L'Oreal Professionnel and The Winter Olympics 2010.
Now at Barclays, Nicola leads an in-house agency team that supports the newly formed Barclays UK business – a business whose desire is to move away from the traditional corporate event. Nicola spends much of her time driving the team towards truly differentiating experiences, changing mind-sets and striving to set Barclays UK events apart with creativity at their heart. In recent years, Nicola has overseen the transformation of the team through recruitment & resource strategy, business alignment, inspirational & collaborative working and motivating creative thinking which has resulted in a step-change in both colleague and client events at Barclays UK.
*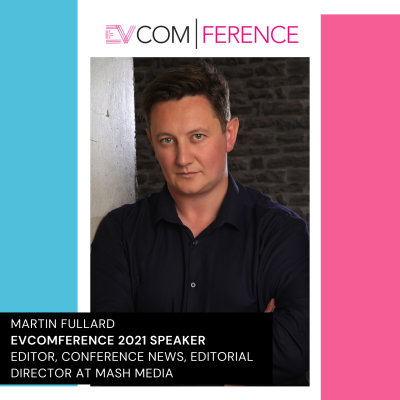 Martin Fullard is the editor of Conference News and editorial director at Mash Media. Martin is a leading figure in advocating for the UK' events industry, having appeared on the BBC, LBC, CNN and in other national titles. He believes that the business events industry is more than just a series of individual events and experiences, but that they a vital market component and a prime asset in levelling up the UK regions' economies. As a journalist, Martin has previously covered breaking news, sport, automotive, and travel."
*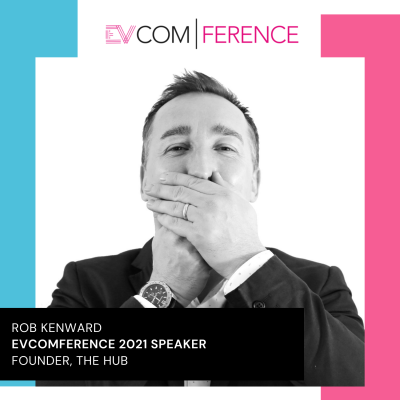 Robert Kenward is a recruitment expert specialising in the events industry. He is an experienced speaker and moderator who is able to convey his expertise and experience to an audience with a vibrant, passionate and honest approach.
Robert has over 20 years' experience of the recruitment and events sectors and brings a unique perspective of hiring from all angles – as a candidate, a client and a recruiter. Robert takes an honest and pragmatic approach to recruitment, matching the personal and career aspirations of candidates to a company's business growth plans.
Through lockdown, Robert opened up his diary to the industry and has held over 300 pro bono one to one sessions with people who found themselves newly jobless or searching for advice or support. In 2020 Robert founded The Hub.Jobs, a global, industry specific people and jobs board to help people in the events industry find work and for employers and recruiters to find the right industry specific talent. Robert lives in Brighton, UK with his wife and is a hands-on dad to their two sons.
*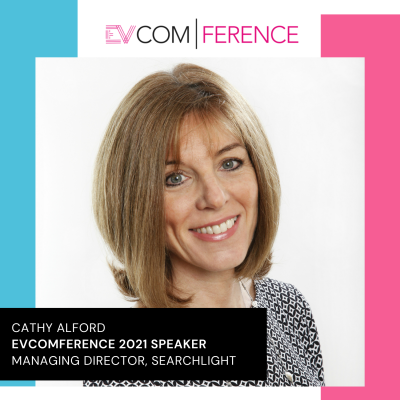 Cathy Alford is the Managing Director of Searchlight. Under her guidance, Searchlight has become one of the leading providers of Recruitment and Executive Search services to the Media and Entertainment industries. Searchlight's role is to identify both the current and future leaders of our industries, and place them into companies where they can thrive and grow.
Prior to joining Searchlight, Cathy was a Business Manager at the BBC, negotiating and agreeing Factual production budgets on behalf of the BBC1 and BBC2 Commissioners. She was initially brought in to the corporation to help change BBC Post Production into a commercial, outward-facing, client-focussed business.
Having managed large, multiple-site teams of Creative, Operational and Commercial staff & a significant P&L, Cathy has the skills and experience to deliver on cross-functional senior placements.
*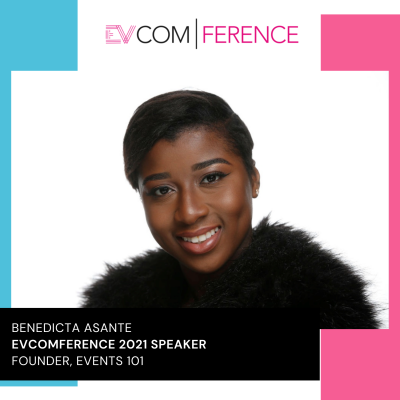 Benedicta Asante is a young events professional with 8 years experience in a variety of roles. In addition to this she is a first class graduate with a BA (Hons) in Business and Event Management. Benedicta is passionate about developing the talents of the next generation of event professionals and creating platforms for them to network and share their experience. Through this passion she co-founded Events 101, a platform which is debunking the events industry and the roles available to students and young people in the industry across a variety of sectors. Events 101 have helped EVCOM put together the shadow board and the realise award and are creating similar opportunities with other organisations across the industry. 
*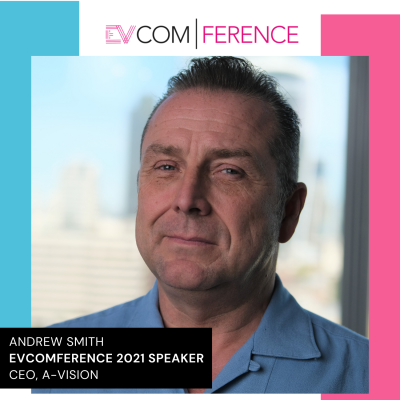 Whatever the audio visual digital innovation Andrew Smith has been at the forefront. Whether it be Film Video, Augmented Reality, 360 Filming mobile apps, projection to buildings, or 100 m long screens at US Expo's. Championing such worldwide brands as McLaren, Vodafone, Sony, Blackberry, Royal Caribbean Cruise Lines, Douwe Egbert's and P&O, Nissan, PG Tips and IHG where Andrew oversaw the entire creative execution for the rebranding of Holiday Inn Hotels worldwide.
Andrew's work, which includes Apps, Augmented Reality, brand commercials, title sequences and product launches has seen him work across a myriad of mediums, from TV and cinema advertising to outdoor digital, radio commercials to internal corporate communications, Andrew has become a leader in creative communication, and an established heavy-weight in global through-the-line communications.
On the way to picking up numerous awards, Andrew's approach to visual communications involves gaining a thorough understanding of the client's objectives and reaching the audience in new and exciting ways, whilst maintaining a strong adherence to the client's creative brief. Andrew, is now Immediate Past Chairman of EVCOM, the film, video and live events industry body and the longest serving board member of the IVCA, EVCOM and continues to make ground breaking visual communications for a host of worldwide brands.
*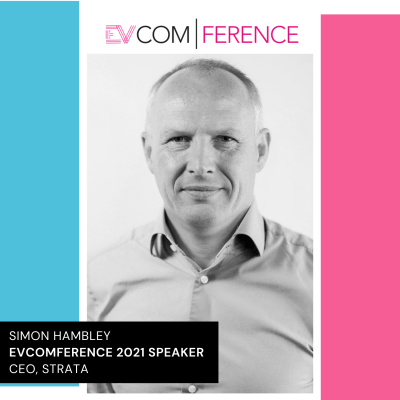 Simon Hambley is an experienced events and communications specialist, business manager and owner. With more than 25 years in our sector. Coming from a background in theatre production. His career developed in the corporate field and he has led sales, account and operational teams as well as MD positions. Throughout his corporate career he has worked with leading brands on a global scale, and delivered events and campaigns of many different types and sizes. Strata is his third agency. Having been a founder of Acclaim, a director and shareholder of Crown and subsequently a founder of Strata. He has gained significant experience in the challenges that bringing agencies together in a merger or acquisition can bring.
*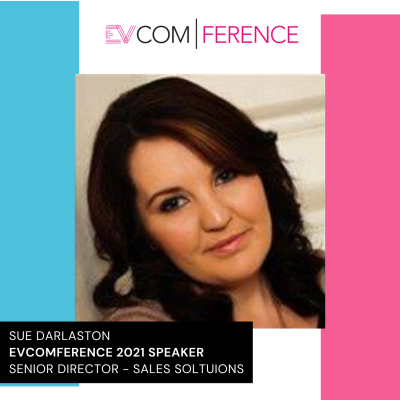 Sue Darlaston has over 20 years' experience in creative events, meetings and the wider travel industry. Part of BCD M&E's UK Senior Leadership team, she's responsible for driving new business and sales strategy. She supports clients in bringing their meetings & event stories to life, and recognises the value of staying at the forefront of an industry in motion.
*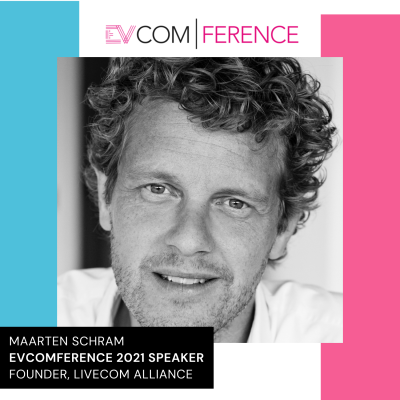 Maarten Schram established LiveCom Alliance in 2016 as a non profit foundation on the believe that the live communication industry deserves a pan-European approach and audience, and would benefit from an overarching dedicated yet independent institution. Today, serving twelve national organizations (participating associations) and affecting over 1.000 leading agencies and companies (associated members) around Europe. Maarten thrives the pan-European industry creating a stronger, more sustainable and more interesting playing field by introducing the first pan-European Code of Ethics (2017) and first pan-European Pitch Guidelines (2018). Furthermore he publishes the European Industry Survey yearly. The LiveCom Alliance European Industry Survey aims to capture the major trends and economic impact drivers for the live communication industry in the world's biggest free trade area. Since 2019 this study has been conducted by the renowned market research RIFEL Institute, an important step towards building a comprehensive overview of this important industry. Maarten is also managing director at the Independent Dutch Event Association (IDEA), the association for Dutch leading event agencies. Since he graduated from the InterCollege Business School in The Hague, he is working in the event and live communication industry for 25 years. Maarten is also jury member and involved in the advisory board of several national and international awards and events and was during the pandemic year member of the program team of the Dutch Fieldlab Events program.
Don't forget to book your tickets to EVCOMference here!
Photo by Felicia Buitenwerf on Unsplash