EVCOMference is exactly a week away and we are delighted to share with you the final sessions of our packed and varied programme! Visit our website to see our full programme of talks, keynotes and panel discussions, from speakers including agency leaders, experts in their field and clients.
We are really looking forward to welcoming Paul Taylor, SVP Corporate Marketing, Blue Prism and Amber Skinner-Jozefson, CEO and Managing Director, Loal to join us for our sessions 'The Changing Landscape'. Andrew Winterburn, Director, 3Sixty Event Consulting Ltd will quiz these senior comms professionals on how they think corporate communications are going to respond to the rapidly changing landscape. What impact will budgets, technology, culture, people, and the shifting dynamic of the workplace have on business and what are they doing in their business to respond? This is going to be a vital session, full of insight on how companies can prepare themselves for our shifting world.
Next we will be joined by Callum Gill, Head of Research, DRPG for his session, 'Evolution or Revolution – Trends in Leadership Behaviours During, and as a Result of, the Pandemic'. After framing 'where we are now', Callum will explore how the pandemic has radically altered comms in terms of trust, candour, and rapid response with regards to technology. Through a variety of examples he will demonstrate how advancing from blue sky to black sky technology will become viable in the next 18 months. Don't miss out on Callum's technological expertise!
Finally, I'm sure we can all agree that the rapid acceptance of new technologies and platforms has changed the how corporate communications can be delivered forever. In our session, 'Creativity, Data and Technology: The Impact', you can join a discussion with industry experts Jeremy Stinton, Head of UK, TwentyThree and Dale Parmenter, CEO, DRPG in a conversation facilitated by Emma Hilditch, Content Director, VEI. They will explore where and how creativity, data and technology can impact your business.
Book your tickets for EVCOMference here, for these sessions and more, whilst you still can!
MEET OUR SPEAKERS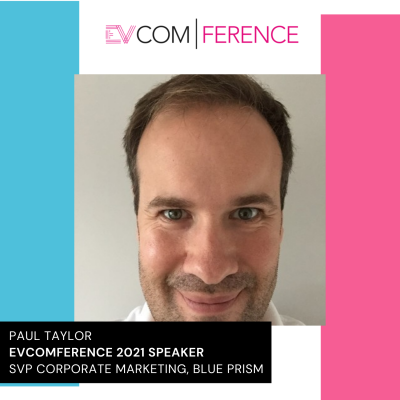 Paul Taylor is the senior vice president of corporate marketing at Blue Prism a global leader in intelligent automation. With a broad remit including responsibility for marketing, corporate communications, campaigns, product marketing, events, internal communications, brand and creative, Paul is a dynamic and versatile team leader with an ability to strategize across multiple departments.
With a background in the financial services industry, Paul has over 20 years' experience in building and leading initiatives and teams within high performing organizations, including his previous roles at Credit Suisse, Deutsche Bank and SWIFT. During the past year at Blue Prism, Paul has been a pivotal figure in restructuring the marketing department, including a complete overhaul of the company's messaging and branding.
Outside of work, Paul is a non-executive director and charity trustee of the charity Trust Links which offers recovery classes, social activities, employment training and coaching and more to people living with mental health conditions and for unpaid carers of any age.
*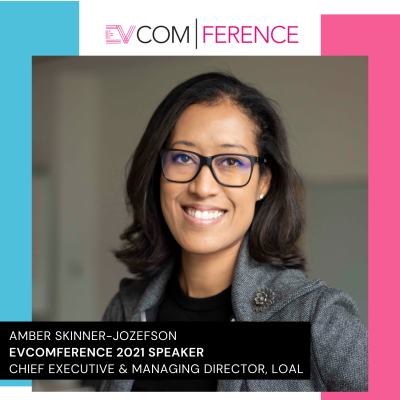 Amber Skinner-Jozefson is the Chief Executive and Managing Director at Loal, the disruptive fintech credit builder and consumer lender that leverages innovative technology, gamification and data science to extend credit accessibility to the financially neglected and underbanked. The digital micro-lender operates on the belief that the credit industry is broken for the growing number of people seeking access to vital funds that can help them improve or establish their credit score. Previously, Amber was the company's Chief Product and Marketing officer. In addition to her current position, she is a Board Trustee for social enterprise and charity Action West London and an Advisor to New York-based digital receipts startup ePOP AI.
Before joining Loal, Amber led commercial marketing, product marketing, influencer relations and corporate communications at a number of international organisations, specialising in transformation management and building talented, high-performing teams from the ground up. Most recently, she was the Global Head of Marketing Communications at SWIFT. Prior to that, she developed international marketing for Axioma (now Qontigo). Before fintech, Amber's career centred primarily around enterprise telecommunication software and solutions.
Amber has lived and worked in several countries in the US, Asia and Europe and is now based in London. She received her Bachelor of Arts degree in print journalism from Howard University and her Master of Business Administration degree from the Imperial College Business School.
*
Andrew Winterburn is the Director of 3Sixty Event Consulting + MeetingsInn Ltd + Travika Europe Ltd + NED Roles. He has over 30 years events  experience helping to build a start up company of 5 staff based in the UK to become a global event management business with a presence in Europe, Asia and North America with over 300 FTE's. He has consulted on behalf of  several global blue chip companies and has had the opportunity to work across all the major industry sectors including delivering global strategic meetings programs.
Over the past 15 years he has opened businesses across Europe, Asia & North America, setting up operational & commercial teams. Andrew has sat on industry advisory boards, and he is a past Chair of EVCOM representing the Digital, Visual Content and Live Events sector. In the past 5 years Andrew has been involved in several entrepreneurial start up companies, as well as becoming a Non-Executive Director of Top-Banana (now part of TBA Group). He has Travelled extensively for business and pleasure with India being the only major continent he has not had the pleasure of experiencing…
*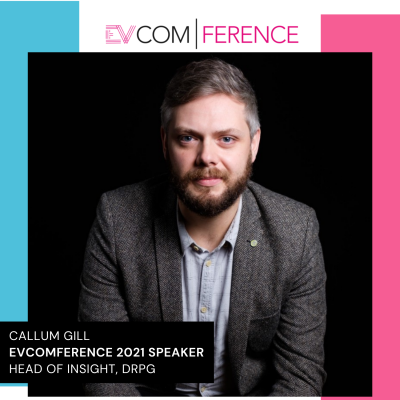 Callum Gill, Head of Insight and Innovation at creative experience agency DRPG is a researcher, insight specialist and futurist with extensive speaking experience across the UK and Europe. Callum weaves together the latest trends governing communication and events with the best practice approaches demonstrable across the diverse field into manageable and tangible actions for his clients. Callum's areas of interest and speciality are the changing technologies available to comms professionals and the rise of the millennial generation into the comms space and what this means for brands.
Callum is a regular panellist at key industry events talking on these subjects including the Festival of Marketing, Technology for Marketers, Tech XLR8, Event Tech Talks, brand reputation and management events and many more. Callum uses insight – driven strategy to create exceptional experience and communication design with a focus on audience segmention, behaviour and Personalisation.
Callum consults with organisation on the future of communication & employee engagement, how to redesign comms for millennial sensibilities, the impact of new technology on comms and how creativity and innovation can drive organisational change.
*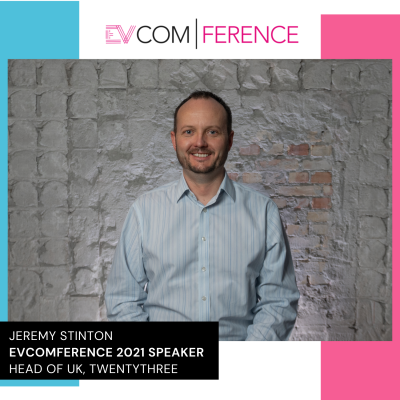 In a career spanning senior commercial roles the webinars and video space, Jeremy Stinton has worked across tech vendor and agency-side. Jeremy is perhaps best known for his work on emotive (and occasionally raunchy) award-winning video campaigns for the UK public sector, which amassed both millions of views on YouTube and tangible monetary results for clients.
Jeremy currently heads the UK enterprise team at webinar and video marketing platform TwentyThree. TwentyThree is on a mission to help marketers boost their lead generation ROI, creating greater engagement with webinars and video content, and delivering deep audience insights to the rest of the martech stack.
*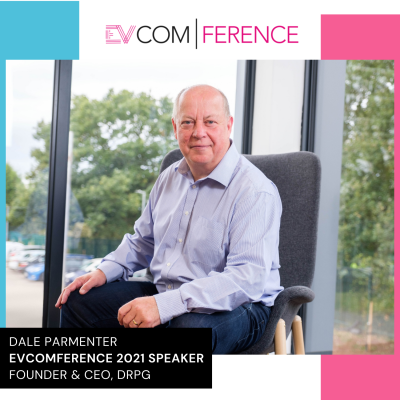 Dale Parmenter has been in the presentation and communication industry for 40 years. He left school with one goal to run his own business, after just 3 years the opportunity arose and Dale took it, operating at first from a small outbuilding at his parents home.
Today the drpgroup is recognised as one of the leading presentation and communication companies in the UK. The drpteam comprises of over 220 specialists across four locations in Worcestershire, Leeds, Windsor and London. The company offers a range of in-house communication solutions, from creative, design, video, events, digital, exhibition, experiential, team engagement and print.
Dale Parmenter is past Chairman of EVCOM, he is actively involved with key corporate clients such as Sainsbury's and Thomas Cook, Lloyds Banking Group, he works at a senior level assisting in the development of communication strategies and creating presentation vehicles. Clients find his wealth of experience and knowledge invaluable in creating solutions that are bespoke to an organisation and are effective.
The drpgroup is a Best Company to work for and has been awarded IIP Gold standard.
Dale was voted IOD SME Director of the Year for the West Midlands in June 2014, Personality of the year in 2015 by M&IT and was awarded a Fellowship award for services to Communication in 2016.
*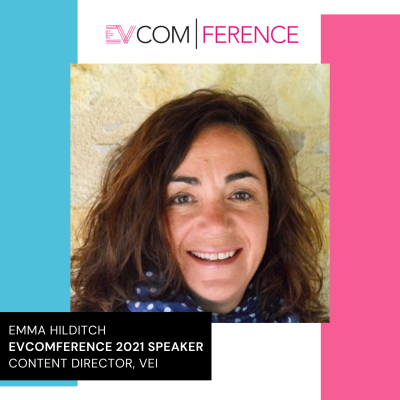 Emma Hilditch is an innovative and experienced content producer for international events; virtual, physical and hybrid.
I am now at the VEI; developing our training course modules and ensuring that each course offered answers a real market need, is highly innovative and creative in format and delivers a practical learning experience for all our certified graduates.