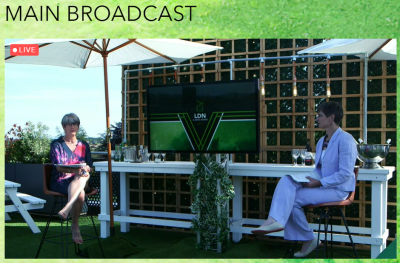 Yesterday we celebrated the best of cause-driven creativity at the EVCOM Clarion Awards. Filmmakers and event organiser joined virtually for a live broadcast from DRPG's studios. In the glorious sunshine, the ceremony took place on the roof with views out across the countryside. Kate Sturgess, our wonderful host opened the ceremony. We heard opening remarks from both Claire Fennelow, EVCOM's Executive Director, and from Charlotte Gentry, EVCOM's Board Chair, welcoming our audience and highlighting the importance of recognising work that seeks to create an impact.
Kate then went on to announce our winners across a range of categories from Environment to Diversity and Inclusion, Social Welfare to Celebratory. We saw live action and animation being rewarded, films short and long being recognised, virtual events and pivoted broadcasts in the spotlight! The gold films were screened live for everyone to appreciate.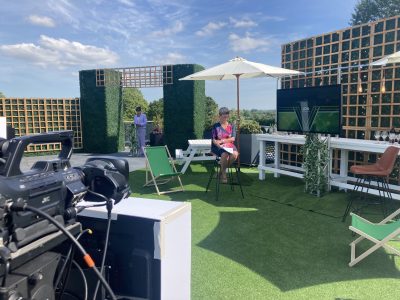 Through out the ceremony we also heard from industry experts who shared their perspectives with Claire. Steve Garvey (Moving Image) discussed the trends demonstrated by the Clarion entries, and what they can show us about the corporate film sector more widely. Sam Wilson (Syntiro Associates) and Dale Parmenter (DRPG) spoke about sustainability, certification and DRPG's own policies. Later we heard from Ashanti Bentil-Dhue about how our industries can address the lack of diversity, the impact of Covid-19 on D&I programmes and what the spectrum of diversity really means. Finally Charlotte Gentry once again joined Claire to talk about the future of events as the industry recovers.
It was afternoon of fascinating discussion and award-winning work – congratulations to all of our winners! We will be making a recording of the broadcast available on our website next week. In the meantime, view our full list of winners below:
Social Welfare
Highly Commended: Sistas in Strength for Account3 by Studio Giggle

Bronze: Mark (COVID-19 DRTV Appeal) for British Red Cross by Raw London

Bronze: We Did Everything for Working Options by Media Zoo

Silver: Black Lives Matter for HSBC by Media Zoo

Gold: Launch film for Coalition Against Gambling Ads by Pukka Films

Health and Wellbeing
Highly Commended: I am Terry for Aqua Running by TBD Media Group

Bronze: Using Echo in PH detection – animation for Janssen by NexGen Healthcare Communications

Silver: The Travel to Tokyo Challenge for BOA and BPA by EVERFI

Gold: AMR Is Now for FAIRR Initiative by 3angrymen Productions

Environment
Bronze: Open Water for Volvo by Tinderflint, Media Blaze & CAA

Silver: Climate Week NYC 2020 for The Climate Group by Raw London

Silver: Tusk Conservation Awards 2020 by Shelton Fleming Associates

Gold: There Is No Finish Line for Unilever by Plastic Pictures

Education and Training
Bronze: Thrive for Ørsted by Active Training Team

Silver: Driving for Standard Chartered Bank by The Edge Picture Company

Gold: Ninja Phoenix and DJ and the Gloopy Glop for National Deaf Children's Society by Heehaw

Brand Communication
Bronze: Lifebuoy Returns for Unilever by Plastic Pictures

Silver: Afi's Story for Deki by Studio Giggle

Gold: Home for The Royal British Legion by Tinderflint & Cubaka

Diversity and Inclusion
Bronze: Can You See Me? for Deloitte by Saboteur

Silver: UNSTEREOTYPE for Unilever Plastic Pictures

Silver: Why are there so few female artists? for National Galleries of Scotland by Heehaw

Gold: Black Lives Matter for HSBC by Media Zoo

Innovation

Bronze: Freedom from Loneliness for Jewish Care by Inspired Films

Silver: Norwood Dinner Reimagined by Verity London

Gold: Isolation by Studio Giggle

Celebratory
Bronze: Norwood Dinner Reimagined by Verity London

Silver: Recycle Week 2020 for Recycle Now (WRAP) by Radley Yeldar

Gold: Every Voice Raised for The Body Shop by Media Zoo
EVCOM would like to thank our wonderful sponsors, DRPG, Cvent and 52eight3, whose invaluable support makes awards like these possible. We would also like to thank our brilliant judges who bring their expertise and knowledge to this process, to select the final winners. We are incredibly grateful for your time. And finally, we'd like to thank everyone who enters these awards. Every year we are honoured and touched to receive so much meaningful, wonderfully crafted work from across the corporate film and events sectors.
Until next year!