At the core of the EVCOM Clarion Awards is our belief in rewarding work that makes a difference. For the past two years we have held the ceremony virtually as a result of Covid and safety concerns around it. The virtual format allowed us to deliver an incredibly sustainable event and to make that a key focus of ours. It is really exciting to be holding an in person ceremony again this year, and we wanted to ensure that sustainability was still at the forefront of the ceremony.
So we are going to be kicking off the ceremony, which takes places on the 12th July at Mary Ward House, with a panel discussion that is all about sustainability. Sam Wilson (Syntiro Associates) will be facilitating the discussion, which will hinge around the three tenants of Sam's sustainability ethos: People, Planet and Profit. 
Sam says, "As creatives we have the opportunity to amplify positive change as well as reduce our own activity-related impacts. Looking through the lens of People Planet Profit enables us to not only operate sustainably but weave this way of 'thinking and doing' into the heart of the experience itself, resulting in powerful and transitional legacies for everyone involved. Come along to the panel to learn how to paradigm shift from the outdated single bottom line to a turbo-charged triple bottom line and innovate your brand as well as your clients."
Sam will be joined by a panel of experts for this vital discussion: Megan Strahle (The Bulb), Abena Fairweather (Legacy Events) and Dale Parmenter (DRPG). Buy your tickets to the ceremony here to hear their thoughts and insight on how we can and must become a more sustainable sector.
Find out more about our panellists below: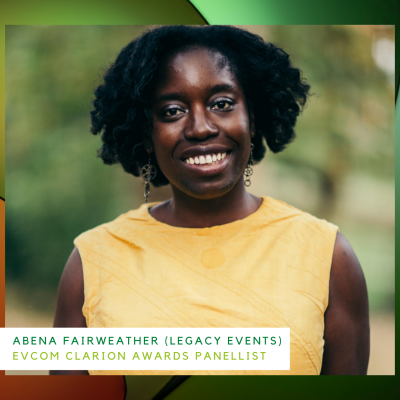 Abena Fairweather
Abena Fairweather is a Sustainable Events Producer and the Founder and Managing Director of Legacy Events, a sustainable events agency and consultancy.
Legacy helps companies organise virtual and in-person events, whilst considering the environmental impact of the event, its carbon footprint, and its potential for positive social change. Abena supports and advises event professionals to run more sustainable events through providing project management, training, workshops, audits and bespoke advice. She is a Chartered Scientist with more than 15 years of experience of working in sustainability and her clients include the University of Oxford, Spotify and Formula E.
Abena has recently launched Legacy Marketplace, a unique platform connecting event organisers to sustainable products and services. When not obsessing about making events better, she can be found cycling in the countryside with her friends and family.
Website: https://www.legacy-events.com/
Youtube: https://www.youtube.com/channel/UC-Y5jiiKuk7UKhhtdA16WKw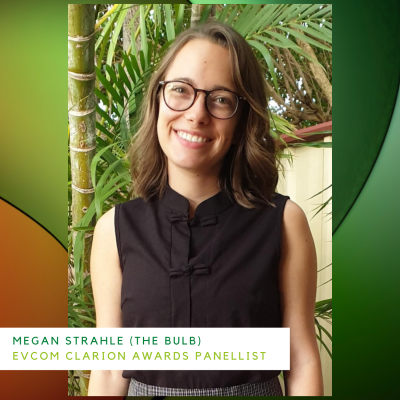 Megan Strahle
With a decade worth of education and experience across the events, hospitality and tourism industry in the USA, UK and Australia, Megan Strahle has taken her passion for sustainability to join The Bulb in 2021 as the newest Sustainability Advisor. She has worked on a variety of projects including creating the sustainability strategy for an interactive experience at COP26, supporting a global ISO certification process and producing the Equality, Diversity and Inclusion strategy to drive social sustainability for the Opening and
Closing Ceremonies for the Birmingham Commonwealth Games.
Website: https://bulb.co.uk/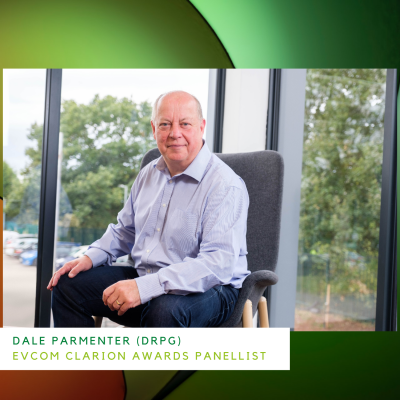 Dale Parmenter
Dale Parmenter has been in the presentation and communication industry for over 40 years. He left school with one goal to run his own business, after just 3 years the opportunity arose and Dale took it, operating at first from a small outbuilding at his parent's home as a filmmaker.
Today drpg is recognised as one of the leading integrated, full- service presentation and communication groups, winning agency of the year multiple times. The drpg team comprises of over 380 specialists across seven locations in Worcestershire, London, Windsor, Leeds, Manchester, Germany, Ireland and the USA.
drpg designs and produces communications solutions globally. Working with a wide range of clients to effectively communicate to internal and external audiences, all through award-winning film & video, events, experiential, print, design, digital, exhibition and creative solutions.
Dale is past Chairman of EVCOM and he is actively involved with key corporate clients, he works at a senior level assisting in the development of communication strategies and creating presentation vehicles.
Clients find his wealth of experience and knowledge invaluable in creating solutions that are bespoke to an organisation and are effective. Using his production and broadcast background, Dale has been able ensure DRPG's 25 year virtual and hybrid offering has expanded to cope with the demand brought about due to Covid.
Dale is passionate about nurturing new talent and putting his people first. drpg has appears in the Sunday Times best 100 companies to work for list at number 16 and in 2020 has been awarded the Investors in People platinum standard, one of only 70 companies in the UK. In 2015 he was presented with the events industry personality of the year and in 2016 honoured with a fellowship award for services to Communication, presented at the House of Lords.
Website: https://www.drpgroup.com/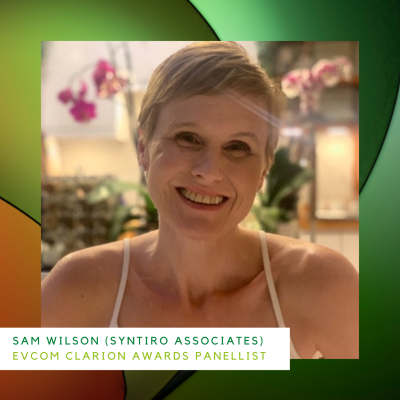 Sam Wilson
Sam Wilson is Managing Director of Syntiro Associates and has worked for 15 years as a sustainability specialist. She is committed to supporting companies in the creative industry gain certifications, including ISO's and B Corp. She is known for her ability to connect strategy to boots-on-ground operational controls to ensure sustainability is baked-in at all levels of an organisation.
Syntiro's clients include M&C Saatchi, Havas, Hearst Magazines, Bestival, AEG Live and ExCel. She was also involved in project managing the sustainability performance of over 70 Olympic & Paralympic sites for the London 2012 Games and, in 2014, travelled to Beijing to present the China CSR Awards.
The Syntiro team has a range of skills and qualifications that come together to create a bespoke integrated service to meet client's specific requirements.
Website: www.syntiroassociates.com