This year we worked with Moving Image to bring back the UK Top 50, a ranking of brand and corporate film producers working in the UK. Previously called Corporate 50 and run by Televisual, the ranking is returning for the first time since 2019. And this week, we are delving into the Peer Poll, which made up part of the survey and helped to decide the final ranking.
The Peer Poll is perhaps the toughest test for UK Top 50 entrants. How do you earn the respect of your competitors in an anonymous poll? Below you can see the people who scored in the top 11. Where there is no number next to the company name, it indicates that that company has drawn with the company above, gaining the same amount of points in the eyes of their peers.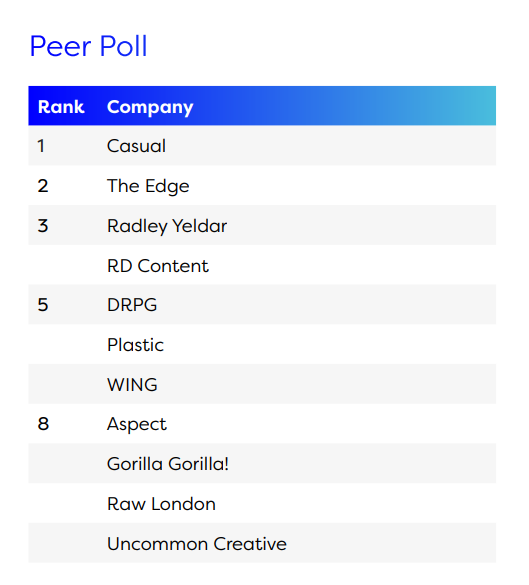 Here are a few extracts from competitors' assessments of the most highly rated businesses, which show the level of respect and admiration this is in the corporate and brand filmmaking community for each other's work, specialisms and aspirations.
Casual
'They understand how to support and build clients' brands with amazing video content.'
'Still producing great content but with a bespoke feel.'
The Edge Picture Company
'Consistently high production values.'
For their ability to do mouth-watering creativity at scale across multiple global sites.'
Radley Yeldar
'Their production team deliver some great work.'
'Their size and consistency over so many years.'
RD Content
'Ambitious growth and, in doing so, have not compromised on their great creative work.'
'Ryan Dean is leading the way and disrupting the industry.'
DRPG
'Continue to create great work and push the boundaries of branded content.'
'A straight talking approach that connects with clients and build long term relationships.'
Plastic Pictures
'Quality of content and approach to making brand films.'
'Thoughtful passionate film makers.'
WING
'Their focus on sports content has been exceptional.'
'Growing the business year on year through sheer quality of the work.'
Aspect
'Feel like a breath of fresh air, do a great job of positioning themselves as filmmakers.'
'Consistently beautiful work.'
Gorilla Gorilla!
'They continue to produce well-crafted, beautiful work.'
'One of the best animation companies out there but excel at creative that truly understands a brief.'
Raw London
'Really respect how quickly Raw have grown and how they continue to push to make communications in the charity sector.'
'Good creative work.'
Uncommon
'I love the way they manage to bake their purpose into their work whilst still delivering for amazing clients.'
'Cleaning up with incredible work and a plethora of awards.'
View the full report here: UK Top 50 2022