Over two weeks in October, London, and cities across the world, have been taken over by Extinction Rebellion, a group of climate change activists appealing to our governments for action. The climate change movement is a growing one, one that demands awareness and action in a limited time scale. In our industry, more and more events are expected to be as eco-friendly as possible, brands are being asked to take a stand on sustainability, and corporate film makers are being asked to find creative ways to communicate this. 
So we have collated some of the fantastic work created by the EVCOM Membership addressing and responding to, the climate crisis.  
Radley Yeldar create powerful film as part of the Recycle Week 2019 campaign 
Last year's Recycle Week campaign and film was a huge success; it was the biggest year to date. This year, Radley Yeldar wanted to support Recycle Now with a campaign to make 2019's Recycle Week even bigger and better.  
Set out as a powerful piece of spoken word, this film aims to be a rallying cry – a punchy, motivating and impactful film that sets up this year's campaign. It highlights the current climate of positive activism and positions 2019 as the year that people are taking action. 
Simply but powerfully delivered in a studio environment, the film features an actor performing the poem primarily to camera to put him right at the forefront of your attention – forging a hard-hitting and emotive connection with the viewer. Projected graphics and footage were used as a backdrop to his performance to add energy and emotion to the piece, also helping the film to align with the wider press campaign. The set was carefully lit and designed in such a way that it felt simple but also dark and moody. We didn't want the film to feel particularly uplifting or positive, instead it aimed to paint a realistic picture of the situation in order to motivate people to do their part and 'take recycling into their own hands'. 
Raw London talks brand purpose and sustainability at Climate Week NYC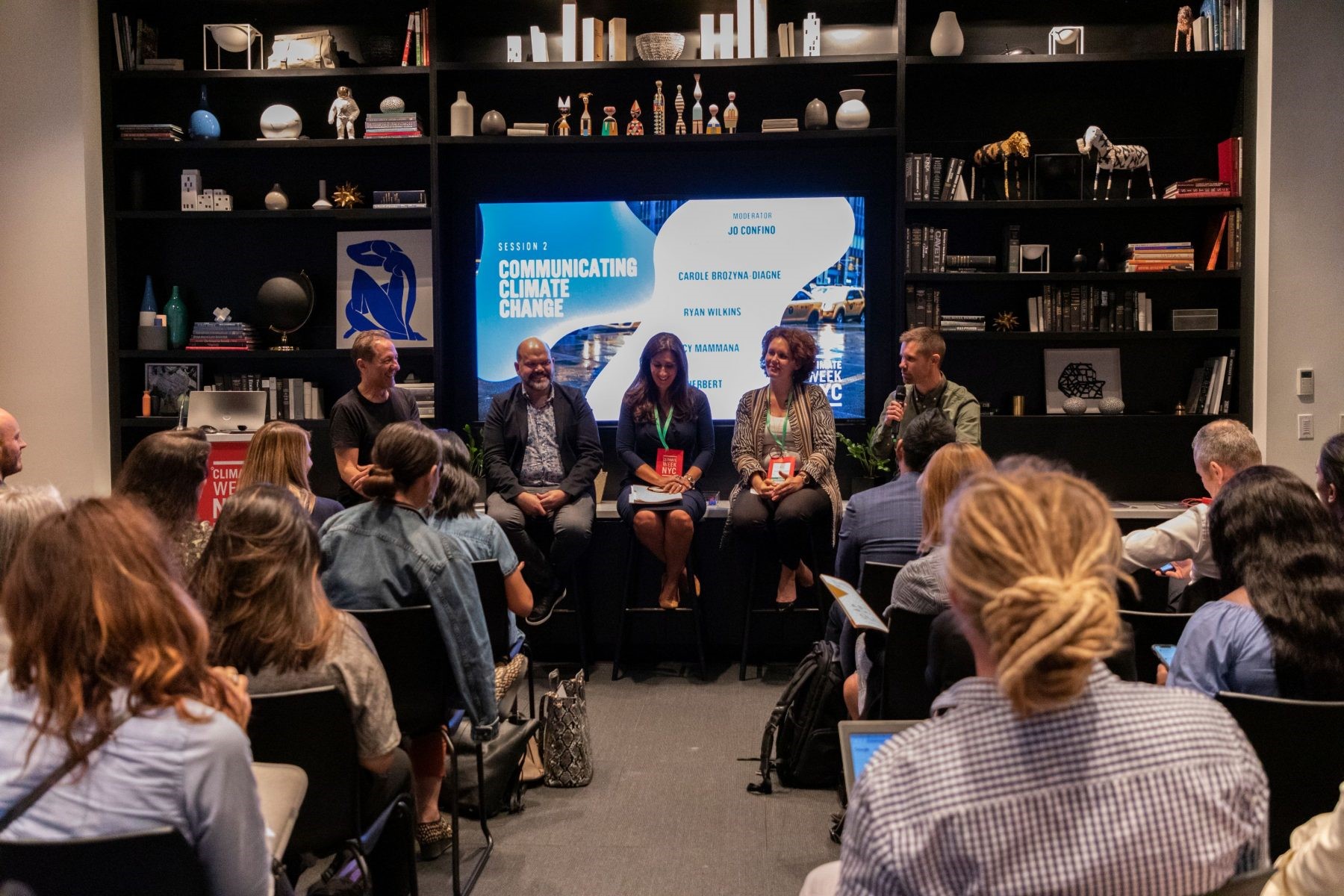 Raw London recently attended Climate Week NYC as the only official creative partner, and wrote a fantastic article about it: 'Brands must communicate their position on purpose and sustainability, or risk becoming irrelevant.' Ryan Wilkins, Founder & CEO at Raw London, joined the panel of a packed Communicating Climate Change event at Climate Week NYC last month. Talking alongside JCDecaux, The Huffington Post, The Climate Group and NYC & Company, he shared his perspective on why businesses need to be clearer and shout louder about where their morals lie. You can read the findings from this and interviews with global CSR and sustainability leaders here. 
Shelton Fleming showcases the importance of working together against climate change  
Shelton Fleming have created a video called 'Change Starts Together' which features powerful shots of places from across the globe, and highlights the potential power we have to change the direction this crisis is moving in, but only if we work together. Together sustainable, together carbon smart, together towards a more sustainable future, says the film. This is accompanied by a discussion paper they have written on sustainability within live events, and how to rethink people, the planet and profitability. Read the full discussion paper here to hear about their holistic approach to sustainability, and its intersection with social justice and corporate responsibility.  
Gavin Buxton Knight creates film to promote the Green London project 
Gavin Buxton Knight created a documentary film project, about trying to make London the greenest capital city in the world, and ongoing dream fought for by different groups across London. With London requiring the equivalent of 13,000 football pitches worth of new green space by 2050 to deliver the environmental benefits necessary to support population growth, Londoners are coming together to search for solutions. Pocket parks, rain gardens, green roofs and green walls, are just some of the ways London's businesses and landowners are making this happen. The film was created for CRP through HudsonFuggle/ Streamstay, and won an EVCOM Clarion Award. 
BCD Meeting and Events push the sustainability agenda 
We'd like to think we're really pushing the agenda on this and have our Green White Paper which gives practical solutions for the M&E industry to make sustainable events higher on the agenda. We know it struck a chord as we generated 135,000 page engagements on social media in the two weeks after it's launch. Since then we've been asked to contribute to Lime Venues FORO white paper, Cvent CONNECT, GBTA in Chicago, inVOYAGE, IMEX, London & Partners, The Meeting Show, Venues and Events Live and numerous other speaking engagements across the globe all around sustainability, so we'd like to think we've got a voice and momentum to make changes in this area. 
Most importantly we're pushing our people to live it as well! We've got sustainability teams in every office across the UK and that's expanding in to EMEA and further afield. In September we organised the Big Cycling Day where our people took to bikes around the world to raise awareness to the eco benefits of cycling as well as raising money for local charities, and we created a teaser film about it. 
Another great initiative was our Beach Clean Day (OMG we love a company themed acronym), where we simply did that, we organised a group from our Faversham office to take a morning out and go and clean a local beach, something so simple, yet fun and there was loads of bonding too.
Visualise That explores the role of finance and investment trusts in building a sustainable future 
Climate change is the number one issue of today. Individuals demonstrating on the streets of our cities to effect change have become a recognisable sight and we frequently hear from consumers about the active choices they are making to reduce their carbon footprint. But, investors also have a role to play. This film produced by Visualise That on behalf of the AIC is one of a number we have produced for different investment firms, exploring the role that the world of finance and investment trusts in particular have, in building a more sustainable future.   
Brandfuel focus on the future of sustainability and accelerating change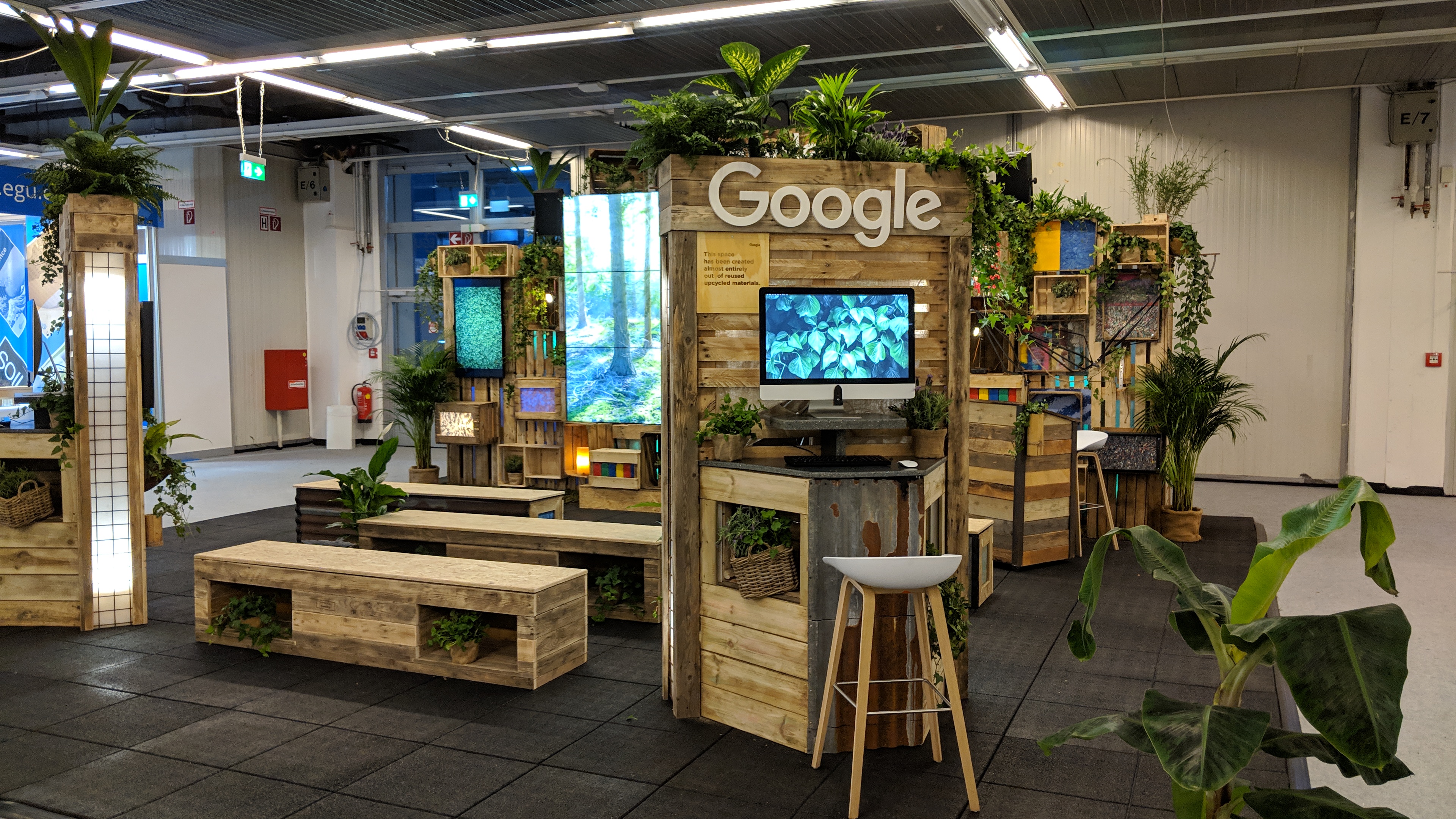 In the current climate crisis we are facing; brands need to adopt climate-conscious minds. At Brandfuel, we are increasingly focussing on the future of sustainability and accelerating change. Earlier this year, we received a brief from Google to create a stand that championed sustainability.  
We worked with suppliers that specialise in upcycling and recycling. And the result, a stand that has become a perfect example of sustainable construction. The wood came from pallets from medical facilities, metal from an old wartime barn and counters were made from crushed up plastics and car parts. Small details were creatively considered too! Plant pots were made from old bicycle parts and all plants came from greenhouses which were returned after the event.  
The stand has had a huge impact in terms of reusing material. It's design meant that we can continue to repurpose it in new ways. Our sustainable stand is a huge credit to everyone at Brandfuel who worked so hard on the project and for bringing in so many great suppliers! 
Sequel Group work with Virgin Atlantic and Virgin Holidays to create a mini documentary series on sustainability  
Sequel Group have worked on a series of four mini documentaries this year for Virgin Atlantic and Virgin Holidays. These are for their in-flight entertainment, internal screens and also for their website and social media, to show what they are doing across different areas of sustainability. The first, 'Three Steps to Tackle Our Footprint' looks at their first ever flight using recycled fuels, and shows what they are doing to make flying with non sustainable fuels something that can be possible in the near future. 'Waste Watchers' looks at what they are doing to tackle waste on board and investigates some unusual recycling options. 'Responsible Wildlife Tourism' is a look at their recent work with responsible wild watching trips to see animals such as whales and dolphins, in light of their position to stop working with attractions that have whales and dolphins in captivity. 'Finally the Stay Sustainable, Virgin Holidays' film looks at the steps some of their hotels in Barbados are taking to reduce their environmental impact, along with their work to make sure that inclusion and diversity are at the heart of the Virgin Holidays experience. Watch the playlist below.
Thank you to all our brilliant members who have shared the fantastic work they are doing to highlight the importance of this vital issue. It is an inspiration, both creatively and environmentally.