This month new business experts jfdi and strategic insights agency Opinium held a webinar where they shared insights from the largest of new business professionals in the UK. You can read a write up of the session here. Inspired by this, we asked our members to send in examples of their own new business successes! Thank you to this month's contributors.
Live Union launched Santander's first ever virtual careers fair on Beehive
During the pandemic event agency Live Union launched their own customisable virtual event platform, Beehive. Last month the agency delivered Santander's first ever virtual careers fair on the site.
During the disruption to the jobs market caused by the pandemic, the Virtual Careers Fair was designed to support both employers and job seekers during this challenging times. The online event showcased some of the UK's biggest brands with over 600 job opportunities available.
Live Union supported Santander in building an engaging agenda and created a virtual environment that encouraged interaction and connection.
Attendees could visit virtual exhibitor stands showcasing job vacancies, business information and the company culture. They could use the live chat function to ask questions or leave their details to be contacted later. The auditorium hosted a number of interesting sessions where audiences could learn new skills. The live event day attracted over 3,000 attendees with the site staying open for 30 days with ondemand content.
MerchantCantos produces fundraising TV-style programme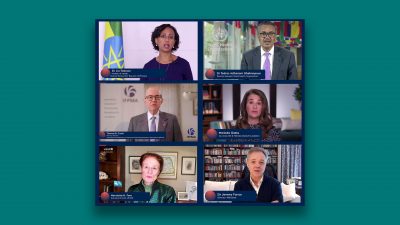 As so many of our industry peers experienced first-hand, the pandemic fuelled a dramatic reduction in location filming. Thanks to our global teams and the wonders of modern technology, we remained active throughout, bringing creative film and virtual solutions to our multi-national clients.  We shot air-to-air sequences over the Rocky's with Cineflexes mounted on jets, created track & trace campaigns for the UAE, and we filmed on set with cast and crew in China.  We accomplished all of this with our amazing MerchantCantos colleagues across the world whilst respecting local lockdowns and social distancing rules. Yet, notwithstanding these achievements, it has been in the realm of virtual events that our work has had the most impact, and the desire to achieve more through virtual events and programmes has never been higher.
CEPI has been crucial to the development of the vaccines providing hope in the global battle against COVID-19. When they sought to host a unique event to fundraise for their critical ongoing missions they turned to us to stand out from the tired Zoom crowd. The MerchantCantos team got to work on producing a live presenter-led news-style programme. This captured contributions from heads of government – such as German Chancellor Angela Merkel – and leaders of the scientific community, delivering these as "as live" recordings. It also delivered the CEO's investment case for research funding, followed by a live Q&A session with questions captured on the fly from the audience via a chat function, delivered to and vetted by the client during the actual session.
It was brilliantly received. The live webcast, incorporating a TV-show format was entertaining and convincing and we ensured each segment would land with the audience.
And, when GSK wanted to announce their commitment to be net-zero on climate and net-positive on nature by 2030, they invited us to produce a livestreamed interview with their CEO, Emma Walmsley. At a challenging time for engaging stakeholders with critical information, we conducted and streamed the live interview simultaneously via LinkedIn Live and Twitter – reaching nearly 100,000 viewers on the day across the two platforms, with direct engagement from viewers throughout the event.
LinkedIn Live provides a tremendous opportunity to engage with a business audience, especially when you incorporate high-quality production values. The live video gets people excited and engaged. This is especially the case when you can feature someone like Emma, an incredible presenter, who comes across so well on camera.
View the linkedin live here: https://www.linkedin.com/video/embed/live/urn:li:ugcPost:6729384241857077248/
Thank you so much to the members who contributed these fantastic projects!
Photo by rawpixel.com form PxHere