Creative communications agency DRPG has reached one million delegates for its virtual event solutions. Now running 10 studios, from its HQ in Worcestershire, its Windsor facility and now in Central London.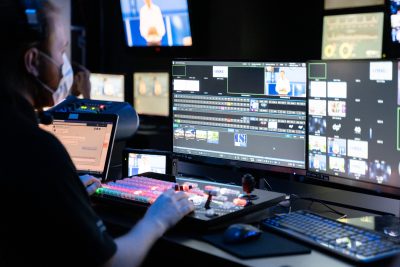 With the onset of COVID – 19 the demand for broadcast quality virtual events grew exponentially. Normally the agency would produce around 6 virtual events a year, however in the last 6 months over 450 live programmes have been broadcast from the studios. With audiences varying from 70,000 to just 100 delegates. Programmes have included, conferences, debates, leadership development, award ceremonies, exhibitions, product launches, experiential, team building, music and food festivals and game shows.
"Our heritage is firmly based in film and video production, combine this with our global events experience, digital solutions and creative content development we were able to expand our virtual offering overnight " commented CEO Dale Parmenter "It has meant considerable investment in the creation of more physical and virtual studios, plus we have continued to recruit new team members and re-train existing ones".
In 2019 the company invested heavily in digital infrastructure such as 'Extended Reality' and the studio infrastructure in Worcestershire, which is also the home to Channel 5's the Gadget Show. DRPG has the capability to run up to 10 simultaneous virtual events from its studios.
We are delighted to be hosting our EVCOM London Live and Film Awards Virtual ceremony at DRPG's studio this year. Get your tickets here.