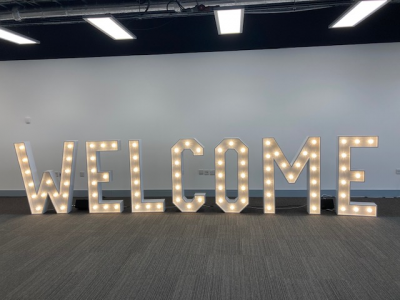 Yesterday Claire Fennelow and myself went to our first live event of 2021, the first event of its kind in nearly a year! The Event Production Show spans two days, and showcases exhibitors whilst also boasting a packed programme of talks and panel discussions. We travelled to Farnborough to attend the first day together.
We began the day with a talk fittingly entitled 'We'll Be Back' in which we heard from event organisers about the impact of COVID-19 on their events, and what they'd learnt from the past year. There was an emphasis on trying to find ways to creatively respond to the restrictions and use them to their benefit. Ben Street (Wild Paths) shared a fantastic example: they set up PODS or Personal Outdoor Dance Spaces, and instated a competition for the best presented pods. People really got involved, Ben attested, bringing their own mannequins, bunting and fairy lights to decorate the space! On a smaller scale, the panelists suggested thinking about creative ways to display QR codes at your next event.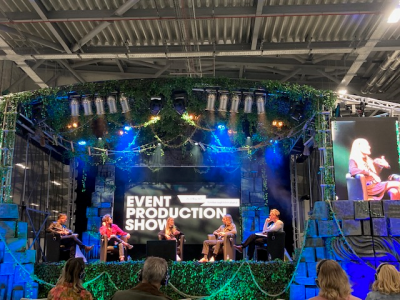 The group discussed the importance of a sense of security for delegates, especially on arrival. They encouraged event organisers to ensure that there is more signage than usual at the entrance to an event. They also discussed the difficulty in customer confidence. People have become so used to changes, they acknowledged, that delegates lack confidence than event will actually go ahead if they book it. Andrew Evans (London Concours) said, "I've learnt more in 6 months than I've done in the last 30 years." He shared his advice around being on the front foot, the importance of over-communication with partners and audience, and what he'll be taking forwards including new ways to avoid bottlenecks on entry.
The group agreed that the series model of events was the best way to organise in the current climate, as it allows for sharing costs of infrastructure and encourages collaborative working, whilst stand alone event can be hard to make financially successful.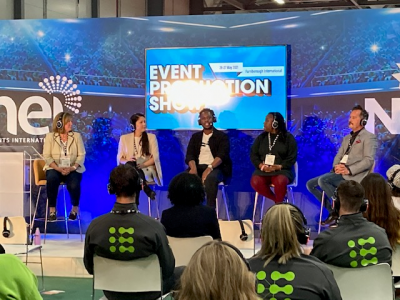 Following that insightful discussion, Claire and I moved to the NOEA stage for 'Diversity and Inclusion: An Open Discussion'. Chaired by Caroline Jackson (BVEP), the four panelists shared invaluable expertise around creating more diverse and inclusive workplaces. Stephanie Corker (Wasserman) highlighted three key pillars of D&I: increasing culture awareness (ie inclusive language and recognition of different holidays), creating inclusive environments and understanding lived experiences. Steph said it is important to make sure that the responsibility of diversity and inclusion work doesn't fall only on the shoulders of diverse individuals, and stressed the importance of senior leaders backing D&I initiatives. David Akosim (NFL) spoke about his own journey in NFL, a journey mobilised by junior staff approaching senior leaders and explaining why the workplace culture needed to change. He recommended being true to your own journey and the needs of your own workplace, rather than comparing yourself to others. Everyone is at different stages of their journey and everyone has different problems around diversity to address, he said. Think about who your employees and colleagues are and then listen to them, he continued, in order to review practises in your workplace.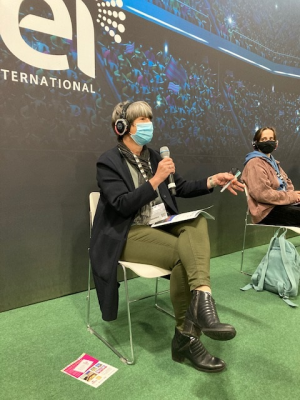 Jim Davey (Redwood Event Solutions) added his insight around implementing D&I in much smaller companies, and spoke about the importance of education and outreach. "Get comfortable with feeling uncomfortable," said LaToyah McAllister-Jones (St Pauls Carnival). Be prepared to take risks, to fail and to learn, in conversations and action around diversity and inclusion, she continued. She highlighted the importance of both education and engagement/ outreach. She spoke about struggling to recruit people of colour from the events sector, and said that outreach needs to start at school level as young people of colour don't see the event sector as a sector for them.
At the end of the session, Caroline asked each speaker to share a final thought that they wanted to leave the audience with:
Jim: Put yourself in a state of vulnerability. Communicate what help you need.
LaToyah: Build accountability into your organisation. Challenge yourself to sit in an uncomfortable space
David: Network. We are not going to change the world by ourselves so talk to people and learn from people.
Steph: This whole journey needs empathy. You need to ask for empathy when you make mistakes and you need to you need to give it to diverse people.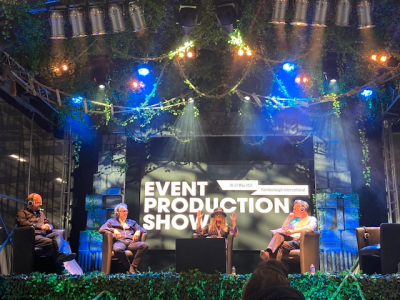 Our final talk of the day was entitled 'Building Back Better – A New Future for Live Events'. The panelists spoke highly of the importance of collaboration and a unified voice, all the way through the supply chain. "The more together we are, the further we're going to go," said James King (AEG Presents). "By coming together on this we will create a stronger market for everyone," agreed Phil Bowdery (Live Nation. As both an event organiser and a supplier, Gill Tee (Black Deer Festival) recommended treating suppliers at the top end, not the bottom end, of the chain. We must "embrace our suppliers", she said, or we risk losing them. Collectively the panel agreed that understanding every part of the chain was vital for building back better. This is an industry built on passion, said one panelist, but that doesn't mean we don't need to nurture it.
Thank you for having us at The Event Production Show 2021!